Shades; Welcome one and all to the second review of the Hobby and Project Lounge with DrLove42 and myself, SotonShades. Today we'll be getting our "Waaagh!" on with a couple of green skin threads, heading to the deepest depths of the BoLS archives for some classic Ulthwe Eldar, showing off some stand-out miniatures for role-playing in the Old World of Warhammer and even looking back to the ancient past with a Historical Wargaming army! Before I get overexcited, I'll hand you over to the good doctor.
Doc; Yep, we're back. The first articles seem to have gone down well, everyone likes seeing some nice well painted stuff, so we're here to fulfil that need and provide some inspiration. As we said last time we want to look at some other gaming systems, not just 40K, so we're making a jump to a different system for our first post. It's Warhammer Fantasy. So it's not the biggest jump in the world, but you know… baby steps. Introducing Maxxev's Fantasy Minatures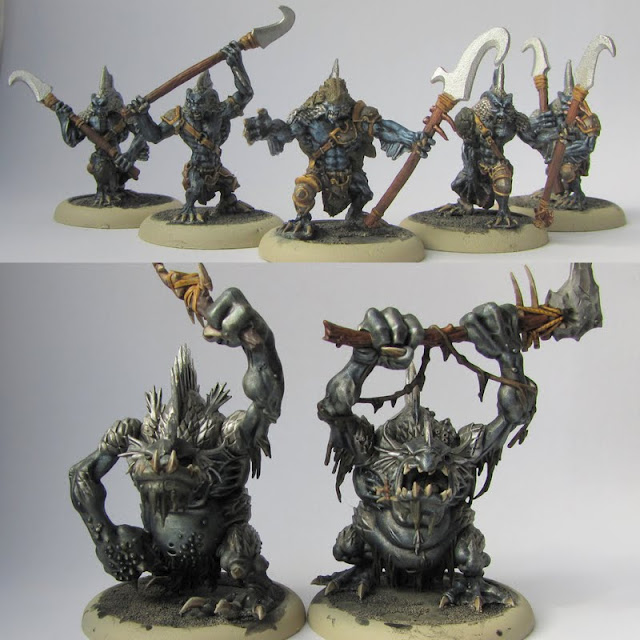 Shades; As I may have mentioned before, I love seeing stuff that hasn't just been built to beat the current tournament meta, and these models couldn't exemplify that more. So much care and attention has gone in to even the Non-Player characters models, the guys that often get represented more by tokens or coins, let alone the actual warbands!
Doc; Yep, these guys show a lot of individual customization and conversion. If you check out the thread itself, there's lot of grey WIP shots showing some of the stuff that's yet to come!
Shades; Not to mention a lot of green WIP shots. It is great to see how subtle altering of posses with the aid of Green Stuff can so dramatically alter the dynamic of the models. As well as this thread, Maxxev has a ton of picture on his blog (which you can find by going to the thread), along with explanations of how, what where and why. And with that, we move into more familiar territory, especially for me, with Masterowen45's Ork Warboss;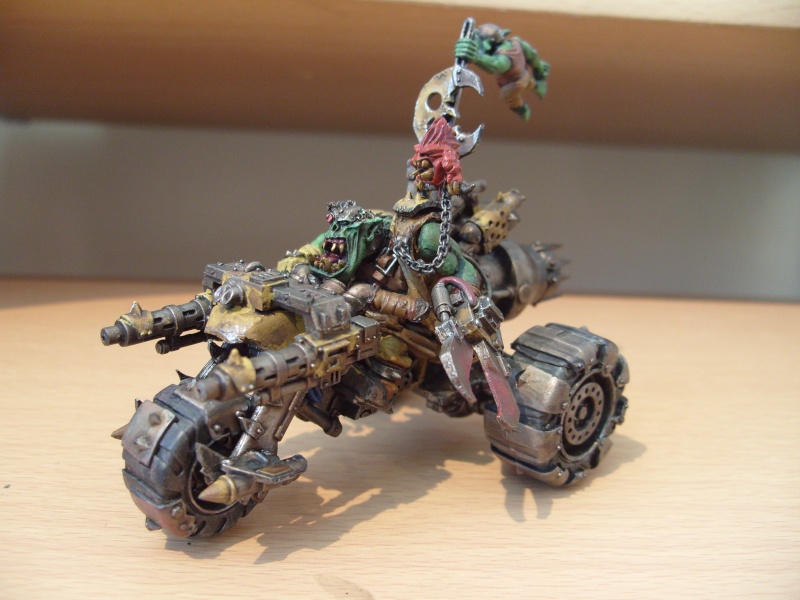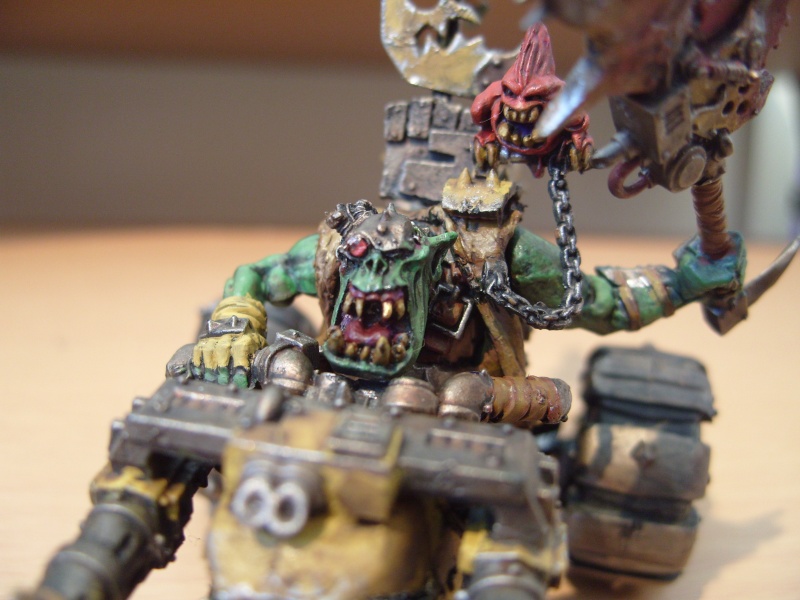 Shades; Masterowen45 has gone for the opposite approach to me, using one of the Deffkoptas from the Black Reach box set to convert a Trike. Like all the best Orky conversions (in my opinion) what makes this model stand out is the little details, such as the Grot rigga and the Shoulder Squig! These kind of additions really give life to a conversion.
Doc; Not only is it a great looking conversion, the paintjob is simply top notch as well. Yellow is a very hard colour to get right, and by making it a darker, heavily weathered yellow the artist has pulled it off. The more muted yellow also helps highlight the slightly brighter green of the Ork flesh as well.
Shades; Throw in the red as a spot colour on the Squig, in the Warboss's mouth and eye lens and you've got the recipe for a classic paint scheme… Not to mention a great excuse for adding the gore to the weapons! Now, Masterowen45 isn't the first to have swappable weapon's for characters, but The arms on this Warboss were done so seamlessly that until we were writing this article, I hadn't actually spotted that they were different! I think that's a good thing, and that I may need my eyes tested again…
Doc; Keeping up with all things green, fast and Dakka-y we have
Brass Scorpion's Ork Airforce
. Wasting no time on the new models he's got 3 Ork fliers into his army already!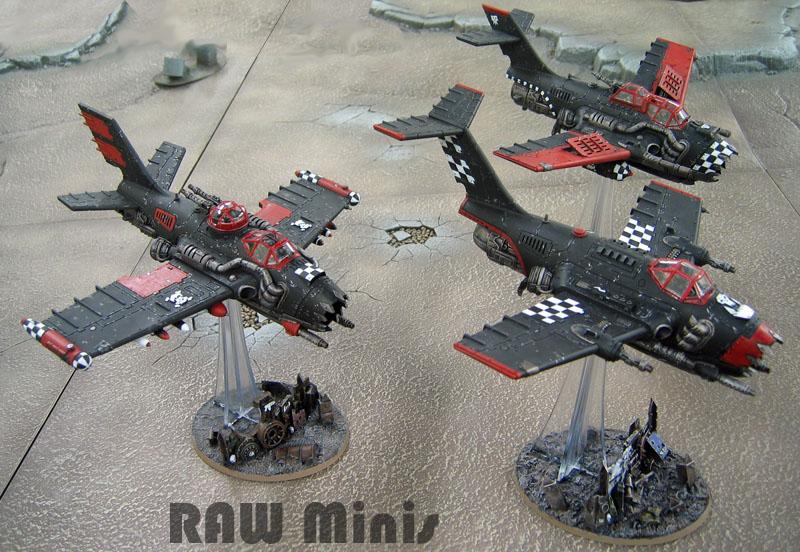 Doc; Working on a Goff paintjob, he's got a nice finish, with lots of subtle weathering on the plates, with paint showing the metal underneath. They're all topped (or bottomed) off with some wonderful scenic bases. My only complaint is that the checker design seems a little bit too neat to be from an Ork.
Shades; I agree on the checkers, though I guess we could easily assume some 'Ummie slavez were forced to do it. Usually I'm not a fan of overly neat vehicles for Orks but I think the effect works quite nicely on these aircraft. It's also the first time I have seen all three of the Bommer options assembled in the same place, outside of the pages of White Dwarf, so that pleases me.
Doc; We've also decided, to delve as deep as possible into the BoLS lounge. Going to the back page of the 40K section (July 2009) we found these – Dosadi's Ulthwe Eldar. (Writer's comment – According to Path of the Renegade, Eldar from Ulthwe are regarded as "Ulthwenese")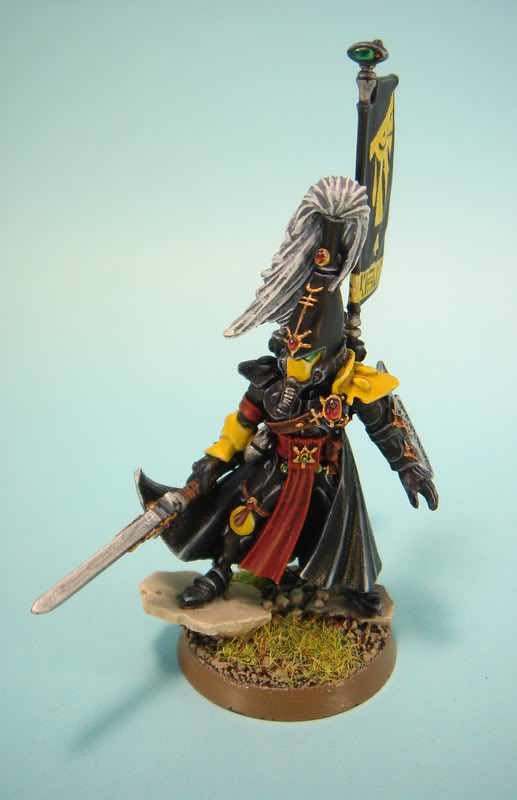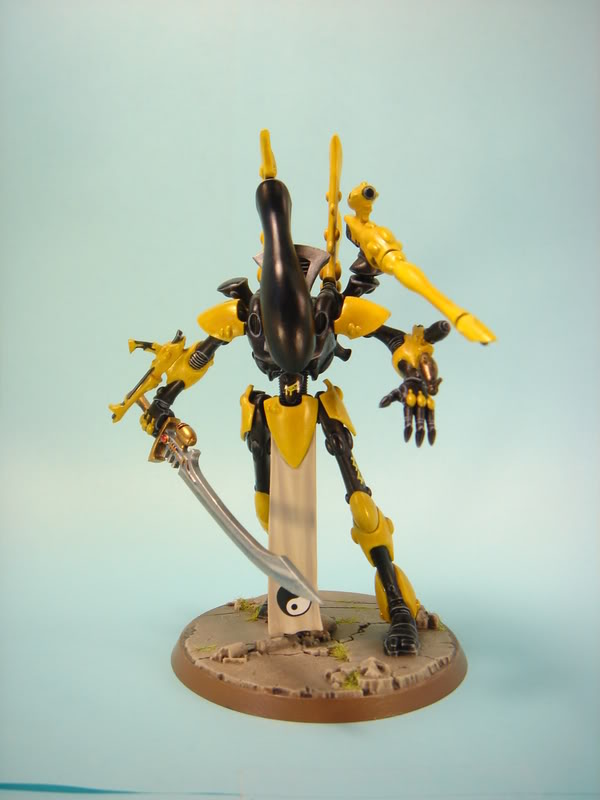 Doc; Using a more yellow tone than the more modern Ulthwe forces (including mine), never the less the army looks fantastic. As I've already mentioned once today, yellow is a hard colour to pull off so hes done it well to be so bright. And I do love a good Wraithlord…
Shades; As well as having spectacularly painted models, this thread also includes a handful of Rouge Trader/2nd Ed era models, painted to an equally high standard. Stuff like that always makes my jaw drop and eyes turn green with jealousy. This army would almost be worth doing an army focus on, but there just weren't enough pictures to make it worthwhile. Dosadi, if you are out there, please get yourself back on the forum's so we can see more of this army.
Doc; Yep and for our last army today…we're cheating a bit. These guys aren't in the Hobby and Project forum. Mostly because we don't have a H&P forum for historical figures. But wanting to feature other systems, we've broken our own rules already (only took 3 articles… figured quicker than I expected) and bring DadExtraordinaire's 25/28mm Hoplite and Greek models;

Shades; Historical gaming has never really taken my interest. I much prefer my futuristic weapons and pyrotechnic magic. However, it never fails to impress me when I see something like this; where someone has created something so firmly based in our own reality, rather than merely mimicking it on sci-fi or fantasy miniatures.
Doc; Any fully painted collection, of any standard (well nearly any) is always impressive, and the massed lines of soldiers are very impressive. As the artists says in the thread, every shield is hand painted, making some of them with more complex artwork on them even more impressive
Shades; Some of the detail, especially on the shields on a lot of the miniatures Is great. The blending on the faces in particular stands out for me. Whilst they are far from anatomically accurate, they have a certain charm with the different facial expressions achieved.
Doc; And so ends another issue of best of BoLS. We hope you enjoyed it.
Shades; We have a few more things lined up for the future, and may even start bringing in some themes for future reviews, if only to make it easier for us to narrow down what to include for each article! We would dearly love to see more stuff from other games systems though, so get your cameras out and get your models posted in the Hobby and Project sub-forums.
Doc; As a sneak peak, at some point in the near future, we want to do an issue which only features models from the Dark Vengeance starter kit. You've got to be in it to win it (not that there are any prizes, other than featuring here on the BoLS front page) so get those paint brushes ready and get your Dark Angels and Chaos forces…
Doc; …onto the H&P forums. As always… keep posting those photos! I really want to feature some recent Warmahordes, Infinity, Dust and Flames of War on here for our non 40K readers, but those forums are a little quiet!