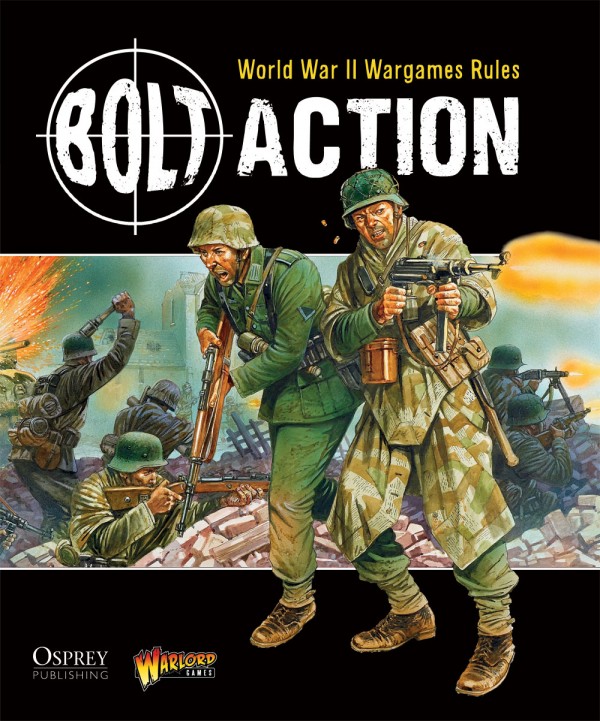 Welcome to the second part of my review of Warlord Game's Bolt Action. This time I would like to talk about force selection, army lists and gameplay.
Force Selection
In Bolt Action forces are organized in reinforced platoons, consisting of an officer and at least two squads of infantry. To this core you can add specialists, support weapons and vehicles. The table of organization looks like this:
Core
1 Lieutenant
2-5 Infantry squads
Specialists
0-1 Captain or Major
0-1 Medic
0-1 Forward Observer (Air or Artillery)
Support Weapons
0-1 Machine gun team
0-1 Mortar team
0-1 Flamethrower team
0-1 Sniper team
0-1 Anti-tank team
0-1 Field artillery, Anti-aircraft or Anti-tank gun
Vehicles
0-1 Armoured Car
0-1 Tank, Tank Destroyer, AA-vehicle or Self-propelled Artillery
0-1 Transport vehicle or tow per infantry and artillery unit
The standard game size is 1000 points, with core platoons ranging from 120 for a minimum of low quality troops to up to 440 points for fully equipped veterans. Most of the times the player will be able to take a decent amount of support weapons and a single tank, but squeezing in a second tank into 1000 points means that you won't be able to take all the other toys you want. This seems to lead to a standard build – one platoon with vehicle support plus one minimal platoon to get the a couple more support weapons in.
The 0-1 limits reinforce this kind of build even more – if you want a second Anti-tank team, you need a second platoon. The limitations appear slightly arbitrary, especially for units which weren't included in an infantry platoon's TO&E in real life like heavy mortars.
In the end there are a lot of "must have" units – you need an Anti-tank team, you need a Battle Tank or Tank Destroyer, you need a Sniper team. On the other hand, few people will chose anti-tank guns on carriage in competitive gaming due to their higher point costs and reduced flexibility.
Specialists
The game includes three kinds of specialist units – Officers, Medics and Forward Observers.
An Officer gives a morale bonus to units in the vicinity. A Platoon is always lead by a Lieutenant, but may be joined by a Major or Captain, too.
A Medic basically offers a 6+ save against casualties from small arms fire.
Forward observers call in artillery or air strikes. Artillery is somewhat unlikely to do a lot of damage, you need a 4+ to call in the strike and then a 6 to hit a unit. Nevertheless, every unit within in the blast range suffers D3 pin markers and if you are hitting something, it will take a lot of damage.
Air strikes work similar – you need a 4+ to call in an aircraft. If one shows up, enemy AA guns are allowed to shoot out of order. If they manage 6 or more hits, the aircraft will abort its attack run. Interestingly, the book does not feature Anti-aircraft guns on carriage and the only AA vehicle capable to turn away an aircraft by itself is the M16/M17 AA carriage.
If the aircraft makes it through the defensive fire, you roll another D6 to determine which kind of plane arrives and make to-hit and damage rolls as always.
Army Lists
The Bolt Action rulebook covers four army lists, Germans, United States, British Commonwealth and Soviet Russia. Every faction comes with two special rules, but many entries are the same for every army. Support Weapons always are the same and cost the same points, and every army features infantry squads in all three quality levels (although weapon options differ quite dramatically between lists). Even some of the vehicles use exactly the same stats, for example the german Panzer IV and the russian T34/85. Even worse, the base version Cromwell and the Sherman in the british list are exactly the same for the same point costs except that one of them has slight disadvantage when hit…
The army lists represent forces fighting in the last 6 months of the war in Europe. Many of the options were not available until late 1944 (SU-100, Sturmgewehr 44), or even early 1945 (M26 Pershing).
The Germans
First list in the book is the Third Reich. Their special rules are Inititaive Training, making it less likely to suffer the morale penalty for losing the NCO of a squad, and Hitler's Buzzsaw, giving their machine guns an extra shot. The german army is the only force with access to Assault Rifles, can add their beefed up light machine guns to infantry squads and can take up to 4 Panzerfaust light anti-tank launchers per squad. A fully equipped german infantry squad is able to deal with anything the Allies can throw at them, including super-heavy tanks.
Additionally the Germans have the largest array of armoured vehicles at their disposal, including three nigh unstoppable super-heavies. Last but not least they are the only nation that can field an armored car armed with a heavy anti-tank gun (the Sd. Kfz 234/4).
The United States
The special rules for the US are Fire and Manoeuvre, meaning they won't suffer the to-hit penalty for firing during an Assault order, and Air Power, allowing their Forward Air Observers to call in two air strikes instead of one per game.
The Americans can field the largest infantry squads with up to 12 soldiers, but lack the weapon options available to their germans counterparts. To make up for a lack of fire power the US is allowed to chose up to three Medium machine gun teams per platoon and have access to the heavy .50 machine gun. Their Bazooka is a decent anti-tank weapon but is less abundant and powerful than their german equivalents. Many of their tanks are on the weaker side, but they can field some formidable machines like the Sherman 76mm or M26 Pershing and their tank destroyers with their turret mounted weapons are superior to the german tanks of the same class. Additionally they can assemble a lot of AA fire with the option to add a pintle-mounted MG to all of their vehicles. Another excellent piece of equipment is the M16 Anti-aircraft carriage. Armed with four heavy machine guns it should be able to turn away an air strike most of the time, and it can easily chew through an unwary infantry squad.
Britain and Commonwealth
The British appear to be the weakest list in the book. Their special rule Bombardment is only useful in two out of six scenarios and Artillery Support gives them a regular Forward Artillery Observer for free (who otherwise would cost 100 points).
British infantry can field the least amount of assault weapons, but can take a single light machine gun per squad. The PIAT launcher of their Anti-tank teams is significantly less effective then its german or US counterpart and they have no access to Heavy machine gun teams or Heavy mortars. Their super-heavy anti-tank guns are all mounted on medium tank chassis and they cannot field super-heavy tanks. Only exceptions are the Sherman Firefly and M10 Achilles which replace the heavy anti-tank gun of their american counterparts with super-heavy weapons, but their medium tank chassis make them very vulnerable.
Nevertheless the Tommies have on ace up their sleeve- the Churchill Crocodile is so far the only vehicle-mounted flamethrower in the game dealing 2D6 automatic hits ignoring cover and forcing morale checks!
Soviet Russia
Last, but not least, is the russian army list. The special rule The Great Patriotic War allows re-rolls of all morale checks that would otherwise destroy a unit (like taking 50% casualties from a single attack). Quantity Has A Quality Of Its Own represents the immense manpower of the soviet army and gives the player a free squad of Inexperienced infantry with all available options for free, worth up to 115 points. They are also able to field extremely cheap core platoons (55 points for the first, 75 points for the others). Russian infantry has access to large numbers of assault weapons, light machine guns and even captured german anti-tank weapons. They can field Shtrafbat squads (penal troops) that can include unarmed man. The Soviets can use Heavy machine gun teams, but their Anti-tank rifles lack the penetration of the rockets fielded by the other nations. Therefore the Russians must rely more on Anti-tank guns on carriages and their notable tanks to fight enemy armor. Their vehicles are somewhere between the US and Germany, mostly on par with their counterparts but lacking the top-hitters of the Third Reich. They have access to the export version of the M16 Anti-aircraft carriage, allowing them to field a huge amount of anti-infantry firepower.
Gameplay
As mentioned before, the standard game size is 1000 points. After having played a couple of games I would say that is the sweet spot for competitive play because it forces the player to make painful decision, but for casual play I would recommend to increase the point value to 1200 points. In fact, the game becomes easier at higher point levels because you won't have to rely on a single unit for a certain job.
The rulebook offers six scenarios to chose from, including an open battle scenario called Maximum Attrition. The others are the usual mix of break-through, capturing objectives and last stand.
There is no recommendation for table size, but considering the weapon ranges a standard 4′ x 6′ table should work perfectly.
There is also no guides for setting up terrain, just the usual "use a healthy mix" and "no side should have an advantage". Actually it is kind of difficult to set up a proper table. The trick is to use a lot of LOS blocking terrain without creating obvious alleys. Hedges and fences are favorable because they won't affect vehicle movement. Buildings are a nice addition, but will give a considerable advantage to the side controlling them.
Keep in mind that a lack of terrain will lead to a very boring game in which the units are sitting in cover and shoot at each other from time to time.
Conclusion
Bolt Action is definitely a "easy to learn, hard to master" game. It requires a decent amount of planning and is not very forgiving. I found myself defining objectives for the next turn in my head, and then figuring out what I need to do to achieve them. For example, I need to get rid of a heavy machine gun team in a building. My flamethrower team is near-by, but their approach is covered by an enemy infantry squad. So I need to try and pin them. I can do that by dropping some mortar shells on them. But they are within reach of an officer who will boost their morale. Therefore, my first step should be to shoot the officer with my Sniper team, then fire my mortar at the infantry and hopefully I can then get my flamethrower up to get rid of the machine gun. Together with the initiative system this leads to a very tense gaming experience. More than once an initiative draw was the most exciting part of a game because both players knew it might decide the game.
Many of the issues I mentioned are supposed to be tackled in the army books which will introduce a selector system for year and theatre and which will increase the amount of units for each nation. Of course this again causes the problem that nations without a separate book might be at a disadvantage, but let's hope that the books will be published in rapid succession.
All in all Bolt Action is a well-balanced, very tactical game with easy rules and comprehensible point costs. 28mm WW2 has arrived!