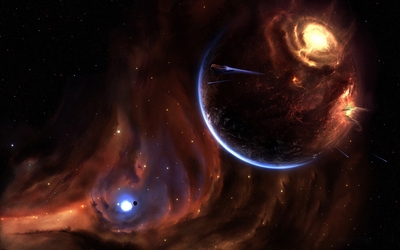 This weeks rumor round up has a couple great rumor sets for both of the groups featured in Dark Vengeance, Chaos Space Marines and Dark Angels. Not only are the rumors hitting for both armies, but Games Day UK is the day that will start it all.

Betrayal and Retribution of past deeds fuel the flames of War. Victory over the enemy is our only means for salvation. Fear not, with Faeit's Tarot it is we who shall strike first, and plunge the spear of the Emperor into the heart of those that will stand before us.
40k Releases for the rest of 2012
One thing is for certain, almost all rumor sources are pointing towards both codices, Chaos Space Marines and Dark Angels being released before years end. This makes for a very tight time frame for releases this year, but with most rumors pointing towards the same thing, its almost a sure bet at this point.
However how will that work with the current rumors for Fantasy, that declare Warriors of Chaos coming around this year in October? That is exactly what I was asking sources this week, and the best answer I was able to get was this……
Chaos Daemons and Warriors of Chaos are done in many ways except printed due to storage limitations for hard copies and them being unnecessary to be produced yet.

Chaos Cultists
A leaked pdf from a before print copy of the codex appeared this week. As well as what to expect from a Cultist box was a great way to start looking hard at what cultists will bring to a Chaos Marine codex. For one they are dirt cheap, looking at 3pts each with heavy stubbers at 5. This makes fielding a massive number of cultists a reality, giving guard a run for their money on mobs. Add in that Dark Apostles can join the unit, and bring fearless to it, we are looking at some very cool looking mobs of fanatical Chaos Cultists.
Here is what we now expect for a cultist box from Faeit 212
cultists are getting a plastic box of 10 that comes with 10 sets of auto pistol / ccw arms, 10 autoguns, 2 shotguns, 1 heavy stubber, 1 flamer, 1 grenade launcher, 1 icon (with several top options), 1 power axe, 1 power maul and a bunch of bits to put here and there (such as frag grenades and trophies). Only thing I didn't see was a power sword.
Dark Angels and the Inner Circle
Dark Angel rumors are now hitting from several places, and I fully expect them start appearing very soon. (possibly even in the next couple days). For this week though, Stickmonkey over on Warseer gave us a nice set that is well worth taking a closer look at,especially at the dual unit box set for the Inner Circle.
Characters:
-New Azrael – PA, helmet on and off options, still with a watcher model holding combi-plasma (supposedly the watchers have an expanded role on table top now, but this is the first I've hear of this and no details given, so lots of skepticism.)
-Azmodai – TA
-Ezekial model staying the same.
-Ravenwing Bike captain
-Named Sargeant (Nameth?)
-Belial gets a model
-Sammael gets a new model (I am not certain, but this could be the bike captain being mistaken)

Units:
-Landspeeder-esq flyer. (we've heard this before, so could be rehash) Has Aquila like wings. TLAC, TML, TLPC, TLHvyB (sounded like these were options, not that it had them all at once)
-Plasma Pred (heard this before, too) TLPC turret.
-Deathwing Box (new to me) AC, Cyclone Launcher, THSS x2, LC x2, PS x1, PC, HF, PF x5, SB x5, CF x2 (Lots of bits there, consistent with the load of extras in things like the Space wolf Termies, Plasma Cannon Termie? IBIWISI)
-New Dreadnought type. Mortis options.
-Inner Circle box. Elites. Robed PA. dual unit box. one is CC focus, the other is dual pistols (gunslingers, anyone?) one version uses chaplain helmets.
-Seige unit. (not many details given on this, sounds like techmarine thunderfire type unit, hoping to get more on this)
I really like the idea of the inner circle for Dark Angels. Taking a closer look at it….. Could it be that the codex will feature the ability to play as the fallen? Just enough hints that something dark and sinister is going to be revealed with this codex.
Games Day UK
I have been told a couple times now from different sources that the Chaos Marine codex will be at Games Day UK for viewing. However, that was also followed that it will be available for pre-order on the 29th of the month.
The Horus Heresy book 1 "Betrayal" from Forgeworld is rumored to be ready for a release at Games Day.
So that means that September 23rd will be a big day for Warhammer 40k. With the White Dwarf being released on the 22nd, we will all be plenty busy with news and rumors.
Make sure to check back here at Bell of Lost Souls often to find out the latest on what is coming, and then join the conversation over on Faeit 212.
With so much sitting right around the corner, which of the two big releases are you most looking forward to? The Horus Heresy Forgeworld release, or the Chaos Space Marine codex?