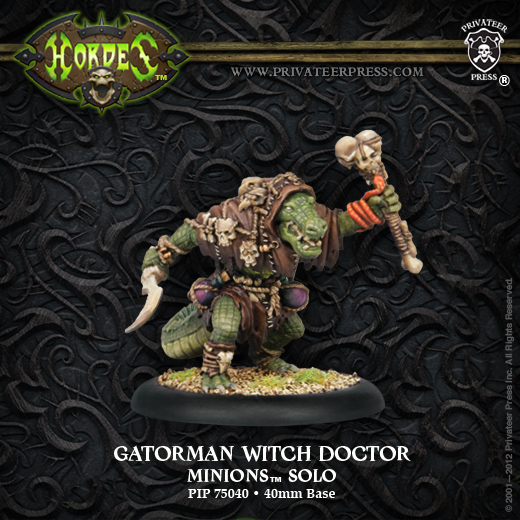 The new Gatorman Witch Doctor solo released early this August. As a Blindwater player, I have to admit I'm extra excited to get my hands this guy. But there's no reason why Hordes players of any faction can't find a place for the Witch Doctor in their armies. First let's look at the abilities that make this guy such a helpful choice.
With Beast Master the good doctor has the ability to force friendly faction Warbeasts in his Command Range as if he's their controlling warlock. At first read, it might not sound that helpful outside of a Blindwater force. But it's a great boon if you're a fan of the Lesser Minion warlocks available in Hordes. The Witch Doctor can help considerably with the very short leash these characters have on their beasts, and he doesn't even have to use an action to do it. And if you field a Thornfall Warlock as a second caster in a "faction" army, the Witch Doctor can force those beasts too.
Next are the Witch Doctor's three magic abilities. Dominate Undead will only come up from time to time, but when it does it can be one of this solo's strongest abilities. If a non-warlock/warcaster enemy Undead model is hit by this attack, it can then make an advance and a melee attack under your control. Obviously the juiciest target you could hope for is the 9 point Wraith Engine. Making a melee attack with one of these monstrosities will cause it to lose one of its greatest defensive abilities: Incorporeal. But it doesn't stop there. Bane Lord Tartarus, Darragh Wrathe, a Boneswarm, or a member of the Withershadow combine are all fine choices. Just have them advance into range of your preferred weapon and then turn them to face the other direction. If the situation presents itself, you could try walking an Undead unit commander out of formation of as many of his troopers as possible. This will force them to spend their movement advancing toward him on their next turn, after which they must forfeit their action. But the thing I really want to try to pull off is Dominating a Bloat Thrall, walking him into the midst of some enemy infantry, then popping him with a ranged attack to watch him shower his allies in goo.
Sacrificial Strike is an ability that will probably come up more often. If you are willing to remove a friendly faction model within an inch of the Witch Doctor from play, you can target a model in his CMD and LOS with a damage roll equal to the sacrificed model's ARM. No to hit roll required. The burden here is that the sacrificed model must be friendly faction: aka Minion. So you won't be using Sacrificial Strike if you haven't brought along some other Minion models. Seems to me that this only makes the prospect of adding a unit of Gatormen or Bog Trogs to your existing forces that much more desirable. Any Hordes player with a few games under their belt will probably remember a time when their brilliantly conceived assassination run fell one hit short of success. Sacrificial Strike can give you that one last damage roll you need to put the nail in an opposing caster's coffin. And there are plenty of irritating solos out there whose death would be worth the sacrifice of a trooper model; even a nice beefy Gatorman.
Zombify is the delightfully named ability that most players will probably have in mind when heading out to buy their own Witch Doctor. It allows the Witch Doctor to grant Tough and Undead to any friendly non-warlock/warcaster model/unit within 5″. Ahh… picture that… your favorite unit with Tough and Undead sprinkled on top to make it that much sweeter. And don't overlook the fact that unlike a lot of buffs, this one can be given to a solo. Surely if you're reading this you won't need me to explain the merits of Tough to you. But having Undead can be even more helpful. First, there's the fact that Undead models never flee. In addition, there are numerous abilities that specifically target living models or trigger upon their destruction. Undead models don't have to worry about things like Blood Boon, Blood Quenched, Carnivore, Heart Eater or anything collecting their Soul Tokens. Perhaps the strangest part about the ability is that the affected models need not be living in order to become Zombified. This means even constructs like Immortals or Woldstalkers can get the bonus of Tough.
So where does the Witch Doctor belong? Trollblood players might not think he's worth their time since all of the faction's infantry already have Tough built in. But given the high level of compatibility Grim Angus, Calandra Truthsayer, and Jarl Skuld have with Minion units, you shouldn't rule this solo out. Who doesn't want Tough Nyss Hunters? Circle and Legion players will probably be happy to have Tough to hand out to their often fragile infantry. And since both armies can bring such a strong assassination game, the additional threat vector Sacrificial Strike offers can make them even stronger. And given how often I already see Gatormen fielded in Circle and Legion armies, the Witch Doctor should be a natural fit. Skorne players may have the most to be excited about with this new solo. Zombify is a strong new tool for this infantry-centric army. And if you're a Skorne player that already fields a lot of Minions, now you don't have to choose whether your Minion unit gets Tough or +2 Strength. With a Taskmaster and a Witch Doctor you can have both.
And don't think I've forgotten about the Witch Doctor's own Faction. Blindwater already has a well deserved reputation for resilience and unpredictable threat vectors. How about some more of the same? Gatormen in a Blindwater army can be some of the hardest models in the game to bring down. Now you can add some Tough on to those ridiculously high DEF and ARM scores. Maelok's Tier list cranks it up to ridiculous levels reducing the points cost of the Witch Doctors to 2, and increasing their FA by 1 for each unit in his army. That's a lot of potential Sacrificial Strikes if you're willing to burn the models. And since their stat-lines aren't half bad, when you have that many you can even afford to charge them in to combat in a pinch.
~ I've avoided getting too specific about individual combos since there are so many out there among the five factions the Witch Doctor will work for. So does anyone out there have a favorite Witch Doctor tactic they'd like to share?