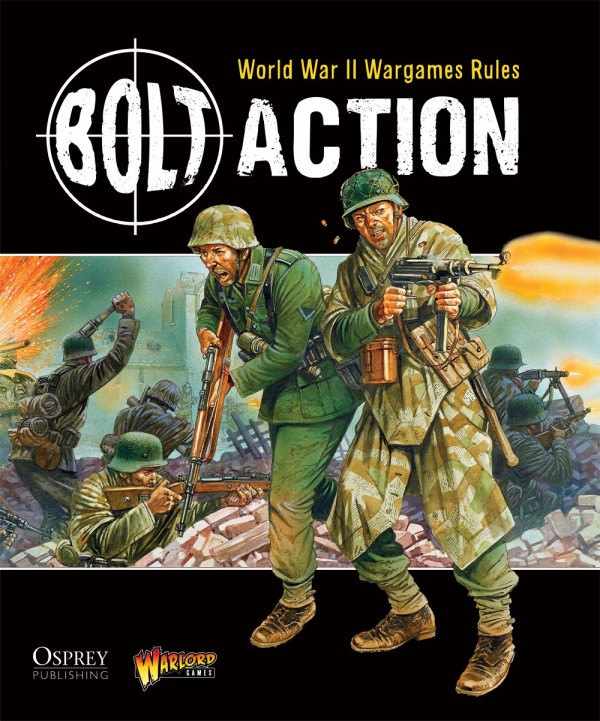 Hello and welcome to the first part of my Bolt Action review. In this article I will cover the base mechanics of the latest WW2 miniatures game from Warlord Games and Osprey Publishing.

Overview
Bolt Action is a recently released World War II-themed rulebook published by Warlord Games and Osprey Publishing. It was written by Rick Priestley and Allesio Cavatore, both well-known game designers with a portfolio of good games.
The rules come in a 216 pages, full-color hardcover book of excellent quality. It contains plenty of pictures both of Warlord Games' miniatures as well as illustrations from various Osprey books. The book lacks an index but is well organized and has a summary of the core rules and tables in the back.
The book covers all the rules to play the game as well as four army lists (Germany, USA, Britain and Commonwealth and Soviet Russia) and a historical overview over World War II.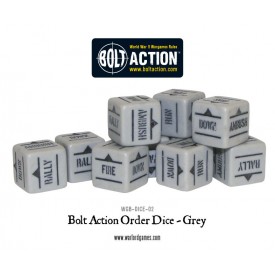 Initiative and Orders
The core mechanic of the game is the order system. Before the game you put a number of special order dice according to the number of units in the armies into a dice bag (of course you need to use different colors for the two armies 😉 ). During the turn dice a re drawn form the bag to determine which player can give the next order. This makes turns very interactive and exciting because there are quite often situations in the game when the next draw might be a game-changer.
The game knows six orders: Advance means to move and shoot with a penalty. Fire let you shoot without a penalty but you are not allowed to move. With a Run order your unit will make a double movement. Ambush is a version of overwatch and allows you to shoot out of turn at enemies entering your field of fire. Down decreases the chance of your unit to be hit, and Rally removes pin markers.
Units and Qualities
There are three kinds of units in Bolt Action: Infantry, Field Artillery and Vehicles. Infantry includes squads, specialists and most heavy weapon teams. Anti-tank guns and howitzers on carriages are Field Artillery. Finally, vehicles are classed as armored cars, tanks and SPGs.
Most units are available in different qualities representing training, equipment and indoctrination. Inexperienced troops like conscripts are unreliable and will die easily. Regular troops are the core of every army and represent professional soldiers. Veteran troops are elite formations like US paratroopers or British Commandos.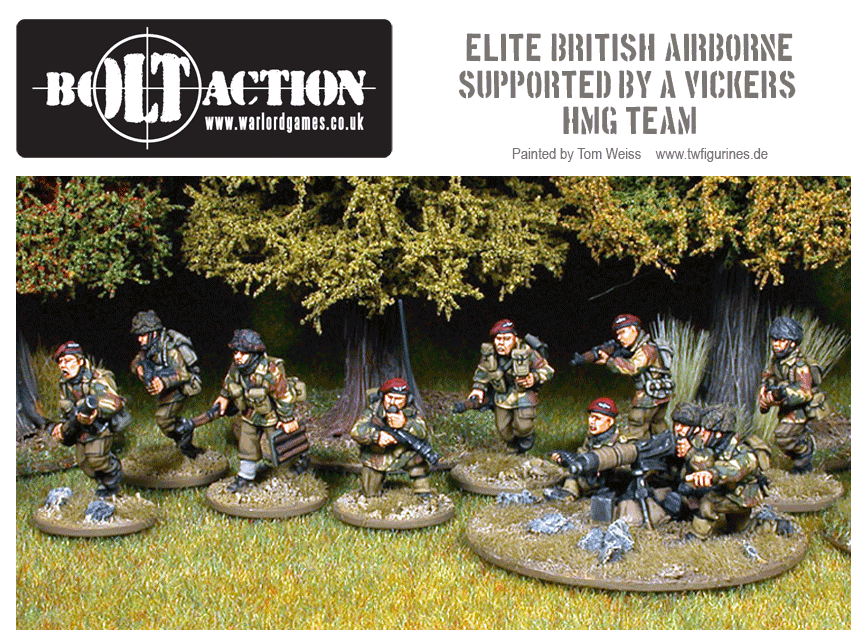 Morale
One very important mechanism in Bolt Action is morale. Under certain conditions units will stop following orders or even be taken out of the battle because they are losing their nerves. Morale depends on the quality of the unit, a veteran unit has a higher morale value than inexperienced soldiers.
A morale check is always required when a unit takes more than 50% casualties from a single attack or if an order is given to a pinned unit.
Every time a unit is hit by enemy fire it receives a pin marker. Every pin marker reduces the morale of the unit by 1. If the morale is reduced to zero, the unit is considered destroyed. Note that no casualties need to be inflicted to give a unit a pin marker. You can destroy a unit by sheer volume of fire without killing a single soldier! Additionally, units with at least one pin marker must make an order test whenever the controlling player wants to give them an order. If the test is passed, the unit immediately loses on pin marker and carries out the order. If the test is failed, the unit automatically takes a Down order.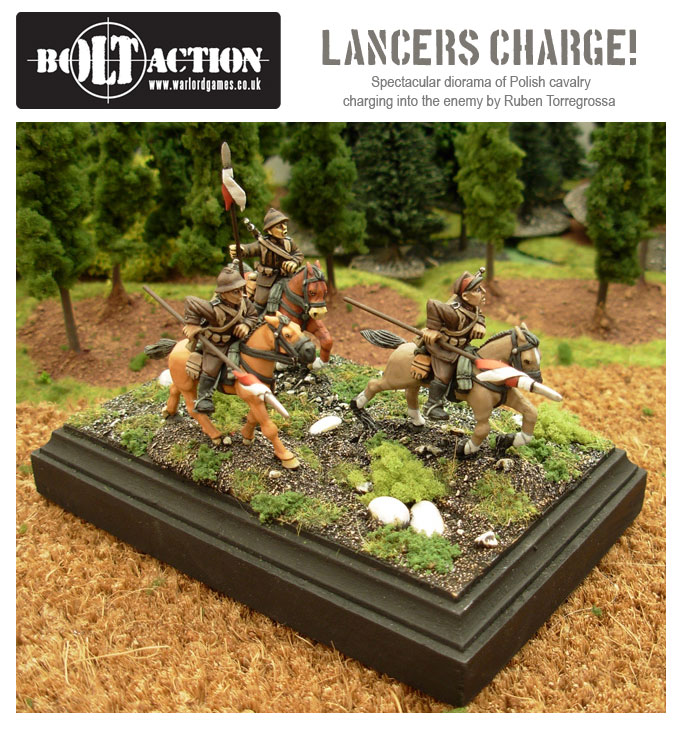 Movement
Moving your troops around is very similar to other wargames. Infantry moves 6″, tanks up to 9″. Miniatures of the same unit must be within 1″ of another member of the same unit. Vehicles and guns are limited in the terrain they are allowed to enter, for example only tracked vehicles can move through obstacles. Vehicles are also limited in the number of turns they can take during movement.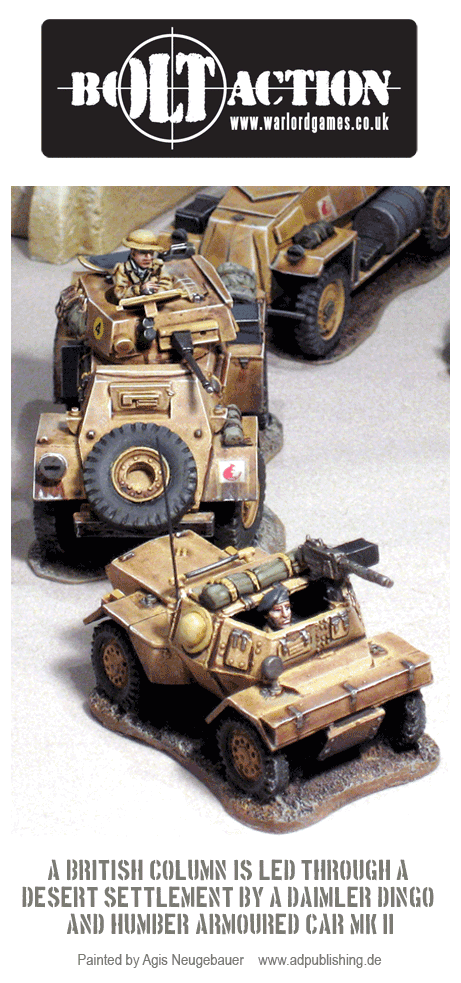 Weapons
Bolt Action uses weapon classes. For example, a german Mauser K98 and an american M1 Garand are both rifles and use the same stats. There are 7 small arms classes and 20 heavy weapon classes, ranging from pistols to super-heavy anti-tank guns.
Each weapon has a range in the usual steps of 6″ with a sweet spot for firefights around 24″. Additionally, the weapon table tells you the number of shots the weapon can fire ranging from 1 to 5 and its penetration bonus for piercing armor. Many weapons have special rules. For example, most heavy weapons are team operated and may have a fixed arc of fire.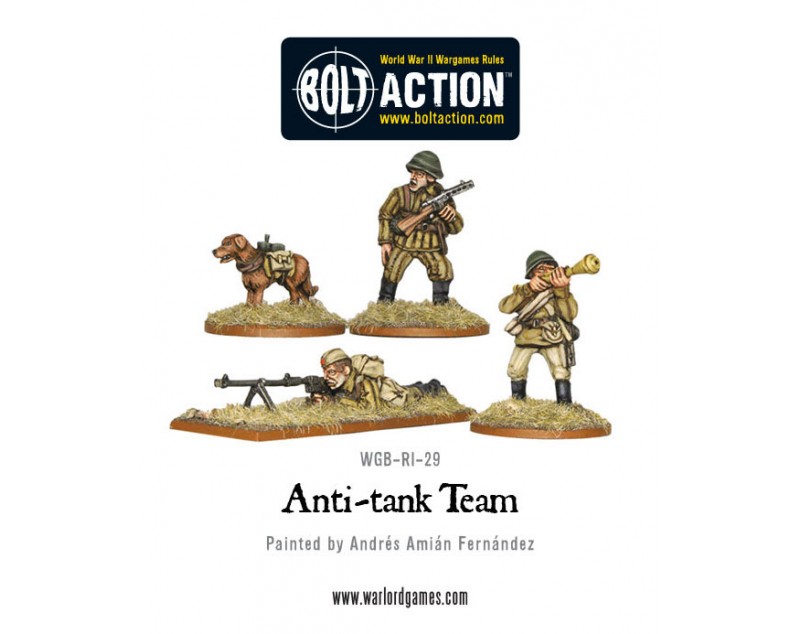 Shooting
To shoot at the enemy is pretty easy. First, you declare a target. After that, your opponent can decide if he wants to react to your attack. If the target units has not been given an order yet, it can immediately take a Down order. Of course, a unit that took a Down order cannot carry out any other orders this turn. Interestingly the targets reaction is chosen before the range for the attack is determined. Therefore a unit might take cover although the enemy is not even in range!
Next, the attacker counts the number of shots his unit can fire and rolls to hit. Everybody in Bolt Action has the same chance to hit his opponent: a 3+ base roll with modifiers for range, movement and cover. Pin marker also reduce the probability to hit.
For every hit a damage roll is made. The roll needed to inflict damage depends on the quality of the target, regular infantry for example is taken out on a 4+. Heavy weapons add their penetration value to the roll, therefore everything bigger than a light anti-tank gun takes out infantry automatically.
Every successful damage roll leads to one casualty in the target unit. If you roll a 6 for damage, re-roll the die. If you roll another 6 you scored exceptional damage, meaning you instead of your opponent can pick which model is removed – good to pick out support weapons and NCOs.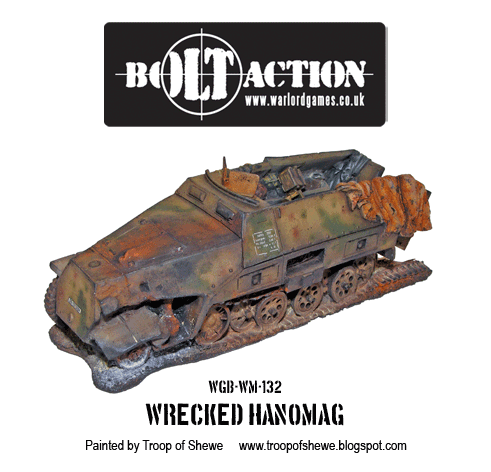 Targeting vehicles works slightly different. Vehicles cannot take Down orders, but some recon vehicles can make escape moves if they run into the enemy. Shooting is resolved basically as described above. To represent that small arms are mostly ineffective against even lightly armored targets, the damage roll against vehicles is 6+ to 11+. Only heavy weapons with a penetration bonus have a chance to harm any vehicle but soft-skinned transports. If the damage roll is successful, the attacker rolls on a separate damage table. On a 4+ the vehicle is destroyed, otherwise it might suffer the usual crew stunned or immobilised effects.
Close Quarters
Charging headlong into a bunch of guys with gun is usually not the smartest idea. Close combat in Bolt Action is very risky and very lethal. Again, first you declare a target. If your charge starts more than 6″ away from the target, the target unit can open fire out of turn and shoot at the attacker. Therefore you can take a lot of damage even before you get into base-to-base contact with the target. Something you need getting used to is the fact that only one of the attackers needs to be able to reach the target – everybody else from the attackers unit moves into base-to-base contact even if it means moving miniatures more than 12″! Because being charged by the enemy does not allow you to just keep your head down and wait for better times both units immediately discard all of their pin markers. All attacks in close combat hit automatically. Soldiers have one attack each except those armed with assault weapons. The Attacker rolls to damage as described above and the defender removes casualties before attacking back. The side that inflicts more casualties to the enemy wins, the loser is destroyed. If the result is a draw, fight another round of close combat immediately. This goes on until one side loses a round or is destroyed. The winner can then make a regroup move.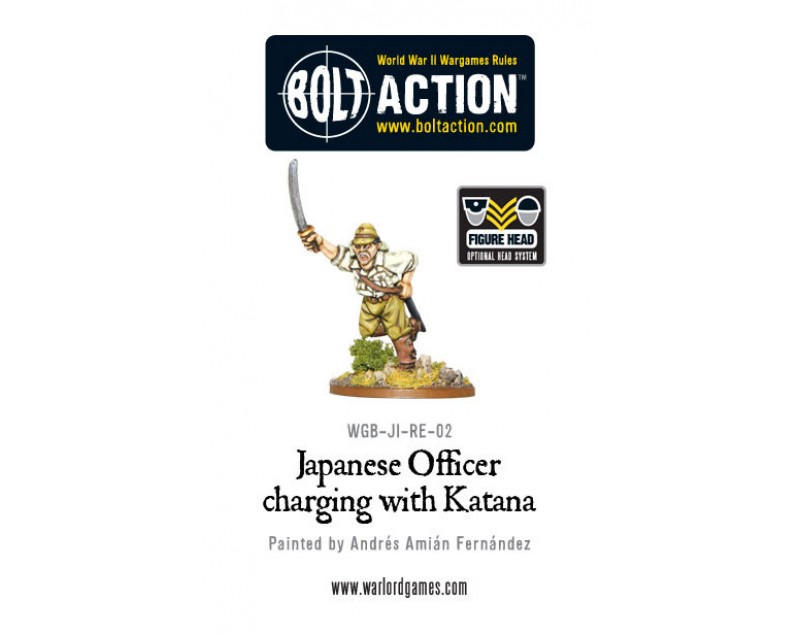 Vehicles and Field Artillery
Vehicles follow the same rules as infantry with a few exceptions. All vehicles are damaged the same way, therefore better quality only keeps them in the fight for longer if they receive pin markers. Of course vehicle mounted weapons are more effective because they cannot lose crew and can use Advance orders as infantry.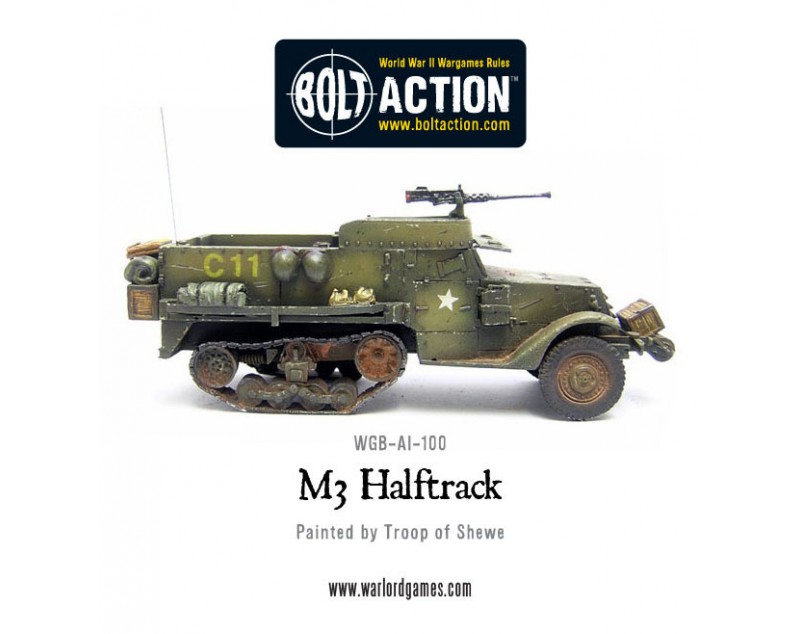 Transports are cheap, but have disadvantages. First, a unit inside a transport cannot fight, even if the transport is open-topped. The transport has to stationary for the whole turn if supposed to be boarded, not before and not after being boarded. If the infantry wants to dismount, the transport has to be stationary or moving slowly with an Advance order (taking the order either before or after the infantry dismounts). Troops in transports dismount immediately if the vehicle is immobilised or assaulted and if the transport is destroyed the infantry inside takes D6 hits and dismounts automatically with a Down order. Additionally, if an empty transport is closer to an enemy unit than to a friendly non-transport unit it is removed from the game.
Field Artillery includes anti-tank guns and howitzers on carriages. They are crew operated and suffer from being less flexible than vehicles or heavy weapon teams. They can only rotate on the spot before shooting if given an Advance order and can only be moved with a Run order. Gun shields give the crew excellent cover and they are only hit on a 6.
Anti-tank guns on carriage are mostly interesting for armies without good AT heavy weapon teams (i.e. the Soviets and British).
Howitzers are very effective and can deal up to 3D6 hits with a +4 penetration, make them excellent infantry killers. Additionally they are able to fire indirectly (using spotters) and they can fire smoke rounds to screen parts of the battlefield.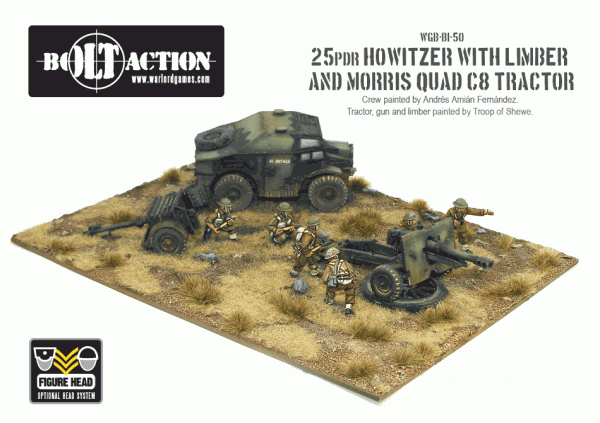 So, that is the first part of my Bolt Action review. In the second article I will cover army lists, force selection and gameplay.