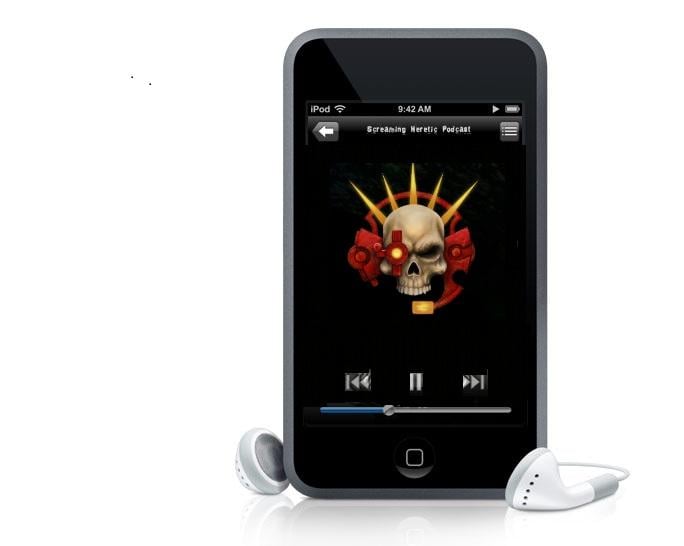 Welcome to another "This Week in 40K Podcasting,"
Here is this week's top 5!
Highlights: This week Kyle and Rik are back and talking about actual 40K, on 40K Radio!
The guys open up the show by talking about what they have been doing lately in gaming and the hobby.
Up next was the Rapid Fire segment where the guy field questions from their forum members, and most of them were related to 40K or the hobby.
Next up in News and Rumors, the guys cover Dark Vengeance, changes to the White Dwarf magazine, the Horus Hersey Forgeworld books, and much more.
Then, in 40K Tactica, the boys are discussing Power Armor tactics and the guys run down a game that they played, with some Marine on Marine action.
They run down the lists that they played, discuss some of the details of the games, and the impact that flyers and psychic powers had on the game.
Next up Black Library Corner, Rik reviews the book 'Fear to Tread' by James Swallow.
They close out the show with a discussion about the role of Allies in 6
th
Edition, and how it can be used to fluff up an army, or cheese it up, pending on the player.
Also, was this a business move, to ramp up the sales of more models?
They also run down some of the nastiest combos they have seen using the Allies rule to make some broken armies.
They also talk about some questions they had on how the Ally Matrix was made and why certain armies can be battle brothers.
Opinion:
Well, I plan to eat some crow this week by placing 40K Radio in the top spot this week after the flaming I gave them last week.
However, with both Kyle and Rik behind the mic for most of the show, this week's installment of 40K Radio was a shining example of what 40K Radio should be.
It had great content, barley going off topic (or talking about other games), and lots of good, fun topics that were a blast to listen to.
Great show, please have many more like it!
You have reinvigorated my 40K Radio love guys!
Bravo!
Highlights:
The guys are back after their long time off and their first place finish in this year's ETC!
They clock in with a massive 5 hour + show, so strap in for a boat load of 40K content!
The guys open up the show with an explanation as to why there has not been a show since May.
Next, the staff gives their first impression of the 6
th
Edition rules.
They covered how over powered Flyers are right now without a solid counter, wound allocation Deathstars, Allies, and much more.
They move on to discuss specific rules that they found to be the biggest game changers, things like random charge distance, premeasuring, characters, and psychic powers and their impact on the new game.
They close out the segment with what they believe will be the most popular lists and builds out there until the Chaos Codex drops.
Next, in the Tournament Report, the guys discuss Franco's Throne of Skulls tournament review, where he talks about his performance at this year's event.
They cover his list, the missions, and all of the opponents he faced over the 5-game event.
This also included a review of Warhammer World and what it is like there!
Next up was a complete review of this year's ETC from a majority of the English Championship Team.
They discuss how the event was run, the lists that they took to the event, the tactics they used for match ups, and much more!
They then talk briefly about each round of the event, talking about their matchups, the margins of victory, and some of the great moments in each round.
This included quite a bit on their level of teamwork on matchups, put forward and prey armies, and dealing with the German team.
They close out the segment with a conversation about how Team USA did, placing 19
th
, which was a shock to most who follow the ETC.
Opinion:
First, it was just awesome to see the show back this week after what seemed like forever since they last posted.
Aside from having some sound quality issues, which were worse in the beginning part of their ETC review, this show had too much 40K awesome not to hit my top five.
Hearing from the bulk of Team England who took 1
st
place in this year's ETC was just a treat.
Sure, it was a lot of old 5
th
Ed talk, who cares!
To hear from the actual players themselves was just amazing.
Great to have you back guys!
Small suggestion, any shot you could break up your monthly podcast into two three hour shows?
You have plenty of content and could still record on the same schedule, just release them separately, in two more digestible parts.
A 5 hour+ show was grueling to get through, even with all the great content.
And coming from me, that's saying something.
Highlights:
This week the guys begin their two part series on Codex Space Marines!
They open up the show with some announcements before moving on to their review of Codex Space Marines in 6
th
Edition.
They first talked about the army's key special rules like combat squads and 'And They Shall Know No Fear' and all of the tactics that permit them to be more efficient.
They move on to which psychic powers the Marines have access to and what works best for the army.
They then have a very detailed run down on Marine Special Characters and what they can do for the army, covering all of their special abilities and what tactics can come from these great characters.
They also discuss how some got better and some got worse with the edition change.
They then move on to discuss the Troop choices, including the Tactical Marine and scouts, and some of the more common roles on the battle field.
They also touched on how 6
th
Edition changed the usefulness of the stock Tactical Marine and go in detail with how to use Scouts in 6
th
Edition.
Opinion:
Seems like the guys are releasing shows once a week now, or a backlog of shows have all coming pouring out of Texas lately!
But, in either case, the Heroic 28s clocked in with another winner this week.
I love my good ol' Codex Marines and now having a second look at them now in 6
th
has revitalized my love for the good guys!
Great show this week, looking forward to part 2!
Highlights:
This week it is once again on Jon, Steve and Jason and they open up the show with the latest news in the world of 40K.
This covered the Dark Vengeance starter set, in great detail, and the latest from Forgeworld.
This derailed into a great conversation about using Forgeworld units in standard games of 40K.
They then righted the train and discussed the latest from the Black Library.
They jump into what they have been doing lately in gaming and the hobby, which included Jason adding Tau to his army, Jon first game in a month, and he still managed to get beat down.
Next, the guys do a review of the Allies mechanic in 6
th
Edition and how it has impacted their games so far.
They have run some tests just to see how well Allies play in their armies and see how it can fill some holes in your army.
They also talk about some of the shenanigans that can come from the Ally rules and those who try to break the system.
The boys close out the show with a conversation about Flyers and their impact on the game.
They open up with the question: Are Flyers OP in the current game?
They then discus their experiences using Flyers, how they have affected the game, and some early list builds like the 9 Necron Flyers and Daemon Flying Circus.
Opinion:
Once again the boys do not disappoint, and the Overlords turned in one really quality show this week.
I am not sure how I am feeling about the smaller staffed shows at this point, (I miss some of the old regulars) as this week it was basically just Jon and Jason, but the great content just flowed!
Two really great topics with some fascinating point and counter points.
I can't say enough, this was a good one!
Hope all is well with the rest of the cast!
Highlights:
This week the guys open up the show with 'the Roundup' where they talk about what they have been doing lately in gaming and the hobby, with a lot of vacation time interrupting both.
Next, in the 'News', the guys cover in detail the Dark Vengeance starter set, Forgeworld new releases, the Black Library's latest, and more!
Next, the guys talked about the campaign that they have started playing in.
Dave ran down the 1500 point Dark Eldar list he played as an aggressor in his first campaign game against an Ork army.
He then gave a very brief summary of the battle and its result.
Next, Opy and Andy played each other in their campaign match, and they give a much more detailed review of this battle.
This included a rundown of Opy's 1500 Point Grey Knights army and Andy's Blood Angels list, as well as a great report on the battle.
Next up was the signature battle report, this time pitting Opy and his Grey Knights versus Space Wolves at 1000 points.
They cover the mission, the table layout, and the lists involved in the match.
Next was the dramatization of this great battle, followed up by a review of the battle's results. They guys close out the show with 'Rules of Engagement' and this week cover the 'Deny the Witch' rule and how and when you can use it.
Opinion: Like the cherry on top of a really good week in 40K podcasting, Turn 8 clocked in with a really fun show this week.
They cover their campaign games which I found pretty interesting, but was wondering what the story behind the campaign was, coming from a podcast known for their flare for storyline.
And of course the Battle Report still makes my week each and every show!
Great show guys!
Honorable Mentions – All great podcasts that just missed this cut this week, but you should still check them out, in no particular order:
So, that is it for This Week in 40K podcasting, thanks for reading. Got a podcast all about 40K, or mostly 40K that I am not listening to? Let me know about it, [email protected] and let me know about it.

Also you can find me on My YouTube Channelfor Battle Reports, Tactics, Reviews and more! Disagree with my review? Post comments for that too!