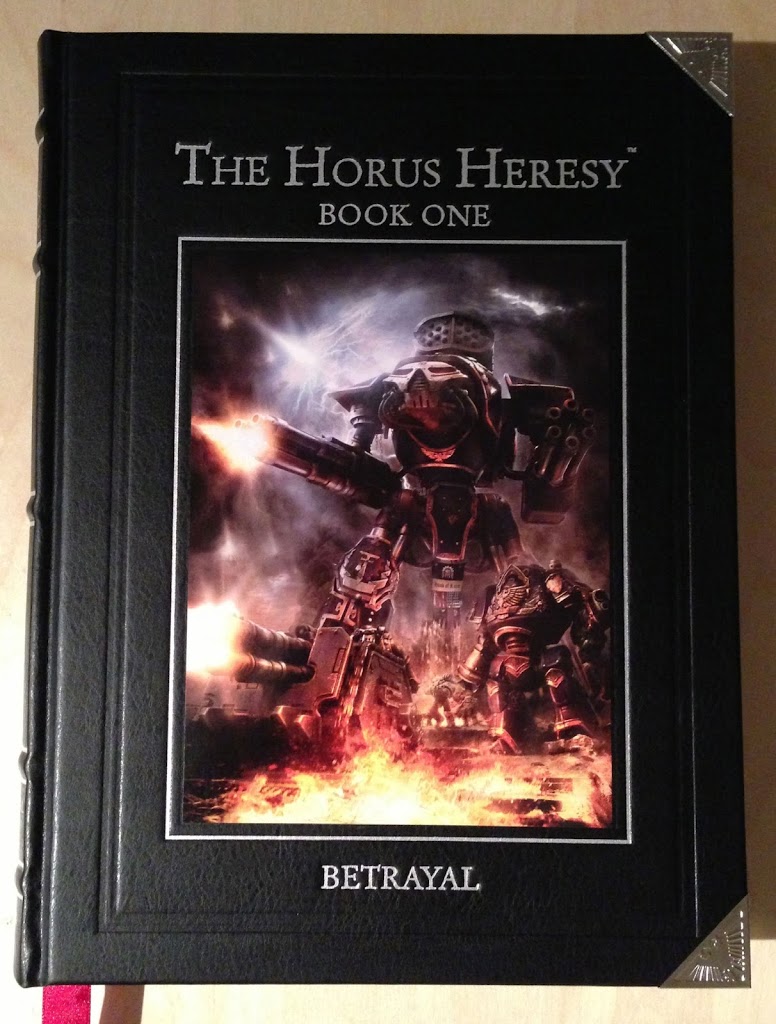 At Games Day I picked up a copy of the new Horus Heresy Book from Forgeworld. I say "picked up" but that possibly doesn't do the panic, worry and hour and a half of queuing justice. Nope, I earned that book. Was it worth it? Let's see….
The Book
The book is leather bound (or at least faux-leather) with a red ribbon book mark. The front cover has a colour picture of a Reaver Titan and all the writing on the front is metallic silver. The edges of the pages are also gilded silver. The corners of the covers are metal-capped with silver aquilas. Certainly the book's appearance is worthy of such a legendary battle and time.
The Background
The first 140 pages are filled with background. I will be honest and say that I have not read the background section in depth. I am saving that to enjoy it at my leisure. It does however look glorious – if you have any of the other Imperial Armour books, especially the later campaign books then you'll be familiar with this. It provides a detailed overview of the Imperium, the Space Marine Legions involved and the Istvaan III campaign. The illustrations are also fantastic, there are the same pictures you have come to expect of the troops involved and their vehicles but they seem to be more detailed than previous books. There are also maps of the Imperium, a breakdown of Space Marine Armour and the complete layout of a Space Marine Legion, very interesting as this is before they are broken down into the much smaller Chapters of the 41st Millennium.
The pictures of battle scenes and models are impressive and colourful. They are all of ruined cityscapes however and I was hoping to see a glimpse of the slightly-less grim and slightly-less dark not-as-far future of the 31st millennium with some intact future buildings before the Imperium begins to stagnate; sadly there are no pictures like that.
The Istvaan III Campaign
After the background there is the Death Of Istvaan III campaign. It is suitable for multiple players split between Traitor and
Loyalist forces and takes you through four stages of the campaign from the initial landings to the final last stand.
It's very simple but that gives me hope that it will be more playable – I've been part of plenty of campaigns that have failed due to overly complex rules.
There are six new battle missions provided and six new deployments for playing standard games throughout the campaign and then for each stage of the campaign there are Legendary Battles that represent pivotal battles.
The Legion Army List
Firstly we're presented with a new Force Organisation chart and a new allies matrix. The Force Organisation chart is the same as the standard organisation chart in the 6thEdition Rulebook with the addition of one extra HQ choice and an extra Elites slot. There is also an entirely new option of a "Lord Of War" but I'll talk about that later. The Allies chart possibly provides us with a glimpse of things to come as it has all eighteen Founding Space Marine Legions and also the Imperial Army and Mechanicum. Just like the Allies chart for standard games there are different degrees of allies and these are no surprise – Space Wolves and Thousand Sons don't get on and Imperial Fists and Iron Warriors won't be swapping siege tactics any time soon.
The main list doesn't disappoint. Every option gets at least a full page to itself. The illustrations and colour does start to disappear at this point in the book – there are red text boxes on the outside of each page that provide background text and then there are battle scenes at the bottom of the page that fill in spaces. These images are great, but they are printed in a light grey, almost like a watermark. This subtle effect is nice but does make some of the pages look very empty.
There are the Legion Praetor's who are the masters of the legions and are equivalent to the more familiar Chapter Masters. As well as the longest list of options I have seen for a character they can also choose Rites Of War that affect the entire army options, allowing variations from pure drop pod armies to all terminator armies.
Next up is the Legion Centurion, representing the lesser officers. These can be upgraded to Consuls that are the Librarians, Champions, Chaplains, etc. There's some really nice touches here reflecting the difference between their 41st Millenium counterparts – the Chaplains carry a Crozius but not the religious symbol of the Rosarius, Librarians are yet to be equipped with psychic hoods.
Many of the Elites choices are not dissimilar from the current Space Marine Codex but you can choose more of them and their use is slightly different. For example Apothecaries are bought in 1-3 and allocated to any unit not just the Command Squads. Dreadnoughts are also here and bought 1-3 per force organisation slot.
There are five different troop choices. One of the big differences in between these and their successors is the size of the units – the Legion Tactical Squads and Assault Squads can have up to 20 men. Combat Squads are no longer an option but there is a "Tactical Squad Light" that lets you field smaller units although these do not count as compulsory troops so it looks like most armies will be built around a core of large infantry units – you won't be building a Horus Heresy Army on the cheap!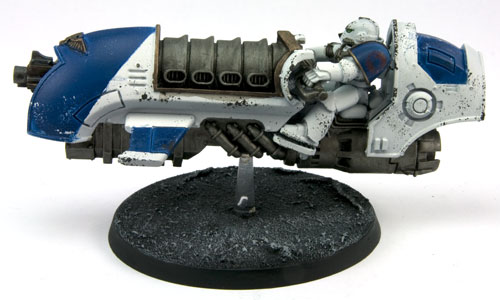 Fast Attack options include the Storm Eagle Gunship and Jetbike Sky Hunters. Old favourites are still in there but the weapon options are a little different.
One thing that seems to be much "bigger" now is the choice of Heavy Support units. Land Raiders can be fielded in units of three as can Predators and the large Caestus Assault Rams and Spartan Assault Tanks (it's a very big Land Raider) are also options.
Equipment
There are many familiar unit choices in the list but many of these are slightly tweaked from their 40k incarnations. Havoc Missiles are on many vehicles and there are many more autocannons, even on infantry models. There are three new plasma weapons and a completely new type of weapon called Volkite weapons with the "Deflagrate" special rule that deals extra hits when they first successfully wound.
I really like the way the changes fit the background – some of the more familiar options are slightly tweaked as a result – the Special Issue Ammo for Boltguns no longer include Hellfire Shells or Vengeance Rounds as the enemies they were developed to destroy haven't been discovered yet.
Lords Of War

There are options given for truly epic characters and vehicles. These are Lords Of War and you're only allowed one of these in your army and it cannot take up more that 25% of your points. It's no surprise that there are Titans and super-heavy tanks in this section and this also allows you to take Imperial Navy flyers (so my Thunderbolt can see some action!). Four Primarchs are
to be found here: –

· Mortarion, Primarch of the Death Guard
· Angron, Primarch of the World Eaters
· Fulgrim, Primarch of the Emperor's Children
· Horus the Warmaster, Primarch of the Sons of Horus.
It would have been easy for Forgeworld to give incredibly high stats to all the Primarchs to give them god-like abilities and they are certainly tough but they are not untouchable. That said all Primarchs have the Eternal Warrior ability so can never be killed in a single shot, regenerate wounds and are Fearless. Each also adds abilities to the Marines from their Legion, abilities that are pretty powerful – Fulgrim adds +2 to the Combat Resolution of Emperor's Children. Further special rules then make them more deadly with unique weapons and abilities giving them extra attacks – these models are more than capable of cutting swathes through opposing units of Space Marines but then they need to – at around 500 points they need to kill an awful lot to earn their points back.
Legion Specific Units
As well as the Primarchs there are unique characters and unit choices. These include characters that will be familiar to you from the books such as Saul Tarvitz, Garviel Loken and Ezekyle Abaddon. Special units include scythe-armed Terminators for the Death Guard and cybernetically enhanced gladiators for the World Eaters. These help capture the unique feel of each Legion which is much needed as otherwise I find numerous Space Marine armies can feel very similar.
The Cost
It's hard not to mention this while reviewing the book – it was £70. I've bought previous Imperial Armour books from Forgeworld but they were all around the £40-£50 mark. In fact until now the price of the books seemed to be going down as the last two books, Imperial Armour: Aeronautica and Imperial Armour Apocalypse Second Edition, are only £26 each. That's actually cheaper than the new Chaos Space Marine Codex!
Summary (TL;DR)
I was excited when I picked up the Horus Heresy book and it really doesn't disappoint. The background section is fantastic and the new gaming rules should be easy to transfer to normal 40k for a bit of variation. It's also fantastic to show off to your gaming friends and I've not met anyone who has failed to be impressed by it.
I don't know how much use I'll get out of it for gaming as it does involve collecting a whole new army, a new army of Forgeworld models at that. One of my frustrations is that I actually have a very large Red Scorpion Space Marine army that would be ideal for these games (I have a complete 100 man Battle Company and Predators, Whirlwinds and Land Speeders in 3's) but they are not in the background for another 8,000 years! I do have an army of Pre-Heresy Thousand Sons army that I use as Grey Knights so I will look at using those although I guess that means I will be waiting for a new book with their special rules to be able to use them properly. But I think these problems are caused as I am so excited by this book and what the future holds.
The rules would benefit by a section on what alien races the Legions can fight against. A common complaint from my gaming group is how boring it is when we all have Space Marine armies even though we have Blood Angels, Grey Knights, Red Scorpions, Space Wolves and several Vanilla Marine armies. The Legion lists don't seem to offer much hope that this won't be the case – the Mechanicus Troop choices have a 4+ armour save but everything else in the book has a 3+ or 2+ save. That's a lot of dice rolling before causing any damage.
Overall I'd recommend the book if you're really into the Warhammer 40,000 worlds. It's probably not for the casual gamer and it's certainly not for you if you flinch at the thought of spending £70 for a book. But, if like me, you are excited about new background and rules and have wondered about the Horus Heresy since you first heard of it then I'd definitely sell my kidney for it. After all I have two.
Steve has an even more in depth review at his blog: Toysnthehood Go check it out.