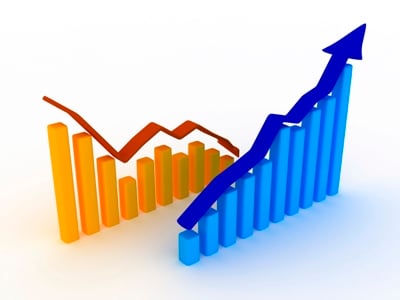 Feast of Blades 2012 has come and gone. Lets take a moment to see where we stand with our first 6th Edition codex under out belts.
With nearly over 150 Warhammer 40,000 attendees, here is the army breakdown we saw: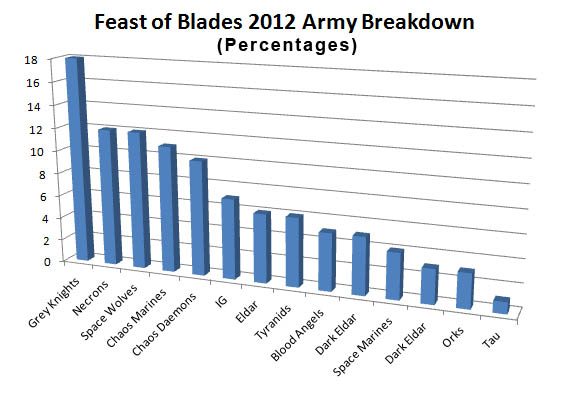 And 4 months earlier at the twilight of 5th at WargamesCon 2012: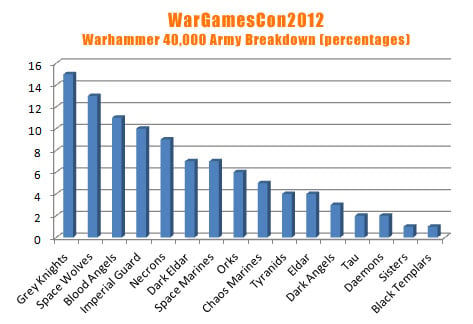 You will notice the top army – Grey Knights still are ruling the roost, while Necrons and Space Wolves are still top contenders. But we see the strong improvement of the brand new Chaos Space Marines in the top 5. To a certain degree this may just be "new shiny" effect we'll have to wait another 6 months to see if they stick. But BY FAR the biggest change is the Chaos Daemons rocketing into prominence from their dismal end of 5th Edition showing. Quite a difference a single white Dwarf can make huh? The Blood Angels appears to take the hardest hit on the downward scale, being knocked down to a middle of the road number of attendees.
As the final cherry on top of the end of the tournament report, remember that Table 1 had Chaos Daemons on it 6 out of 7 rounds, including 2 rounds of Daemons vs Daemons.
This is where we sit ladies and gentlemen. Ahead of us is said to a slew of Xenos codex updates such as the Tau and Eldar, and the upcoming Dark Angels. It will be interesting to see where the community will be six months from now.
Have at it folks – who's hot and who's not in your area?