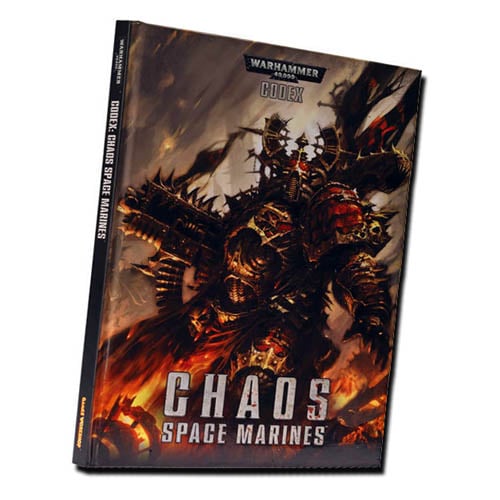 Hey guys, lets take a look at the Elites of the Chaos Space Marines in detail. Oh, and Death to the False Emperor!

A tactical series by Learn2Eel
Last time we talked about the Named Characters. Lets move onto the Elites. Basically, I'm going into detail about what I feel are the competitive choices in each of our force organization slots, and my recommendations on the best builds for each unit.
Chaos Space Marine Elites
Elites – I would typically say this is the one section of the codex that you don't need to worry about. You aren't as spoiled for competitive options that are necessary to a good army list as you will find in Fast Attack and Heavy Support, but that doesn't mean you can't make Elites work. Just remember that it is arguably the weakest section of the codex.
Chosen – A meltabomb more expensive than a standard Chaos Marine for a higher leadership, an extra attack base, and….five special melee/ranged weapons regardless of squad size. In reality, the latter is why you will take Chosen – think Sternguard mixed with Imperial Guard Special Weapons Teams and you have a pretty accurate summary of this unit. A five man unit with four plasma/melta guns will threaten damn near everything, and a Rhino gives them the mobility they crave. Quite cheap too. However, be aware that running Chosen in this way means you will lack the numbers to take hits back. I do not under any circumstances advise you to use them as a close combat unit – Terminators do it much better and are only slightly more expensive. Can be made Troops – and thus scoring – with Abaddon. Even the feared Dreadknight won't want to get close to a squad with four or five plasma guns. Also be aware that combining said plasma gun spam with Abaddon's Preferred Enemy bubble is both tasty and dirty – for you and your opponent, respectively. This isn't as good as it might seem at first though, as the afore-mentioned lack of numbers and expense-per-model ratios do not work in your favour. You are also relying on situational abilities and will not really faze horde or flyer-heavy armies. If you are in a marine-heavy meta though, go nuts. A good choice overall – but they must be made to fit a specific role. If you want utility or close combat, go for Terminators or standard Chaos Marines. You should always be using Chosen to bring lots of special weapons.
Possessed – Nasty on the charge, and that is about it. They have an invulnerable save and have nasty extra abilities rolled for in each combat phase. Ultimately, less random than before, but still probably too expensive for what they do. Mind you, it can be funny having the equivalent of Rubric Possessed (+4 invulnerable saves) to troll Thousand Sons players with the fluff-abuse it represents. I might be selling them a bit short, but their lack of ranged options limits their role, and in reality, Berzerkers or Terminators will do the same job more efficiently and less randomly. Marks give you interesting options to work with, and the high base strength is nice. However, again, outshone by other melee-oriented options. This may be an unfair summation, as their random abilities are all quite good – either you re-roll all failed to wound rolls in combat, or your weapons become AP3, or they gain +1 attack and +1 initiative – just be aware that you are unlikely to get what you really need on any given turn. A mediocre choice overall.
Chaos Terminators – They are Terminators, they are cheaper than the Loyalist equivalents when kitted out similarly, and are very customizable. We don't have TH/SS flying out our backsides but, hey, who needs them? The popular options with Chaos Terminators revolve around high numbers of combi-weapons – in this role, Chaos Terminators are cheap, durable, and provide some very nasty firepower – keep in mind that this is situational and dependent usually on deep strike scatter. A typical squad loadout is three Terminators, with three combi meltas/plasmas, one chainfist, and a mix of power fists and power weapons. This kind of unit can threaten virtually any target and is quite cheap. It will also play mind games with your opponent, especially if they have valuable units in their back-field.
In general though, Terminators are similar to Chosen in the sense that they are able to fit a wide variety of roles depending on how you outfit them – unlike Chosen however, Terminators don't suffer from being specialized to one particular kind of role, and they don't have to worry as much if they are in small squads. The aforementioned three combi-weapons/chainfist/two power fists kit out for a three-man squad will do the job very well. And let us not forget that you can use them in the classic 'CHARGE!' role; stick them in a Land Raider, attach a Chaos Lord/Abaddon/Kharn/Typhus, give them the appropriate mark, run them at your opponents biggest damn target. For those that like their eggs in one basket, but as always, devastating when it works. Always a good bodyguard unit. Marks and Icons can be quite nasty on them – T5 Terminators, +4 invulnerable save Terminators, I5 Terminators with claws and Feel No Pain, etc. Costs add up quickly though, but the slew of options available will mean you are hard-pressed not to indulge yourself. Overall, a good choice.
Helbrute – Hmm. Cheaper than Loyalist options, but lack the two most competitive options that Loyalist Dreadnoughts get (Drop Pods and dual-autocannon load-outs). However, these guys will still do their job well – they have a lot of juicy options that can make them very deadly against certain enemies. Remembering that you come with Extra Armour base through your Crazed rules, you get quite a good deal on the surface. However, the Helbrute suffers from a lack of focus – you don't have any in-codex means of getting them into your opponents lines quickly, and to make a ranged platform you have to take a missile launcher with your other weapon option, which limits your effectiveness. The Helbrute encourages having a ranged weapon and keeping the close combat weapon. This is fine, but the inability to give it that focus really reduces the Helbrute's viability. However, I don't mind something that is the minimum triple-digit cost for what it does. Ultimately, this is a unit that you should not rely on – send it at your opponent and hope it kills something valuable before it dies. If your army has a lot of more threatening targets, you may even find this guy can do a lot of unexpected damage to your opponent. A solid choice overall.
Mutilators – I'm not sure what to think about these guys. If you put one next to a Paladin, you get for the same cost – one less WS, one less LD, cause Fear, no psychic abilities, no force weapon, but instead you get paired combat weapons (and thus 3 attacks base) i.e. everyone gets chainfists/lightning claws/power axes/power mauls/power swords. At face value, this seems like a fantastic deal – unlike the Paladin, the Mutilator can essentially deal with any threat in combat and take withering amounts of firepower. However, that is just face value. Mutilators have no decent transport options and with Slow and Purposeful it is unwise to march them up the field. Unlike Paladins, they have no guns and thus rely on getting into combat. They can Deep Strike, but that is obviously risky. They can never be made to score like Paladins can, and they are capped at a squad size of three. As such, I am torn on these guys – they sound great at first, but how they would actually work in game is an entirely different matter. Marks are a good option for Mutilators – any of them can be useful, but Nurgle and Khorne will probably be the most common. Nurgle makes them immune to S8-S9 instant-death – which is what will usually target them if Obliterators are a good example – whilst Khorne increases their attacks so they can shell out ludicrous amounts of damage. A mediocre choice overall.
Now for the juicy part – Cult units! Remembering that each unit can (and probably should) be made scoring through the use of the appropriate HQ with the appropriate mark.
Khorne Berzerkers – Blood for the Blood God! This sums them up pretty well. Get them into combat = profit. Getting them into combat is the killer though, what with Overwatch, paying for a transport, having to endure at least one round of shooting when they jump out of said transport, etc. The options are typically unnecessary on these guys – the ability to take multiple plasma pistols is fine, but the real deal for them is chainaxes. It is a small points increase to make all of their (many) combat attacks AP4. Do you really want to kill/make Dire Avengers cry? Do you want to make an Imperial Guard player feel insignificant for putting Carapace Armour on his Veterans? Do you want to do more against your main…..wait, that's right. Against Space Marines, AP4 will not help you. In that sense, think about what you will face and whether or not the upgrade is worth it. Typically, +4 armour units will get crushed by your sheer weight of S5 attacks anyway. Furious Charge, Rage and Fearless make you a powerful combat unit – but the latter also makes you vulnerable to targets you do not want to engage.
Also, what do you give the Skull Champion? A power fist so the unit can more reliably handle vehicles/walkers? Or a power sword so you can butcher MEQs? I would recommend the latter, as a Skull Champion with a power weapon will give even I4 HQs (such as Librarians) pause with the sheer number of attacks he generates – you are also likely to butcher any sergeant that gets in your way. Ultimately, Berzerkers are good at what they do and not much else – they will also typically be killed quickly by other armies dedicated close-combat units. Of course, such armies will typically be using much more expensive, non-scoring units in that role, hency why Berzerkers do fill a nice little niche. They will power through standard tactical marines, but will be blasted by Terminators. Remember that, and you can make them work. And get them a Rhino! Though you can't charge when you jump out, the tax is worth it so that you aren't getting blasted on the way to your target. A solid choice overall.
Thousand Sons – The core of my themed army lists, and obviously my favourite cult unit fluff-wise. However, they are also sadly seen as the least competitive of the cult units. As much as an AP3 bolter and a +4 invulnerable save sounds great on infantry, they have quite a few issues. They are highly expensive for what they do in the sense that cover saves are readily available in 6th Edition that will largely negate their AP3 boltguns. And again, they are still just boltguns – because of their cost, you can't have a lot of them to make up for their S4. A +4 invulnerable save has many obvious applications, but again, cover is readily found in 6th Edition, and a smart opponent will learn to simply shoot their anti-infantry (i.e. standard boltguns) at them – they die like any other space marine in this way. Mind you though, I've had a squad of these guys beat back an Assault Terminator squad twice in the same game without suffering a casualty. If your meta is dominated by lots of low AP weaponry, this works a charm.
They are also Fearless and, unlike other Cult units, they come with Veterans of the Long War in their basic cost. That sounds great, until you realize that they are terrible in combat – i.e. even worse than Tactical Marines. Thousand Sons do not have grenades and thus, outside of meltabombs on an already expensive aspiring sorcerer, they cannot deal with vehicles outside of glancing AV10 (which is unlikely). The Sorcerer is limited by having access to middling powers, and has no defense against Perils of the Warp. The only power you actually want is Doombolt, but you have a 50% chance of rolling it – the other power isn't all that helpful. It is cool to have a mini-psyker leading your unit though, and he even comes with a force weapon. He is easy prey for challenges though, but you will assuredly laugh your pants off the one time he kills a much more expensive HQ through a lucky force-weapon wound whilst tanking due to his +4 invulnerable save (which I've seen happen – one of mine killed a Greater Daemon from the previous Chaos codex). As much as I love them, they aren't that great – over-priced is the most accurate description I can give these poor automatons. Stick them in a Rhino so they can shoot quicker, or combine them with Ahriman for a nasty flanking unit. A mediocre choice overall.
Plague Marines – T5 with Feel No Pain, 2 special weapons with no minimum squad requirement. What more needs to be said? Poisoned close-combat weapons. Work best with either two meltaguns or two plasma guns in a Rhino typically. 7-man squads tend to work out best in terms of both efficiency, the actual purchasing of the models, and venerating the unholy festering stew of Nurgle. You are crazily durable and can deal with almost any threat when kitted out appropriately, but don't for a second think you can just throw them at the enemy's toughest units; Plague Marines will still die quickly to AP3 weapons, and as good as Feel No Pain and T5 is, cover will increase your survivability exponentially. Another key attribute of Plague Marines is that they have defensive grenades – this can really screw up units that rely on charge bonuses to swarm their opponents in attacks. Any opponent of yours that plays a Khorne army will hate you. Just remember that you are the second most expensive cult unit, and the most expensive per model. A very good choice overall.
Noise Marines – This is very much a unit that you need to decide their role before you outfit them. If you want a close-support unit, give them the extra close-combat weapon, stick a Doom Siren on the champion and give them a Rhino. They will typically make their points back the second the Doom Siren unloads on a Space Marine squad and/or charges. I5 makes them a nasty proposition for Space Marines by killing them before they can strike back with all of their attacks, but remember that I5 won't matter against units like Wyches. If you, however, want a ranged-artillery unit, beef them up to 10 models, give them all Sonic Blasters and one a Blastmaster, as well as an Icon of Excess. Sit them on an objective and they will blast (pun intended) their opponents into dust.
In either role, they are quite efficient – their Sonic Blasters will absolutely reave low armour-save armies such as Dark Eldar, Tyranids and Orks. By reave, I mean 'annihilate' – all of their weapons ignoring cover makes them a brutal unit to use against horde armies. They also cause Pinning tests (or is that just the Blastmaster?). They work exceedingly well when combined with a Slaaneshi Sorcerer – the Slaaneshi Sorcerer can make whatever your Noise Marines shoot at die in abundance. Ultimately, which role you pick is really up to you – both are good, and both will be carried out well. I would typically recommend the ranged role, as shooting tends to be king in 6th, and Noise Marines do it better than any of the other Elites or Troops choices. A very good choice overall.
Summary! Terminators, Plague Marines and Noise Marines are the best bet for a competitive army list.
Next time – Troops… Have at it folks. What's your favorite CSM Named character and how do you equip them?