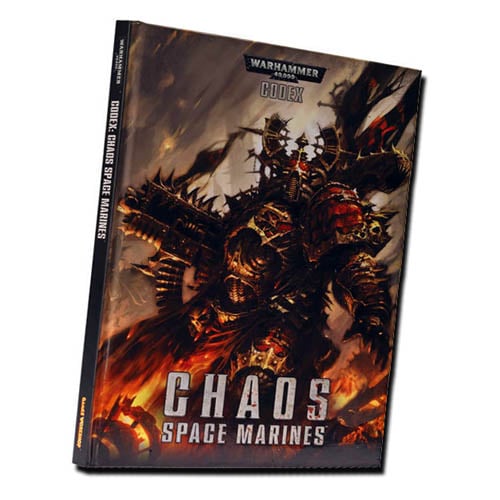 Hey guys, lets wrap up our CSM series with a look at the Heavy Support of the Chaos Space Marines in detail. Oh, and Death to the False Emperor!

A tactical series by Learn2Eel
Last time we talked about Fast Attack. Lets move onto the Heavy Support. Basically, I'm going into detail about what I feel are the competitive choices in each of our force organization slots, and my recommendations on the best builds for each unit.
Chaos Space Marine Heavy Support
Heavy Support – Our best force organisation slot in the last codex, and little has changed aside from our other slots getting noticeably better (particularly Fast Attack). If you want firepower, this is the place to be. Just note that the ridiculous number of competitive choices in this slot means you should think long and hard about what will work best for your army and, most importantly, what appeals to you most!

Predator – The humble Predator, as I like to refer to it, is a points efficient vehicle that is usually outshone by better choices. The Predator can be tailored to fit two specific roles – either strictly anti-tank, or strictly anti-infantry. I don't encourage a middle ground for Predators – they are cheap and durable, but you usually want them to focus on one specific kind of target so that they don't become ineffective. In this way, I really like how you can quite easily throw a single Predator into an army list and use it as the 'odd one out' kind of unit that will provide a nice fire-base. For anti-infantry, keep the autocannon and take heavy bolter sponsons – it won't threaten MEQs too much, but it is very effective against anything with a 4+ armour save or even, to a lesser degree, monstrous creatures. This build also provides a decent threat to light vehicles, such as Rhinos. For anti-tank, either keep the autocannon or take a twin-linked lascannon, and take lascannon sponsons. Ultimately, the decision on the turret-mounted weapon is one of how many points you are willing to spend. The anti-infantry build will run you under 100 points and the anti-tank build just over 100 points.

The problem with the Predator is that not only it is quite easily destroyed if an opponent can get at its side armour, it can only shoot one weapon at full BS if it moves. Given that Predators typically have three weapons, this creates an obvious issue of mobility, despite the background of Predators suggesting otherwise. As such, you really need to set it up in a good position so it can threaten targets from across the board whilst minimizing damage to itself. In this sense, the Predator can be a rather difficult vehicle to use effectively. It can be well worth it though – Predators are mightily cheap, and tend not to be perceived as an immediate threat for your opponent. Taking three of them is a viable strategy, but just be aware that unless you have other more dangerous units on the board, they will most likely be the recipient of all of your opponents anti-tank firepower. Front AV13 can only get you so far unfortunately. Kit them out for what you need, and you will rarely be disappointed – by that same token, you will rarely be mightily pleased either. As such, I rate them as a decent choice overall – not bad, not great.

One thing I almost forgot to touch on was vehicle upgrades – on a Predator, I usually wouldn't bother aside from maybe a Dozer Blade or Extra Armour. Do not get Daemonic Possession. As tempting as it is, a Predator already suffers from its weapons typically not being twin-linked – thus, reducing its BS is a bad idea.

Vindicator – My favourite Chaos Space Marine tank for quite a few reasons. Most notably, the S10 AP2 Ordnance pie plate from hell. I loved using these in 5th, and now in 6th, they are far more effective due to the changes to blast weapons – if even part of the large blast marker touches a vehicle, it will suffer a S10 AP2 hit rolling 2D6 pick the highest for amour penetration. These things are almost unmatched as far as 'bunker-busters' and will make any castling opponent cry. Just be aware – they will be the biggest target the moment you put them on the board for deployment. As soon as opponents see these, they will immediately adapt a strategy based around "destroy the Vindicator before it fires". Common tactics involve pre-measuring to make sure that the Vindicator won't be in range on Turn 1, setting up flanking units or anti-tank to hopefully get at its weak side armour (AV 13/11/10, like a Predator), or even putting only sacrificial units in its range. Nothing draws fire quite like Vindicators do – no-one ever wants to be on the receiving end of one. As such, they are similar to the Predator in that you have to be very careful with them. Think about how you can minimize damage to them on turn 1 – especially if your opponent is going first – as well as the target most deserving of unholy punishment. Typically, this involves your opponents biggest vehicles, Terminators, transport formations, heavy weapon teams and their equivalents, T5 or lower multi-wound units, and so on. A Vindicator stands a very decent chance of punching through a Land Raider's armour – just remember that you only have a 1/3 chance of actually penetrating AV14 per die.

Make sure to remember that cover saves can largely negate your shot. I typically wouldn't recommend shooting at units on higher levels of buildings – if the shot scatters off, it will mean that it won't be able to hit anything else. Also, be very aware of your own units when shooting a Vindicator – as unlikely as it might seem that the shot would scatter off 12″ diagonally down to your left and hit your squad of Terminators, it can and will happen. The Vindicator also benefits a lot – unlike the Predator – from the vehicle wargear section. Though you can take a Dozer Blade, for slightly more you can take a Siege Shield that will never let you down (you wouldn't believe how many times I've either rolled or seen others roll two 1s in a row), and much unlike the Predator, daemonic possession is a very good upgrade for the Vindicator. Ignoring Shaken/Stunned on a 2+ almost entirely negates the most common strategy of dealing with Vindicators – i.e. neutralizing it for a turn. Daemonically possessed Vindicators are only slightly less scary than Blood Angels Vindicators, and in some cases, they are even more frightening. A pair of them is sure to make many opponents poop out bricks.

If you want to use a Vindicator, be aware that one weapon destroyed result can make it almost useless. Immobilizing it also effectively screws it over – a siege shield or dozer blade is mandatory (the former is recommended)! There are ways around this though – the first is to stick a combi-bolter on the Vindicator and pray your opponent gets the result they really don't want by relying on the flip of a coin. The other is to get a Warpsmith – your opponent will be forced to focus on actually destroying the Vindicators once they realize a Warpsmith can grow the Vindicators' gun back on a 4+. Overall, the Vindicator is a good choice – but I recommend running them in pairs. One is too easy a target, and three is just overkill. However, if you want to be nasty in Apocalypse games, you should get a third for that one time you want to use the Vindicator Linebreaker Formation (i.e. all the damn time). It is nasty. Look it up.

Land Raider – As much as Land Raiders are awesome, the sad and unfortunate truth is that Chaos gets the worst kind of codex Land Raider – at least for what Chaos needs anyway. Chaos are best using Land Raiders as assault transports, but ironically they don't get the two variants that are actually very good in this role – the Crusader and Redeemer. The one we get is the 'bunker' Land Raider – designed to sit back and provide long-range fire support. The Loyalist versions of this Land Raider actually benefit from having Power of the Machine Spirit – hence, their long-range firepower isn't wasted as they can continue to fire two weapons at full BS on the move. Our Land Raider, of course, does not have this benefit. That isn't to say it won't work, but it really is a crippling oversight that hangs over the unit. And if you want long-range fire support, Havocs, Obliterators, Forgefiends and even Predators are far more efficient. However, enough of that and on to the good stuff. AV14 all around, 4 hull points – the Land Raider is probably the most durable non-flyer vehicle in the entire game. It comes with two twin-linked lascannons and a twin-linked heavy bolter, so it can provide some very nice firepower. Don't make the mistake of using a Land Raider as a gun platform though – you have many other ways of getting far more effective and efficient firepower into an army list at a much cheaper cost. It is first and foremost a transport – it is also the only in-codex one that can carry Terminators, Obliterators, Mutilators and Chaos Spawn – though you would never put Obliterators or Chaos Spawn in there as it would defeat the purpose of both units. It also has the distinction of being our only assault transport, so it also works for other dedicated combat units, such as Khorne Berzerkers and Possessed.

If you take a Land Raider, be prepared to lose it. As unassailable as it seems, it will still die to a single meltagun shot – a gun that is readily available to almost any codex. It will die when charged by a monstrous creature. It will die when shot by masses of Gauss Necrons. It will be destroyed as easily as a Dreadnought against Dark Lances. Railguns and Zoanthropes will blow it up with little difficulty. And unfortunately for you, it will be a large and obvious target for your opponent. Also, a major crippling issue is that the guns most likely to destroy you – i.e. meltas and Warp Lances – are short range and thus become more dangerous as you get closer to drop off your cargo. If it is destroyed before it delivers its unit, it will feel like a massive waste. As such a significant points investment, you are forced to weigh up your other options – if you want to transport Terminators, maybe consider deep striking them as it is much cheaper albeit less reliable. If you actually do want it for durable firepower, then consider the firepower that 10 Havocs with eight autocannons brings for a similar points cost – park them in cover in your backfield and worry not. The Land Raider can take some upgrades, but these only add to its already considerable cost. A dozer blade is mandatory and daemonic possession is good albeit risky. Overall, as negative as I am about the Land Raider, it will still probably work fine for the most part. Just be aware that they aren't all that cost-effective compared to a lot of other choices. A decent choice.

Defiler– Some might say this has been 'Carnifex'd!'. I respectfully disagree. Whilst by no means do I think it is worth the price tag, the fact remains that the Defiler has benefited hugely from the 6th Edition rulebook and codex rules. Having 4 Hull Points, a 5+ invulnerable save, 5+ It Will Not Die, having an in-codex unit that can repair it, randomized weapon destroyed results and (arguably) the changes to Fleet means the Defiler has gained a lot and lost very little. Did I mention the Daemonforge which once per game you can use in one of your shooting or assault phases to re-roll all failed to wound and armour penetration rolls? It has access to vehicle upgrades – such as the Dirge Caster, which is hilarious on the Defiler if you use it right – and has more weapon options than before. I always thought in the old codex that the Defiler was worth it – the real jack-of-all-trades unit, with a battle cannon, a heavy flamer, a reaper autocannon and three attacks base at S10 ignoring armour. Always a great 'odd one out' unit in the slot. The fact that it got so much better paints a great picture. Unfortunately, I wouldn't run one in competitive army lists anymore for the simple fact that its base cost is far too high. As much as its abilities make it really nasty – as in almost unfair – against armies that rely on massed glancing hits to destroy vehicles, it will still die to the odd lascannon shot as easily as it did before. Apart from being able to snap fire the Reaper Autocannon, its damage output hasn't really changed either.

The Defiler suffers from being a massive target and a relatively easy one to destroy for high strength anti-tank weaponry. Though it can be used as an effective long-range artillery platform, its size means it is easy prey for autocannons, lascannons and other artillery weapons. The result is a unit that flouts the new cool daemon engine rules with sumptuous abandon, but is ultimately brought down by having to pay an unreasonably high tax for such abilities. Whilst a Defiler can still be useful in an army list, do not bet your strategy on it – they can do quite a bit of damage, but they are an easy target for your opponent and are not durable enough to make up the high points cost. Over-costed though it may be, remember that you can still fire your battle-cannon whilst the enemy closes, and then charge whilst mowing them down with the heavy flamer and reaper autocannon. Stay away from other walkers – staying away from monstrous creatures also goes without saying. A decent unit overall.

Maulerfiend – Ahh, its out to get me! NOOO! Anyway, the Maulerfiend is a very nasty unit that I recommend you give a thorough examination – especially if the model suits your tastes. Like the Defiler, it has a 5+ invulnerable save, a 5+ It Will Not Die save, Daemonforge, Fleet and Daemonic Possession. Unlike the Defiler, it has 3 Hull Points, it moves 12″ and ignores both difficult and dangerous terrain when moving and charging, it has no ranged weaponry, it is more easily hidden and it has some nasty melee capabilities. All of that, and it is far, far cheaper than the giant crab. The implications of a 12″ movement, the ability to re-roll charge distance and ignoring terrain for movement and charging are staggering – this is the fastest walker in the game (that I know of). Walkers usually suffer from a lack of mobility – this ignores all of that and is quite capable of first turn charges. And when it gets into combat, it hits harder than its profile would intimate; WS3, I3 and 3 attacks at S10 AP2 (including the extra CCW) doesn't sound like much, at least until you get to the juicy options the Maulerfiend has. You come with a pair of magma-cutters base – each one provides an automatic hit resolved at S8 AP1 I1 Armourbane as long as the Maulerfiend hits with at least one attack (the magma cutter attacks are resolved against an already hit model, so they are less useful against single-wound models), and double that per magma cutter if all of your attacks hit. This makes the Maulerfiend a wrecking ball when sent against any ground-based vehicles, and even makes it a threat against most walkers – as long as they aren't dedicated combat walkers, they are unlikely to destroy a Maulerfiend before it hits back and destroys them. Seriously, it will on average destroy a Land Raider or Monolith on the charge. Remember how fast this is too?

The other is lasher tendrils – for a slight increase in points, you get a pair of these which each reduce enemy models' in base-to-base A characteristic by one. Hidden power fists, walkers and monstrous creatures won't look so nasty with one attack. Whilst this is great in practice, ultimately I find it is less useful against most targets you will face – namely Space Marines. Almost all Space Marines come with Krak Grenades, which means the Lasher Tendrils won't make a difference to them. They will definitely help against other walkers and the like, but are less useful against grenade-toting infantry. Mind you, it can mean life or death when charging into quite a few units in the game – it is a good upgrade, and the power fists will still keep you threatening to vehicles. Despite this, I find the Maulerfiend's best application to be as a siege engine that barrels straight towards your opponent's most threatening/expensive vehicles. Maulerfiends don't care about whether a Rhino or a Land Raider is the prey – both will more than likely be wreckage once it charges. If you manage to charge your opponents most expensive vehicle (typically a Land Raider or Leman Russ, etc), I would recommend using the Daemonforge in that turn. Seriously, it is worth it to make sure your Maulerfiend makes its points back. As great as I feel they are, especially given their low points cost, be aware that the lack of any ranged weaponry means they are essentially useless against flier-heavy army lists. Also remember that the large size can't always be hidden behind terrain, as much as the speed of the Maulerfiend will allow you to abuse cover. Whilst it is cheap enough to use with little regret, and its inherent speed means it will probably make its points back on turn 1 or 2 when it inevitably charges, the Maulerfiend needs to be used delicately; mech-heavy opponents will be scared to death of it, and target it appropriately. A very good choice overall.

Forgefiend– The more popular of the two 'Fiend' variants and perhaps not without good reason, the Forgefiend loses the Maulerfiend's mobility and close combat potential but instead provides staggering long to mid-ranged firepower. The goodies of being a daemon engine are all there, and unlike the Maulerfiend, the Forgefiend can quite happily sit in your backfield and lay waste to your opponents. The Forgefiend is also a large and immensely frightening target, like the Maulerfiend – it will draw copious amounts of attention from your enemies. Don't be surprised if it is the first thing they attempt to destroy – remember to grin devilishly when it passes that lucky invulnerable save against a penetrating hit from a multi-melta or lascannon (it will happen more times than you would think). The Forgefiend can be equipped in four configurations, based upon its weaponry – similar to the Maulerfiend, this will change what targets you commonly choose. The first loadout is standard – two Hades Autocannons. Remember how nasty Psybolt Dreadnoughts are? The Forgefiend wants a word – 8 S8 AP4 Pinning shots. The only issue is BS3 and no twin-linked, meaning you will be prone to a bad roll – by the same token, you will be treated to an ungodly amount of hits. You average four hits, the same as the Psybolt Dreadnought. In that sense, you are doing the same job as one of the most points-efficient tank-hunters in the game. Just be aware that you are quite a bit more expensive, have more in-built randomness in your shooting, and a shorter range, though you offset this by being a lot more durable.

The second option is to keep the autocannons but give it an Ectoplasm Cannon to replace its head. Ultimately, for a decent increase in points, this will make you quite threatening to infantry as well as vehicles. 8 S8 AP4 Pinning shots will hurt almost anything, but adding a S8 AP2 blast makes you far deadlier to infantry (especially TEQs) and in essence gives you an additional S8 shot against vehicles. Be aware that the Ectoplasm Cannon has a 24″ range whereas the Hades Autocannon has a 36″ range, meaning that taking Ectoplasm Cannons will put you in range of weapons such as Psycannons, multi-meltas, assault cannons and so on. I haven't seen this loadout used as yet but it is an option to consider. The third loadout is to switch the autocannons for ectoplasm cannons for free – changing your role from a tank-hunter/sort of multi-purpose unit to an almost strictly heavy-infantry hunter. Want to make Paladins cry? As much as a smart Grey Knight player will put Draigo at the front of their Draigowing, remember that such army lists tend to have two units of Paladins. Either shoot the unit without Draigo or get around to the side and shoot their flanks. The Forgefiend will make its points back very quickly as long as you score some hits – again though, be careful to remember that the 24″ range of your guns will subsequently put you in psycannon range. The last option is triple ectoplasm cannons, and it will make Terminator-heavy armies weep – this goes without saying. And the funny thing about the Ectoplasm Cannons and their Gets Hot! rule? The Forgefiend has to roll a 1, then fail a 4+ save, then fail a 5+ invulnerable save, then fail a 5+ It Will Not Die roll. Yeah.

Now that I've got the options out of the way, we can talk about application – my personal recommendation is the standard Hades Autocannon loadout. The 36″ range means you can stay out of range of most anti-tank weaponry, and you will provide a punishing amount of firepower. It also means the Forgefiend can provide a decent threat to fliers – 8 shots will only average 1 or 2 hits, but S8 means it can easily punch a hole in most fliers. The Ectoplasm Cannons are devastating, but prone to scatter and will make the Forgefiend far more vulnerable to short-ranged anti-tank weaponry. You also invite being charged by fast moving units that may not necessarily destroy it but tie it up for most of the game – 2 WS3 I3 S6 AP- attacks per turn won't get you anywhere quickly. The joy of the Forgefiend is that you can magnetize the arms – and as the points costs are free, you can quite readily switch its guns out for other guns once you've seen what your opponent is using. This won't work at tournaments however, or any game where you are required to clearly mark down what weapons it is using. In friendly games though, most opponents either won't notice or won't care. I would avoid sticking the third ectoplasm cannon on the Forgefiend for modelling reasons, though it is certainly a good idea for gaming purposes as you can always either use it with the gun or not. The Forgefiend's role will change based on what you equip it for – my general advice is to keep it well away from enemy units and minimize any potential damage it may receive through LoS-blocking terrain. A very good choice overall – like the Maulerfiend however, it requires finesse.

Obliterators – Part of the infamous 5th Edition Lash/Plague/Oblit army lists, Obliterators are one of the most cost-effective and multi-purpose ranged units in the entire game. For nearly double the cost of a standard Loyalist Terminator, you gain an extra wound, cause Fear, and, of course, have access to the many and varied Obliterator weapons. With the inclusion of Assault Cannons, Obliterators can reliably deal with any threat you need them to – the lack of twin-linking on most of their weapons, particularly their long and medium ranged ones, can be a nuisance, but they will average a good number of hits. Whilst a three-man squad can be expensive, you would be hard pressed to say that they aren't worth it. A rifleman Dreadnought giving you trouble? Hit it with Lascannons. Terminators advancing towards you? Make them eat raw Plasma Cannons. See a flying monstrous-creature? Assault Cannons will give you a good chance of both hurting it and grounding it. A Land Raider parked near them? Hit it with Multi-Meltas or twin-linked Meltaguns. Hormagaunts about to pounce on you? Twin-linked Flamers or Heavy Flamers should do the trick. Notice a theme there? Obliterators get more and more weapons available to them as they get closer to the enemy – as in, you can engage more threats with a shorter range. Especially with the new restriction that the same weapons cannot be used in subsequent turns (and that Obliterators must all shoot the same weapons) it means that you shouldn't sit at the back of the board in cover – there's only so many long-range weapons they have.

This is why the most common tactic with Obliterators is to start them in cover with a good LoS to the enemy, punch them with lascannons, then slowly move forward, firing plasma cannons, and then assault cannons or other weapons as necessary – they really do become more dangerous as they get closer. This provides an interesting challenge – Obliterators have 2 attacks and power fists base, but they are wasted in assault. As you get closer though, you risk being charged. Altogether, it means that as multi-purpose as they are, you need to be very careful and considerate with Obliterators. They will also be the target of any smart players' shooting; lascannons and plasma weapons are the most common culprits. As each lascannon shot will instant-death an Obliterator if they don't pass their invulnerable/cover save, it is recommended that you try to either engage such targets and neutralize them or move out of their range/line of sight. Each Obliterator lost is a significant blow – their cost and low squad size means they can be easily neutered. The lack of Fearless and being only LD8, combined with their tiny squad size, means they are quite likely to fail a morale check at one point during the game – this is also why you typically shouldn't leave them sitting in your backfield.

Obliterators can also get some very handy – but expensive – bonuses from marks. As you want to avoid combat, Khorne really isn't that useful, and as your only combat weapon is a power fist, Slaanesh is virtually useless. Tzeentch and Nurgle, however, can make your Obliterators unfairly hard to kill. Tzeentch gives them a very nice 4+ invulnerable save, which is very useful once you shift out of cover. However, the generally superior choice is Nurgle – T5 means Obliterators are no longer lascannon bait, and makes them almost immune to small arms fire. Just remember not to get too arrogant with the inclusion of marks – Obliterators will still die to focused fire if you aren't careful. Veterans of the Long War is actually useful on these guys, as LD9 makes them much less likely to fail a leadership check. It is mostly up to you though. In general, there is very little you can say against Obliterators – they were and remain still one of our best sources of durable firepower. An excellent choice overall.

Havocs – Like Bikers and Raptors, Havocs have benefited immensely from a reduction in points and much cheaper upgrades/weapon options. Instead of being poor, over-costed imitations of Loyalist Devastators, Havocs are now arguably our most points-efficient Heavy Support choice. A five-man squad with four autocannons provides ridiculously efficient firepower at 20 popsickles less than a Psybolt Dreadnought. For the same cost as said Psybolt Dreadnought, you can have four missile launchers. Need I say more? Well yes, yes I do. The way you equip Havocs depends on what you want to use them for and what you find to be lacking in your army. The ability to take four special or heavy weapons in a minimum-sized squad is the defining trait of the squad – use it. If you use Havocs with less than four special/heavy weapons, your opponents – and myself – will probably say "you are doing it wrong" unless you have a specific plan in mind or don't have the models – not using their unique ability makes them a waste of time. As it is typically what defines Havocs, I will rate their weapon loadouts separately;

Flamer – Typically, you want Havocs to be used in an anti-tank role, but this isn't a bad option by all means. Even MEQs will die to sheer weight of saves caused by that many well-placed flamer templates. This squad requires a Rhino.
Heavy Bolter – I would recommend autocannons over heavy bolters anyday. Whilst Heavy Bolters provide 4 more shots if using 4 of them against 4 autocannons, they are at 2 less Strength and have 12″ less range, meaning they are useful really only for MEQ suppression and hordes.
Autocannon – Probably my recommended choice, these are absurdly cheap on Havocs. Four of these in a five man squad puts out 8 S7 AP4 48″ range shots per turn, averaging 6 hits, wrecking a vehicle that is AV11 or lower, and getting a glance and a penetrating hit against AV12. All this for only slightly more than 100 points. These are also pretty good against monstrous creatures and anything with a 4+ armour save.

Meltagun – A squad of these is guaranteed either to die before they reach their target or simply annihilate any non-flyer vehicle they hit. They require a Rhino and should be one of many advancing units.
Plasma Gun – Four plasma guns is sure to make non-horde and non-AV13 units cry. You will kill a Hive Tyrant without a fight at rapid fire range, and have a decent chance of outright killing a Trygon or Tyrannofex. As mentioned though, horde units won't really care about them, and AV13 can shrug it off easily. Be very careful of overheating. A risky unit that is best served with a Rhino as well.

Missile Launcher– Missile Launchers are probably the most versatile of the heavy weapons available to Havocs, alternating between 4 S8 AP3 shots and 4 S4 AP6 small blasts. Whilst not as good or cheap as Long Fangs, these will still do the job well and are guaranteed to bring the pain. You also have the option of Flakk Missiles – meaning you can threaten fliers, but I wouldn't recommend this as it is expensive and not all that threatening.
Lascannon – Lascannons are lascannons, as the saying goes – you love them, we know. I find autocannons to be more efficient however – but there is no doubt that four lascannons can and should destroy almost any vehicle they target. Just be mindful that unlike autocannons and missile launchers, they won't be able to do much against armies that don't utilize vehicles. They are the most expensive weapon option you can take, but they aren't as costly as they are in other codices, which is usually their main issue.

I recommend the autocannons or the missile launchers, and be careful not to mix and match weapons – you do not want the unit to lose focus and redundancy. Havocs are there to provide effective anti-tank firepower at a relatively low cost – if you want midfield units that can utilize four special weapons, use Chosen instead as they are actually very good in combat even without combat upgrades (or just stick to basic Chaos Marines). Like other Chaos Marines, Havocs can also be marked – Khorne and Slaanesh typically defeat the purpose of the unit, similar to Obliterators, and I would say Nurgle is the best by far. Havocs need durability, and cover is the best way to find that – T5 also means small arms fire is less effective against them. Being Havocs though, anti-tank firepower will often be directed at them, and as such, Tzeentch is tempting – but only for a specific reason. If you grab a Skyshield Landing Pad, you can stick Tzeentch Havocs (and Tzeentch Obliterators or anything with long-range firepower you want to protect) on top of it to enjoy near unparalleled LoS and a 3+ invulnerable save. The other upgrades are situational – I wouldn't bother upgrading the aspiring champion usually, and Veterans of the Long War isn't necessary. Havocs are easy to use – give them the weapons you want to give them, sit them in cover, point them at the best target, shoot, profit. Just remember to give them protection – counter-charge units such as Cultists are very helpful for this purpose. An excellent choice overall.
Guys thanks for staying with the detailed CSM series… Have at it folks. How are you running your CSM Heavy Support Attack units and how do you equip them?