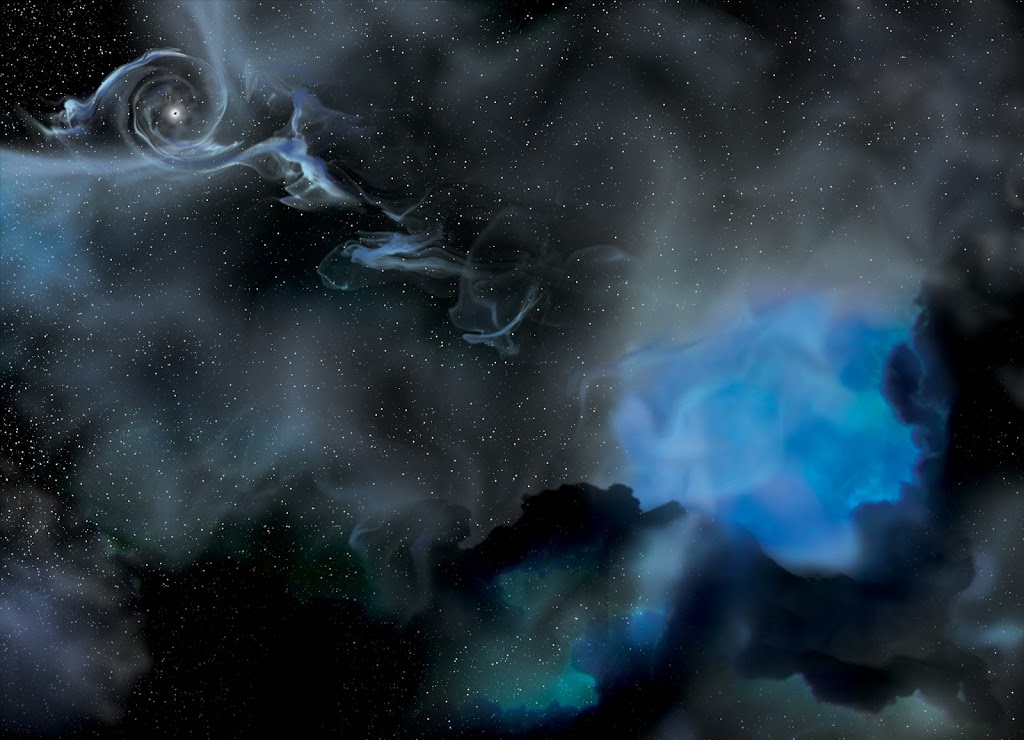 This was one of those weeks where the rumors are sparse, and few and far inbetween. So here is this weeks discussions on the rumor mill.

The pic above is an artist's rendition of the IC 10 X-1 system. A black hole lies at the upper left hand corner and its star (type: Wolf-Rayet Star) along the right. The two orbit a center of gravity every 34.4 hours. The two will eventually explode as a super nova. The star is shedding its outer layers in a powerful wind that is captured in the black holes powerful gravity. Info via NASA
The Fading of Bunkers
This week the focal point of discussions were around battle bunkers across the United States and their fate. With the announcement that the LA Battle Bunker is downsizing, and the rumors of the Chicago Bunker following suit, there has been a lot of talk about the surviving couple of bunkers.
The rumors are stating that Games Workshop will be closing all the bunkers, (probably not limited to the U.S.. This is not from a failing of finances, but for trimming the fat. Its often a store manager's mistake, (GW and otherwise) that they concentrate too much on creating a cool place to play, at the expense of the business side. After all its the business side of things that keeps our hobby moving.
Games Workshop is the only tabletop miniature company to have dedicated stores for their product, and part of this move is to penetrate other market centers that have remained out of reach. Portland Oregon for example, is just about to receive its first Games Workshop store ever.
Here are some quotes from a detailed conversation I have had about the subject with a person that mattters.
On the subject of losing battle bunkers, I might have a bit of information about that.. its all to do with money/customer focus. Why spend £1000pm on a store when you can spend £500pm? and it will still take the same amount of money, no matter what people say about never shopping at GW again/boycotting. People will game elsewhere, but they will still buy stuff. When we have a battle bunker, we have customers come in, game and then leave without even saying hey.. Getting rise of that means that customers don't get a chance to do that which means the staff can have more conversations which means they should sell them more. The other issue with battle bunkers and even stores is that a manager goes "oh wow, I must make this an awesome place to game" and lose track of the whole point of GW stores.. Recruitment. It's why GW has so much of a monopoly on the market, no one else has such a presence.
You often hear how GW focuses on the new hobbyists (not just kids I must point out), but without that the hobby will die. I heard things like "a new hobbyist will spend ten times more than an existing hobbyist within the first 3 years". A good manager hits the sweet spot, recruits new customers and challenges his existing customers to try new things. Win for you as you expand your hobby/learn skills and win for GW as they make more money. A bad manager just recruits and pisses off the regulars so they go on forums to moan and groan. A bad manager forgets about recruiting and won't make much money as regulars don't spend as much.
On the subject of one man stores, I hate them, but they work. Small stores = less rent, one staff = less wages. Some one man stores in the UK make more for the company than the bigger stores once you take into account costs. It's why all the stores in the uk (other than shopping centres) are only open 5 days a week and are cutting staff down to 2, 3 if its really busy.
There was more to this conversation, including a perspective from Mark Wells (previous CEO) on the subject that I have not yet had the chance to post up on yet. So keep an eye out for it.
Flyer Supplement Release
We have had rumors of a flyers release coming soon, and the rumors have had it all over the place. Finally possibly we have something solid regarding a flyers release that is only a few short weeks out. A new flyer supplement rumor.

from Kroothawk
A new 40k supplement book will be released on 16th February:
"Death from the Skies" (26€, mail order only, chance of being in English only).
More when I know more. But it certainly sounds like a flyer supplement.
from DarkWarrior1981 on Warseer
This is not as exciting as people may think. I saw the advert for the book at a local store; It contains only rules for fliers still on sale or with a codex entry (the Dark Eldar bomber is in), some fliers have their rules updated to 6th edition (whatever this means exactly). The only thing actually new is, that the Stormraven is now available to Codex Space Marines and Black Templars as well. Also you will find the flier rules from Crusade of Fire and new missions. The book will be on sale (no pre-order) from 16th of February, is direct only (so not from your FLGS), english language only and will not be limited stock.
Make sure to check back here at Bell of Lost Souls often to find out the latest on what is coming, and then join the conversation over on Faeit 212.
A flyer supplement that updated some rules and hopefully at least a Dark Eldar Bomber release would be wonderful. What would you think of the storm raven being added to Space Marines and Black Templars?