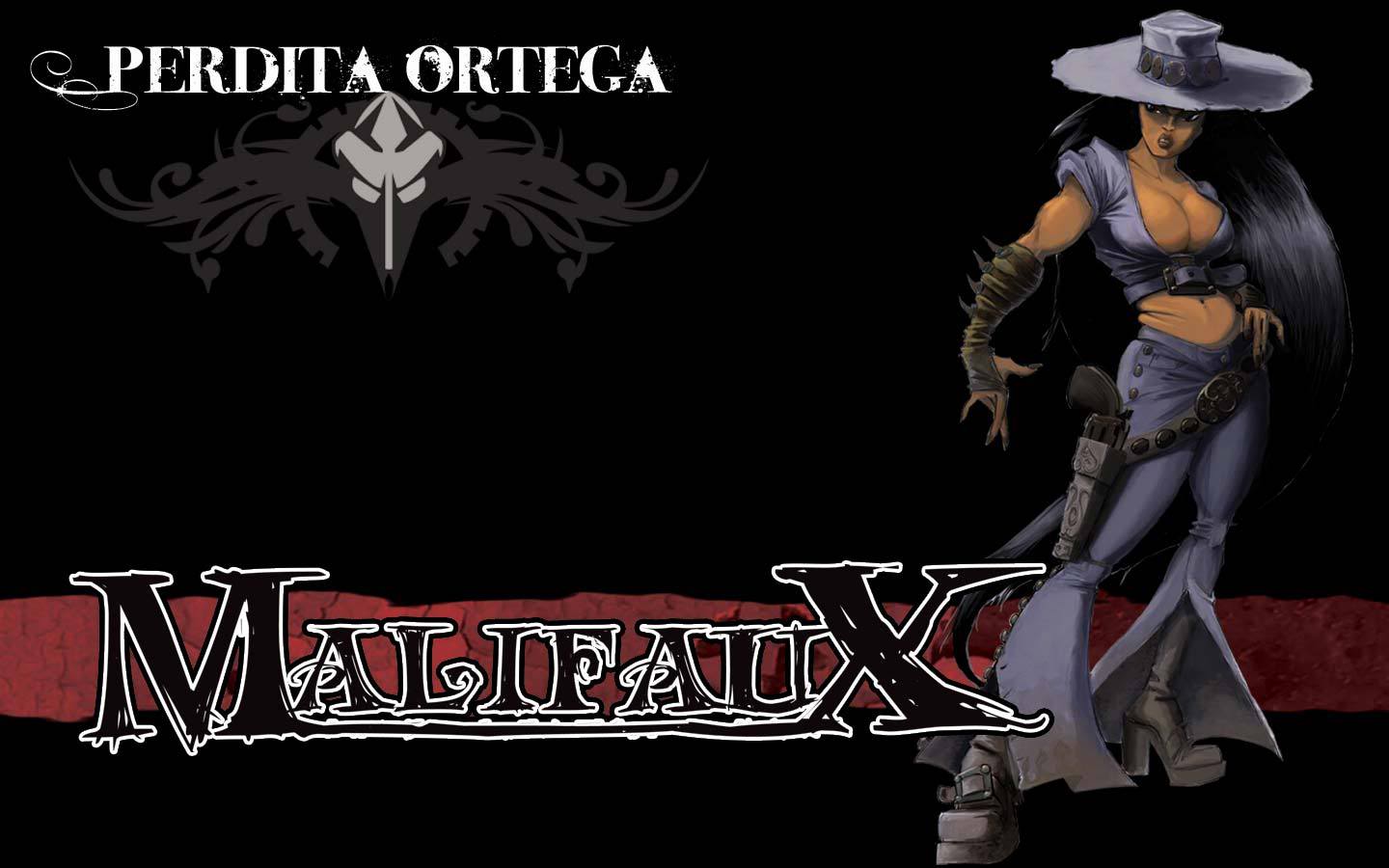 Hi everyone – its time for Malifaux tactics. This one is about Perdita Ortega, we should have a non-Guild tactics article next time once my co-contributor in Dominic 'Dumb Luck' Westerland and myself get together to put it all together about Somer 'Teeth' Jones.
The Basics
Firstly what sort of Master is Perdita, for me she is a mid-range Gunslinger with a sideline in card manipulation and controlling othe rmodels with
(1)
Obey
, she can be very versatile with her guns, she is able to adapt to her target which is all the better to hunt them down.
She had a couple of basic Talents and Stats that help to keep her around, firstly is her mightily impressive Defence value of 8, this coupled with
Faster'n You
, which lets her shoot back at an ememy that misses her with a ranged attack means you should be wary of engaging her with ranged strikes.She also has the Immune to Influence Talent which means she ignores effects requiring defending against Willpower, this is very handy against certain masters like
Pandora.

She is also
Evasive 2, so she effectively has armour 2 againsts Blast damage, again helping her against splash damage where someone would target a weaker model nearbyto blast the damage onto the Master. Finally she is also Fast meaning she has 3 General Action Points to use a turn.

All Guns Blazing
This is where her priority lies for me, in her big shiny Peacekeeper. She has a solid Cb value of 7, and a respectable damage track of 2/3/5 with the built in Ram making it 3/4/6 if you take
Critical Strike
over
Anticipation.
She has a couple of abilities that augment her weaponry, firstly is her built in ability
See The Unseen
this means she can always target models she is unaffected by othe rmodels affecting the range on her strike as well as changes where they buff their own defence, meaning she is more likely to hit and do more damage.
Perdita also has two spells to augment her attacks in
(0) Bullet Bending
and
(1) Execute
, the first cuts her Cb by 2, but means she ignores Line of Sight, meaning she ignores cover and more importantly the physical view so she can shoot through/round walls, the second can only be used against an opponent within 6″ and cuts her Cb by 3 but gives her a trpile positive to the damage flip, this seems to be of use if your against a morel with Hard to Wound 2, so she can always get a straight or positive flip to cheat in for high damage.
My Mind to Your Mind
Perdita has a lot of abilities to do with manipulation, of both her own models and card hand but also the opponents.
Her card manipulation comes from
(0) Hero's Gamble
and the trigger
Anticipation,
Hero's Gamble really is a gamble but can prove a turning point, as you discard then re-draw your hand, menaing if you are farming for a particular card you are more likely to get through them quicker, Anticipation messes with the opponents deck as you get to look at the top two cards discarding one and putting the other on the top of the deck, this is useful if youve got an important duel coming up after the Peacebringer Strike as you know exactly what the opponent will flip.
Keeping Her Alive
This isnt as much of a problem for Dita over the other Guild masters, firstly she ha s a Df of 8, far superior to any other Guild master which makes it easier to defend especially against non-soulstone users. She is also Evasive 2 which helps against the rare blast damage.
Her other defencive ability is her Defensive Trigger
Faster'n You
, as long as she flips or cheats the mask against ranged strikes and beats the opponent she gets do do damage as if the attack were the other way around exactly like Lady J's
Riposte
. I find that this is all I need to keep her around, if shes in Melee as long as you have the cards to keep her around she will be fine without the defences, except for against soulstone users where it all depends on the soulstone flip, or against those that target other characterisitcs like Wp or Wk.
Getting the most from the Avatar of Revalation
Unlike Avatar Justice and Avatar Sonnia, I have had some trouble finding a niche for Avatar Perdita, for me she is a late game manifest because she goes down to Df5 and loses her defensive triggers. Shes more a Melee and Card Manipulation based model, usulally if I manifest turn 5 she will use
No Secrets
and the
Mark of Revelation
to craft a good hand then move or Diving Charge to get into a safe position, using
Grounded
to make sure noone can fly in.
Anti-Dita Tactics
Dita has a few weak spots which you can take advantage of, firstly try not to target Df as this is the key part of her defensive mechanisms, and although her Wp and Ca is only one lower than her Df, this can make all of the diference. Also pulse damage is another reliable especially if it un-resistable like Pull My Finger because of Evasive 2 making her resistant to Blast damage which is the ordinary way of getting through to tough models.
Basic Crews
'The Family Obey' 35ss
Perdita Ortega 6ss Cache

Enslaved Nephilim

Nino Ortega

Santiago Ortega

Francisco Ortega

Latigo Pistolero

Abuela Ortega
This is a Family orientated Obey list, I would get Nino and Santiago into good shooting positions or Francisco in a good shooting/melee position, then use the Enslaved Nephilim, Abuela and Perdita (if your not doing anyhting else with her) to Obey them for more shots.
'Protect the Gunline' 35ss
Perdita Ortega 6ss Cache

Santiago Ortega

Guardian

Nino Ortega

Guild Austringer

2 Guild Hounds
With this list I would use Dita, Austringer, Nino and Santiago as mid range shooters, you use the Guardian with Santiago using their schenanegans to knock Santiago down to 4 wounds so he gets his bonuses then the Guardian takes any hits for him by protecting him. The Guild Hounds are there as not only a fast objective grabber but also as a solid cheap melee piece and as a distraction element.
Avatar Themed 35ss
Perdita Ortega 8ss Cache and Perdita, Avatar of Revalation

Brutal Effigy

2 Witchling Stalkers

3 Death Marshalls

Watcher
No Family in this list just solid cheap models to take advantage of the card cycling of the Avatar, the Watcher is there for more card cycling as well as getting rid of
Harmless
or
Terrifying
where necessary. Death Marshalls and Stalkers are there as I prefer them over any of the guild guard, if I was taking a more shooty list i'd take Guild Riflemen from Book 4 over the Death Marshalls.
More Malifaux coming soon..