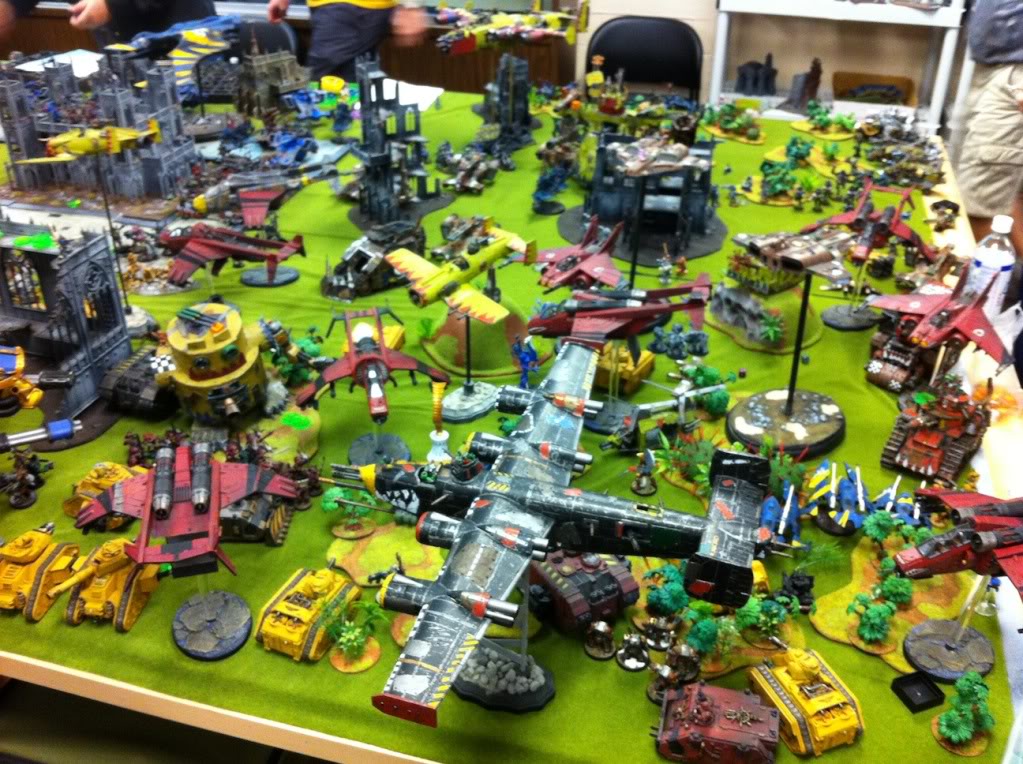 The discussion of objectives has come up a lot lately. 6th edition has revived the discussion and brought 40K rules closer to what we have been doing in Apoc for a while.
I think this is a very relevant topic as too often the discussion of Apocalypse is focused on forces and models and units and not objectives. We all love our toys and want more, but too many gamers talk about their kick ass units and not about building a force that can take objectives.
Taking objectives is something I generally find myself more focused on than my opponent. I keep my team focused on it too. I remind them every turn, I plan with them who goes after what objective, we discuss who needs reinforcements to hold an objective. And I am thinking ahead two or three turns to what needs to be accomplished. Generally, I find other players too concerned about killing stuff and not on how to get objectives. It is the difference between chess and checkers.

But the old way of you only count objectives on the last turn, allows for last turn shenanigans, and makes it easy to be lazy all game.

So here are some different ways we have come to play objectives.
1) Modified Objective Scoring
This is the basic way we have been playing our games lately. Both at the L.A. Battle Bunker and in San Diego with John Macomber's Apoc group. It is also the way we count objectives in The Big Game, The World's Biggest Apocalypse Game. Basically you choose a number of objectives, and place them in Team 1's deployment zone, team 2's deployment zone and the neutral zone. Then, starting with the top of Turn 2, you count objectives every PLAYER turn. So in a 4 turn game, you count the objectives 6x.

Also, we weight objectives, so an objective in any enemy deployment zone is worth 3 points, the neutral zone is 2 points and your deployment zone is 1 point. It forces you to have a mobile force and be aggressive.


2) What Can Hold an Objective?
Sixth Edition made it so only troops can hold objectives, and this is a great rule. We had gone to this in Apoc in 5th edition.

Exceptions:
1. A vehicle or troops embarked on a vehicle (e.g. Dreadnought / Troops in a Rhino) or occupying a building.
2. A unit with the Swarms Special Rule.
3. Any Troops unit that specifically cannot hold an objective.
Since this is basically what we had been using in Apocalypse in SoCal, this rule needs no modification.
3) What Can Deny an Objective?

There are two ways to approach this. The first is the way it is written in the rule book, page 123. This states that ALL UNITS are denial units except:
1. A vehicle or troops embarked on a vehicle or occupying a building.
2. A unit with the Swarms Special Rule.
3. Any Troops unit that specifically cannot deny an objective.

However, we play this rule a little different in Apoc and different groups have different ways to do it.
1. Anything with a WS can hold an objective. – Exceptions GC and super-heavy walkers.
(same exceptions as above)
2. Troops Only – This is what John Macomber and his San Diego group have started doing and I have to say it really is a great rule. It forces you to take lots of troops and make them mobile. Two things you should be doing anyway. Only troops can hold or deny. We played a game recently and the game came down to one point!
I really wish more people would do this. It helps balance the game out too, forcing people to better plan their army.
We have found that Modified Objective Scoring, in any of the forms we have used, create VERY close and competitive games. I highly recommend you try them.
There is always a good discussion on the Apocalypse40K Forums and the latest on The Big Game III on the Apocalypse40K Blog.
How do you play objectives in your Apocalypse games?

Alec Peters