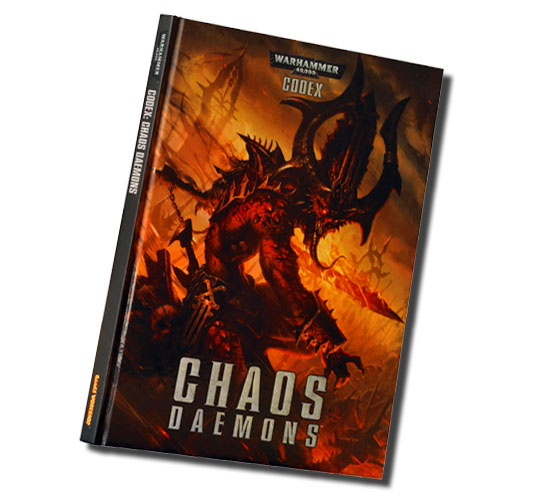 Latest rumors on this weekend's Chaos Daemons. They're almost here.


via Faeit

Daemonic: Instability
If you lose 25% of your unit at the end of your close combat phase then you must take a leadership test on 2d6. You subtract the amount of models lost to the overall leadership total. If you pass then nothing happens otherwise you lose wounds equal to the amount you failed the combat by.

Daemons count as being fearless for shooting.

Heralds:
Have +1 to WS, W, I, A and have Ld: 9-10If a herald joins a unit then the unit is not affected by daemonic Instability

Armor Saves:
All daemon units have a 5+ invulnerable save.
There are upgrades to give Heralds 3+ and even a 2+ save (very expensive)

Greater Daemons:
All greater daemons have the option for 2+ save – although it is on the 65pts+ mark

Keeper of Secrets –
Base A:6, rending, and gain more attacks for every kill.

Bloodthirster – has amazing stat line:
WS BS S T W A I LD SV
10 5 8 7 5 5 5 10 4+

Re-rolls all failed to hit and to wound.

Fateweaver –
Can make a enemy hero turn into a spawn if they fail an invulnerable save.
Still re-rolls saves (but only invulnerable – no longer armor saves)

Basic Daemons:
Bloodletters – reduced by 1 point
Daemonettes – reduced by 2 points , are now strength 4 on the charge.
Plague bearers – reduced by 3 points, shrouding replaces feel no pain.
Pink horrors- increased by 2 points, improved saves.

Other Daemons:
Bloodcrushers are monstrous beasts with rage. (very expensive)
Beast of Nurgle are vastly improved – and have gone up in cost by over 30 points.Soulgrinder has skyfire in profile (220pts base)

Psychic Powers: Are very random and can hurt you badly if you roll badly
Nurgle is the best of a bad bunch.

~Enjoy! Tick-tock – 5 days to go!