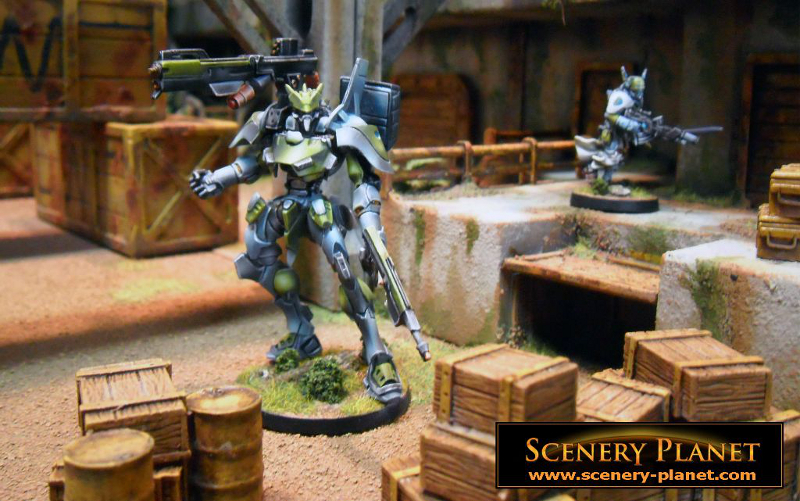 Have you ever played a game, where one soldier crouches low to the ground underneath a window to get past an enemy firing lane and surprise the opponent, just because the terrain gives you the opportunity to do so?
a guest post by Mathias Lerchl aka Nachtpfiffel


Terrain in Infinity is, as you may have read several times already, essential. When every enemy model can shoot at you, as a reaction, as long as they can see you, the terrain and its density alter the game immensely.
For me the importance of terrain, and the way it is handled (not just an area with a 4+ cover save and the option to move through walls, like in 40K at that time) was a reason for me to fall in love with Infinity. I always loved to create my own terrain. I am a slow painter and take much effort in painting one single miniature.
Because of that I am giving my miniatures a battlefield with nearly as much effort put into it, as into the miniatures. After all, they are one of the best and deserve a proper playground.
When thinking about terrain for infinity several topics come to my mind:
-The layout
-Playability and usability.
-The costs or time to create and/or buy it.
-And of course the style, and if and how everything fits together.
The Layout
There is one good thread about it on the official site, but in short it comes to this:
-Change the terrain and learn, how the game changes.
-If the close combat units are rushing to your lines, and the cheap units become too overpowered, it is time to reduce the terrain or switch some total to some partial cover.
-If the sniper is killing everything from afar- put some more terrain on the field, or as we do, put the highest buildings exactly into the middle.
-If grenade launchers eat everything away use more higher buildings to get more shadowzones.
-You experiment with your armylists. You can adjust in the the same way the terrain you use.
One thought you should always have in mind: make the winner of the starting roll actually make a decision,
if you move first or are allowed to choose which side to start on. The playfield should not be equal for both sides.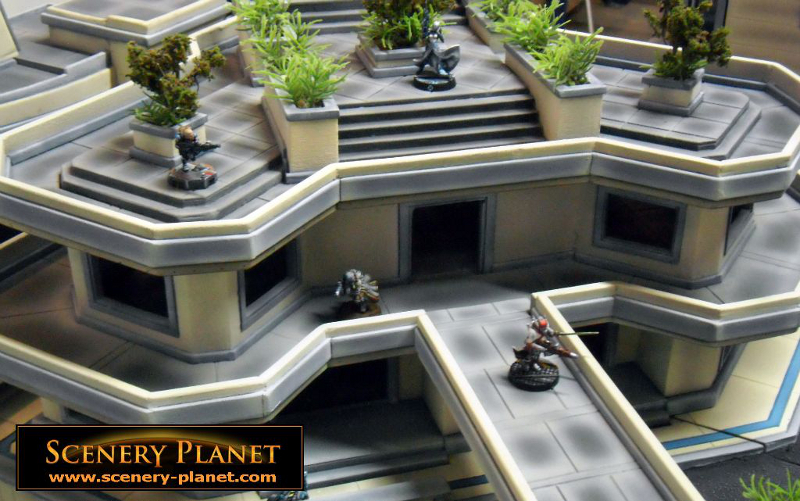 One request to all the terrain building companies out there: Please give us civilian scifi transporters or buses.
Filling the streets with small cars is not enough and covering the streets in containers is not working at all.
Playability/Usability
Form follows function. In case of miniature terrain it is the function for the scale of the miniature and for you as a player as well. If you build multi level buildings with removable levels, you should have in mind, that removing 4 different levels (with miniatures in some of them) is sometimes time consuming and makes you want to have more arms to handle all the pieces.
Small model cars can suddenly roll away and leave your beloved scifi-samurai in the open.
Just have in mind while planing and trying to be a little architect, that it not only has to look good. Nevertheless I still love my 4 level building ;).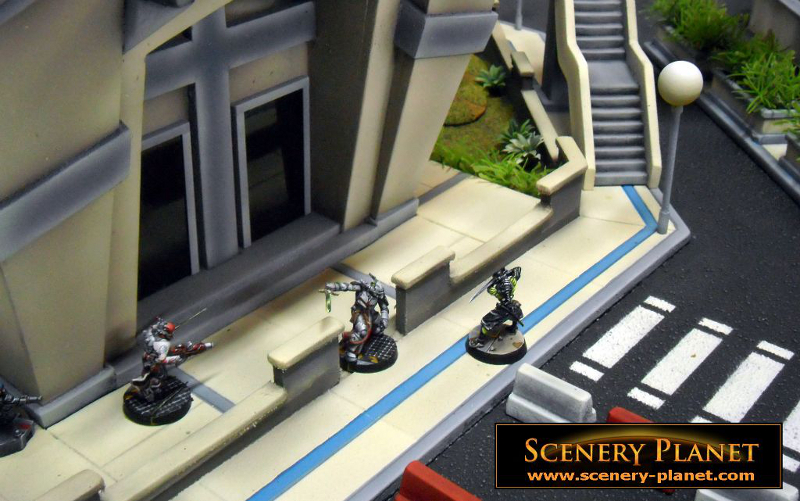 Cost and time efficiency and how good it should look.
I have put another part into the title, because GW taught us a very cheap and quick way of terrain building in their rulebooks. Just put books and other stuff together and you get hills, buildings and what ever you may call them. It is good enough for a game, the way you will play won`t change but for me it does not feel right, you could continue the way of simplification with your miniatures. The coke-can can not only be a Carnifex, it could be as well a Salamander TAG. You might get A`s in two categories but a cheap out of the box terrain that looks jaw dropping is not possible. Well, you might have other standards of cheap or jaw dropping or might have a TARDIS that solves the time part for you. Depending on the type of terain you choose to build/buy you spent more money or time.
These are the options you have:
− paperterrain
− kitbashing
− out of the box stuff
− plastic kits
− resin kits
− molding forms
− laser cut kits (the companies are mushrooming out of every corner right now)
− and someone you pay to take care of everything
− books, CD cases-towers and stuff as buildings (it is still an option)
− and, as soon as 3D printers are in every household, of course your own printed stuff.
All of these deserve some words written, but not in this short overview.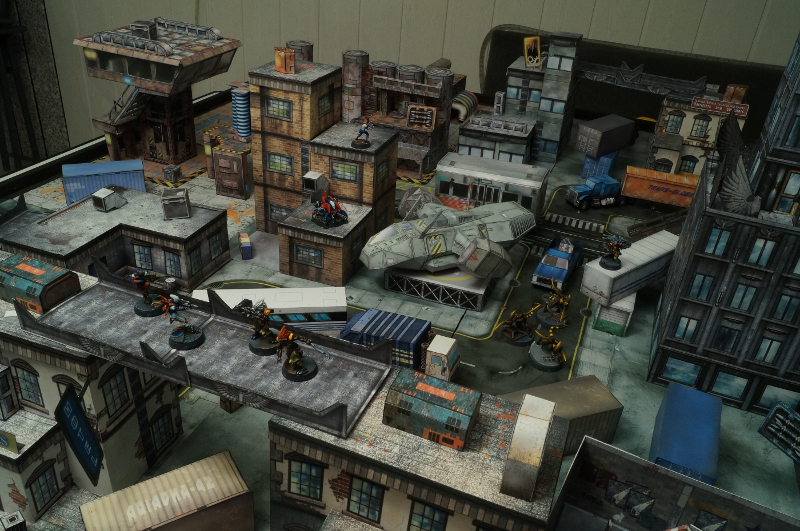 Style
According to its setting Infinity asks for futuristic terrain, that is able to be intact civilian terrain(finally) as well as jungle, ruins and military complexes. For me it has been inspiring to build terrain, that had not been scorched and crumbled to pieces by war and I enjoyed building stuff again. We are lucky infinity is anime inspired, because of that, paper terrain with its slightly cartoonish look fits good into the infinty setting.
But besides of this it has been difficult to buy scifi terrain that was not in ruins, overskulled gothic style or military inspired for a long time. For quite a while there were only resin pieces of a handful companies that helped to get the setting right.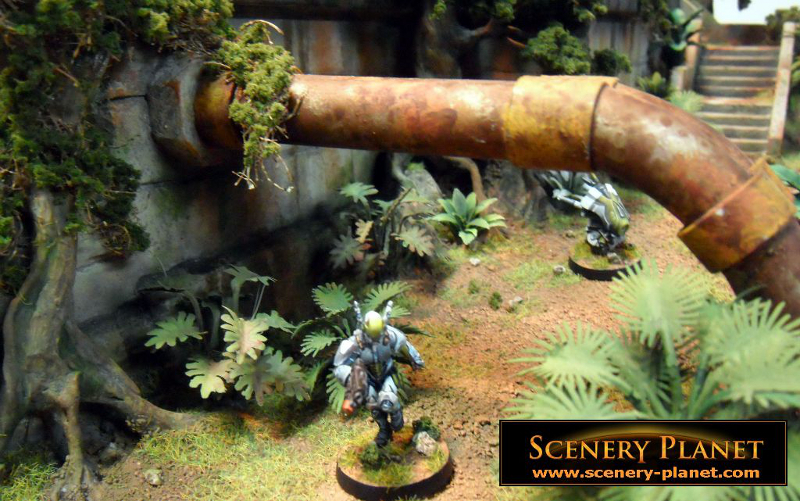 (Warmill noodle stand)
Thanks to the improvements of laser cutting technologies a lot of new companies start to build new terrain for infinty. Some of them are starting to become so good at designing buildings that you can hardly recognize the material it is made of most aren't boxy. But I am pretty sure the zenith is not reached yet. Also, I won`t be surprised when 3D printing might not only revolutionize our hobby (I`m worried one time it might not happen any more, that miniatures are sculpted by hand 🙁 ).
You might have lots of stuff, that fits perfectly to Infinity, but if it fits to each other is something different. Paper terrain is mixable with other stuff, I still mix them, because I don`t have enough stuff, nevertheless it does look like it is just thrown together. On the other hand, when you have just material of one company it tends to feel wrong for me. Where I live it is normal that one house has an totally different style than the house next to it. It becomes some kind of strange if every building is the same but maybe I am just enviromentally conditioned ;). If you intend to build a board, where only one architect has been involved, it is not really of any importance how repetitive the board might look like. My dream is a table where everything fits in style, where the building and street layout looks like something that you will find in the real future world too and of course: fun to play on.
I, for my part, am still on the way to it, I know many of you are already there, but I wish all of you lots of fun, where ever you might be.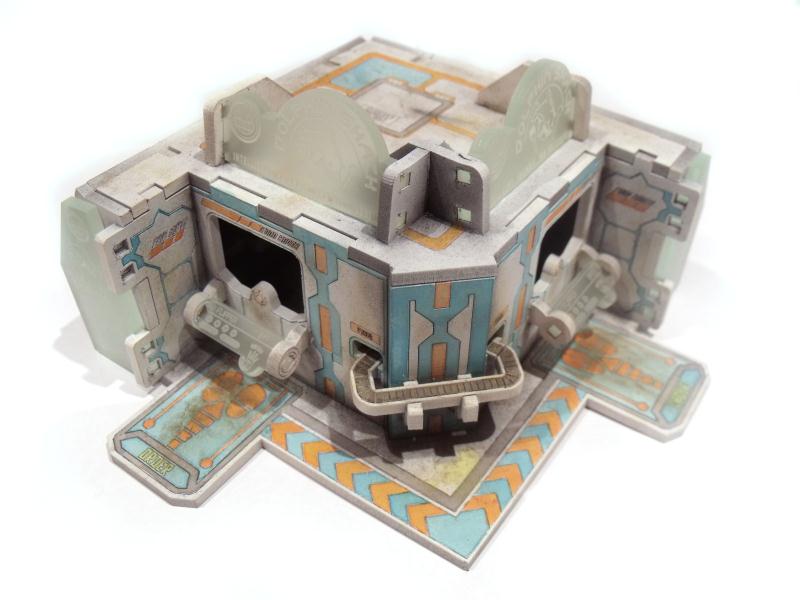 Links you might like:
http://infinitythegame.com/forum/index.php?/topic/12744-infinity-terrain-density-quick-tips/
http://infinitythegame.com/forum/index.php?/topic/14028-terrain-link-thread-20/
Thanks to Schlunz (from the o-12.de page) for the pictures from his great paper terrain table.
Have at it everybody!