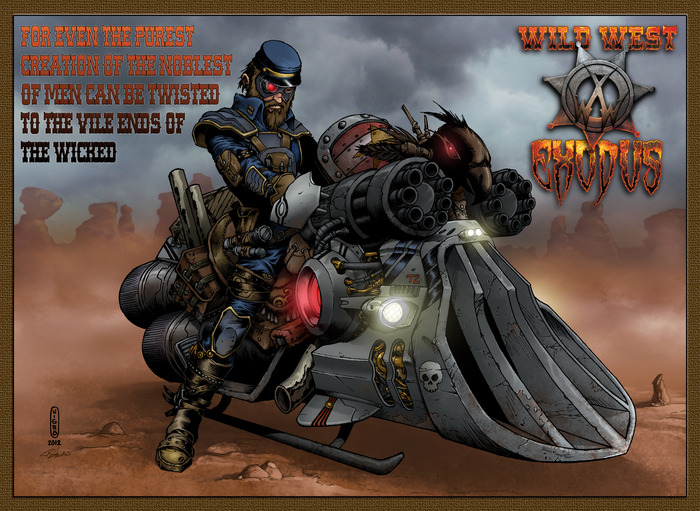 The Sci-fi – Western themed Wild West Exodus has thrown its hat into the Kickstarter ring. Here's the rundown pilgrim…


"WWX is a 35mm miniatures game in a dark wild west setting. Strange technologies rule the old west and death lurks at every corner."
Rules Overview
Wild West Exodus is a miniatures game played by 2 to 4 players in control of the faction of their choice. In the world of WWX, every model has the potential to be a hero or a villain. The game mechanics and rule set, currently in development with Alessio Cavatore, will feature exciting game play from the first dice roll. Each player will be allowed to field a posse of 6 to 40 models. The WWX rules have been designed to allow for scaling of the game to high or low model counts without causing rules issues.
One of the most exciting parts of the Wild West Exodus game mechanic is the reusable influence pool. The influence pool will give players the option to gamble away a set amount of tokens in return for a reroll of the dice. Be careful what you gamble on because once the tokens are committed they are lost for that turn. The D10 system gives the game life and options that round out easily and allow for quick decision making.
World-Universe Overview
In the twilight years of the Nineteenth Century, mankind is perched upon a new age of discovery and enlightenment. But beneath the hope and optimism, a rising darkness taints the air, touching the heart of every man, woman, and child. The United States has clawed its way out of a terrible civil war, but the wounds are deep. The nation finds itself poised on the edge of ruin, the agony of division eating at its very marrow.
Into this dark time a light of hope emerges, carried from the Old World by Dr. Burson Carpathian, scientist, visionary, and would-be savior. But Dr. Carpathian, too, follows a path laid out for him by the darkest of powers: a force of remorseless corruption. The Dark Council. Under the influence of these mysterious strangers, the men and women of this terrible new age struggle with every fiber of their being, clawing for the least scrap of victory. There is no certain future as a continent is torn apart, each isolated faction struggling to maintain their share of power beneath the gathering darkness.
Other Notes
4 factions are described, along with details on the Comic Book and all the Kickstarter support levels and add ons you could ask for.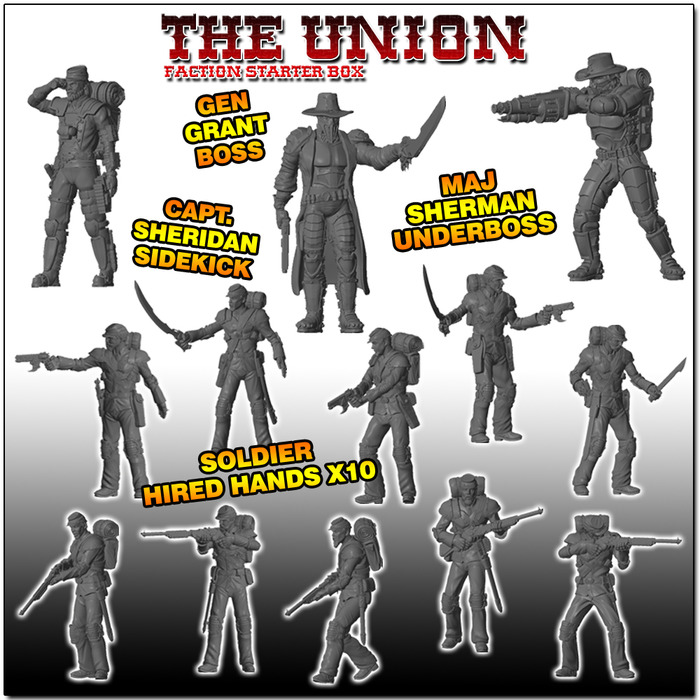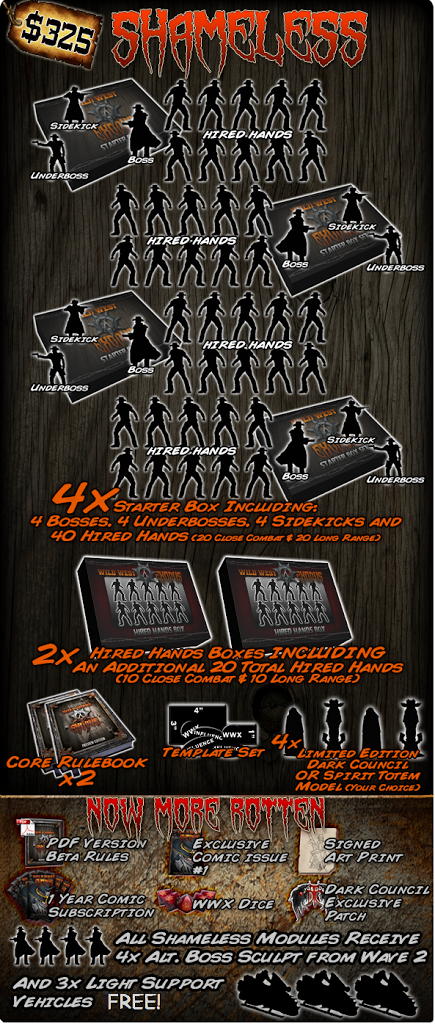 Have at it folks! This one's Wild Wild West meets tabletop. Who's in for some gunfighting, steampunk, and Spaghetti Western action?