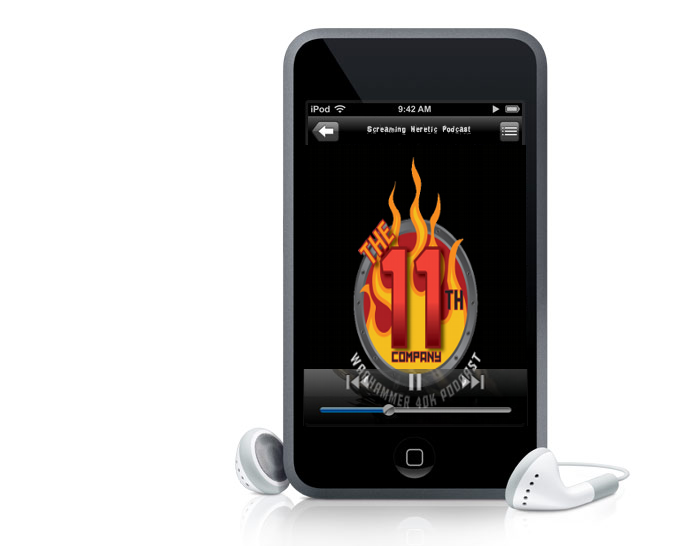 Welcome to another "This Week in 40K Podcasting,"
Here is this week's top 5!
Highlights: This week's show is about two weeks behind, and focuses on the release of the FAQs.
They opened up the show with 'This Week in Gaming' where they discussed the game they have been playing.
This included their thoughts on the Scarab event that they ran this past weekend.
Next, in 'Pat's Corner', Pat has an interview with Dustin who took first place at the Scarab Tournament with his Khorne themed Chaos Space Marines.
Pat then talked to Bryce who took second at the Scarab event and they discussed his Dark Eldar 'beast pack deathstar' list.
Then, the boys enter into a lengthy and detailed conversation on the new FAQs, focusing mostly on the shooting range question which has drastically changed the game.
They also hit on to some of the bigger FAQs, including the Blessings order of operations, Night Scythes and their passengers, and much more.
Next, Tom from the Tyrant's Due podcast drops by to promote their latest episode and event they are running.
They close out the show as they usually do, by answering questions from their Facebook fans.
Opinion:
It was a long time to wait, but it was worth it, as I had been very interested to hear what the guys had to say about this FAQ.
I am glad I am not the only one who found this shooting range question to be more then absurd, and hopefully GW will correct this soon.
Aside from that, hearing from the top two winners at their event was quite fascinating, and the Facebook Q&A was great as always.
My top podcast for the week.
Highlights:
This week the boys take it easy on us with only a 4+ hour show and their Ork Codex Special.
They open up the show with 'The Big Fight' where Boss Zagstruck takes on Eldrad in a one-on-one combat.
At the end of the battle, the boys take a tactical look at the loser.
Next, Dave has an interview with Courtney Rhodes and they discussed Orks in 6
th
Edition.
They cover where they believe the army is on the power scale and some of the tactics that Courtney has been using with his Orks on the tournament scene.
They also took a quick look at the units found in the Codex, starting with the HQ choices, and moving on to each and every unit in the books.
They make sure to stop and discuss the huge advantages of units like the Dakka Jet, Ork Boyz, and Ghazghkull!
Then, Dave and Franco have a discussion about the tactical advantages of Orks HQ choices of the Weirdboy, the Warboss, and the Big Mek in 6
th
Edition.
Dave then had a series of interviews with Doug Johnson, the top Ork player in the US on RankingsHQ and they discuss his Ork theories in 6
th
Edition, including their competitiveness, their best allies, and how the match up to the top armies.
They also cover what changes the FAQs have made to the army and had a 'Q&A Team' with Doug where they answer some questions from their Facebook fans on Orks.
Opinion: Everything you every wanted to know about Orks all in one great podcast.
This week's show really was pretty incredible.
IT was a quite comprehensive look at an army we all know and love.
I found it full of great tactical advice, ideas for running Orks in 6
th
, and some great ideas from one of the best Orks players in the world.
IF you love Orks, then this is a must hear for you!
Nice work guys!
Highlights:
This week the guys take a look at 'How to play 40K on a budget'.
They opened up the show be discussing some of the issues that 40K faces over other hobbies such as console gaming.
Has Games Workshop started to price itself out of reach for most gamers?
The then move on to discuss some of the 'alternate' games that are cropping up and cutting into their 40K dollars, and are much more inexpensive.
They then talk about the great value that Black Reach was at the time and how Dark Vengeance did not quite meet up to those same standards.
They then discuss the benefits and downfalls of the Battleforce for each of the armies and the gigantic Megaforces available each year.
They then discussed the first few games that a player should be playing, small point values and easy on the painting.
They close out the show with their hobby progress which included the boy's entry to the Independent Character's Hobby Challenge.
Opinion: This week's show was one of those shows I recommend to all new players to the game. GW really seems to have lost sight of their target consumer group as of late, with their skyrocketing prices. And while I agree that they have the best models in the business, it is really hard to bring that new guy into the game with out the sticker shock. This show was full of great ideas to get the most out of your 40K dollar when starting the game. New to 40? Give this show a listen, you won't regret it.
Screaming Heretic – Episode 40 ***Explicit***
Highlights: This week they cast has a ful house, and they open up the show with some announcements and a void in their hobby updates. They then move on to the latest news from Forgeworld, GW, and much more. After another BitzBox segment, the cast discussed the latest wave of FAQs from Games Workshop, focusing on the main rulebook changes and clarifications, but they also touched on the CSM, Dark Angels, Eldar, Necrons, and much more. In the 'Hobby Finds' segment, the gang discussed some places to find alternative bits to fit that theme to your army. Next, the girls are back with another 'Kiss My List' segment, and this time they are reviewing an Ork list. The staff then takes the opportunity to review the list and toss in their feelings on the Ork army in general. Then, Larry (Djinn 24) is back with another model workshop where he discussed the release of the new Dark Angels, some rumors, everything you ever wanted to know about brushes, and you might be an a$$hat store owner if! In their final segment, the Girls were back with Girls on GenCon, a product reviews for head swaps, and a review of the Apoc event with some rules issues.
Opinion: Very happy to have the Screaming Heretics back in the top five! Each show is always a load of fun to listen to and this week had a bunch of great topics I enjoyed. 'Kiss My List' has always been one of my favorites, but I found the 'Model Workshop' to be the most informative. It has been quite some time before someone broke down the advantages to good brushes and has added some much needed knowledge to my hobby tool box. Off to buy better brushes thanks to this week's show. Thanks guys!
The Overlords – Mini-sode 4
Highlights: This week the guys check in with a mini-sode with some awesome content. First is an interview that Ciaran had with Gav Thorpe and this time on the show, Gav discusses his Eldar Path Trilogy. First, Ciaran and Gav cover how the story of the trilogy was told from three separate points of view. They then begin to discuss the Eldar Paths, and some of what the three books in the series are about, from the Warrior, the Seer, and the Outcast point of view. Gav also discussed the difficulties of writing a book from a non-human point of view and some of the challenges he faced to make the books feel authentic. They closed out the show with Steve discussing the results of Steve's 750 word essay content on what Inquisitor Steve lost his hand. This is an audio reading of four chapters of Inquisitor Steve's story, written by a few authors.
Opinion: Gav Thorpe is one of my favorite authors in any genre, so hearing from him and hearing his thought processes on writing this series of books was just amazing! I have found him to be one of the most fascinating GW writers to hear from, as he really has help shape and mold this universe for over twenty years! Any fan of his should check out this week's show!
Honorable Mentions– All great podcasts that just missed this cut this week, but you should still check them out, in no particular order:
So, that is it for This Week in 40K podcasting, thanks for reading. Got a podcast all about 40K, or mostly 40K that I am not listening to? Let me know about it, [email protected] and let me know about it.

Also you can find me on My YouTube Channelfor Battle Reports, Tactics, Reviews and more! Disagree with my review? Post comments for that too!