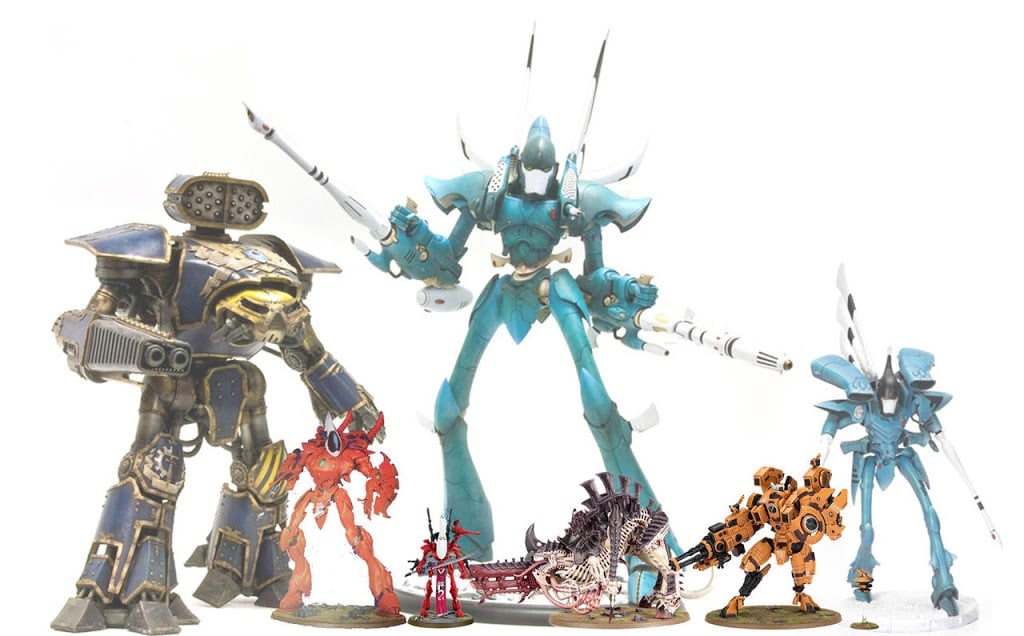 Remember when I said something seemed odd about the Eldar Wraithknight? Well, lets dig a little deeper.
First off, the Eldar Wraithknight. If you've been living in a cave, then you don't know the massive 9″ plastic kit is coming to tabletops near you in the next week or so.
So lets take a look at the kit and get some generalities down:
1) Its 9″ tall! That is massive. It towers over the "cute" Tau Riptide, and a Wraithlord only goes up to it's crotchshield. It is not so far removed in size from the Forgeworld Eldar Revenant Scout Titan (it IS smaller, but not by a lot).
2) It's pretty much on par size-wise with a couple of other kits you may be familiar with – the Stompa and the Baneblade/Shadowsword. both of these guys are roughly 9″ tall/long. It sure doesn't have the mass, but it's Eldar…
3) It's clocked in at $115 USD. Which is a very interesting number as again, both the Baneblade/Shadowsword and the Stompa clock in at that number.
4) It's in the codex. Yup, its not an apocalypse only unit, but it's in the standard Eldar codex.
And that got me thinking. Are you thinking what I'm thinking?
First off, Apocalypse 2.0 is said to be next, appearing in July. So having a big Eldar kit that would also be useful in Apocalypse would be great run-up to the big Apoc 2.0. Now the big thing is exactly how many Stompas and Baneblades do you think GW moves in general? They are pricey and only used in Apoc games.
So lets just ask the question – would you be really surprised to see a Baneblade or Stompa show up as the "big unit" when those armies get their new codices? I sure wouldn't. Like the Aegis Defense line – inclusion into the "mainline 40k ruleset" can instantly spike sales. The Aegis overnight went from a curiosity to a must have for almost every player. Now GW has already absorbed the R&D costs for these large Apocalypse models years ago, and I'm sure would be keen to see them flying off the shelves as fast as their machines can stamp out sprues at $115 a pop.
Apocalypse players already can tell you that 6th Edition hull point system blurred the lines between standard vehicles, and the superheavies. It's going to be interesting to see just how intermixed GW is going to want both systems.
So do you think these "big kits" belong in the standard game?