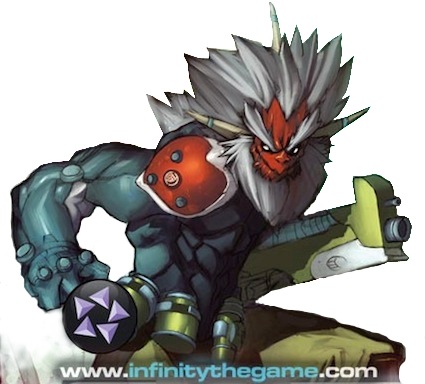 Humanity always wondered if it was alone in this universe and now it knows it was correct to fear the unknown. The only name that can be attributed to this mass of new races is the Combined Army. Composed of a myriad of species they are all of a single purpose; the conquering of the Human Sphere. There are no diplomats, no treaties, no compromises; the will of the Evolved Intelligence moves ever onward.
Discovered quite recently in the 2180's, the event was labeled "Second Contact". What truly terrified the forces that encountered them was how coordinated and efficient these aliens were. It was if they were all of one mind and of a singular thought; not a single deviation from their plan. When they retreated it was clearly because they chose to and not out of a sense of fear or self-preservation. As humanity fights itself for dominance, there is a creeping alien presence that clearly is poking for holes in the defenses. It does not care to make distinctions between politics, religion, or money. The Combined Army wants to add humanity to its collective and currently no one is willing to gather the various factions for a defense…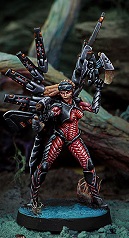 There were several civilizations before the current ones even began to crawl in this universe and some of these seemed to disappear while others died as any other civilizations do. Some it is believed, became transcendent and evolved beyond this universe. One of the oldest societies, but not one of the first, is the Ur Rationalists. This alien society has been searching for the secret to transcendence for longer than six thousand years. Once, they created an Artilect to help them in the zenith of their civilization find these secrets. In a surprise irony, the Artilect rewrote its programing and achieved this transcendence and disappeared leaving no clues.
Not to give up so easily, the Ur created a new intelligence machine but this time put in safeguards so that history could not repeat itself. This machine was more like an evolving self-aware entity they named the Evolved Intelligence; or simply EI. Despite all the additions of the Ur's best aspects of their society the EI wanted more resources in its path to understanding. The Ur became expansionary in their quest to fuel the EI.
After several failed attempts and a disaster creating a new Artilect, the EI determined that it had to try something new. It would now assess new civilizations and how to use them for the path of transcendence. Investigation is usually followed by conquering and with each new piece the EI believes that it will come closer to its goal. It knows the Ur and all the others it has conquered, have not done it on their own but it hopes Humanity may be the last key…
Humanity will be placed into complete union with the EI so that transcendence comes closer. Where some see complete enslavement, the EI sees several civilizations united in the path of higher evolution. The Human Sphere does not yet realize they are facing their extinction!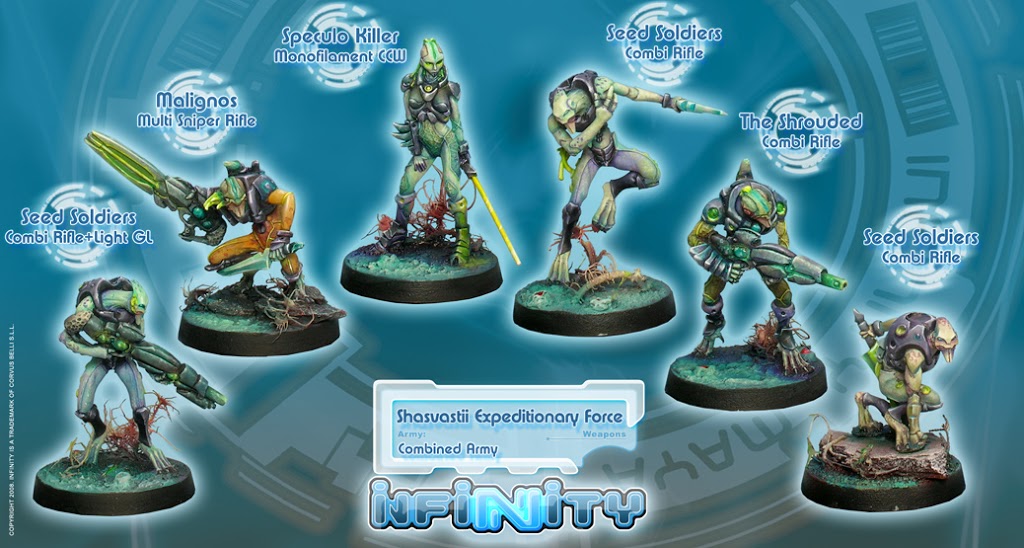 Shavasti Expeditionary Force
Small independent units perfect for scouting! These forces are sent all over the universe to probe and scout for anything the EI needs. Utilizing speed and adaptation they hope to combat problems with consistent accurate attacks. When facing an entire army the Shavasti Expeditionary army will attack fast and swift where it can cause the most damage. Striking hard and fast they sew terror into the ranks of their enemies. Why fight a protracted battle when you can terrorize and remove your enemy's will to fight?
These guys can be really fun to play if you like to jump around! At least half of the units have some type of camouflage and others can quickly move about the battlefield regardless of most scenery. This sectoral force can very effectively play "hit and run" against opponents. Have your smaller units hide and set up ambushes while others can lead them to the ambush site!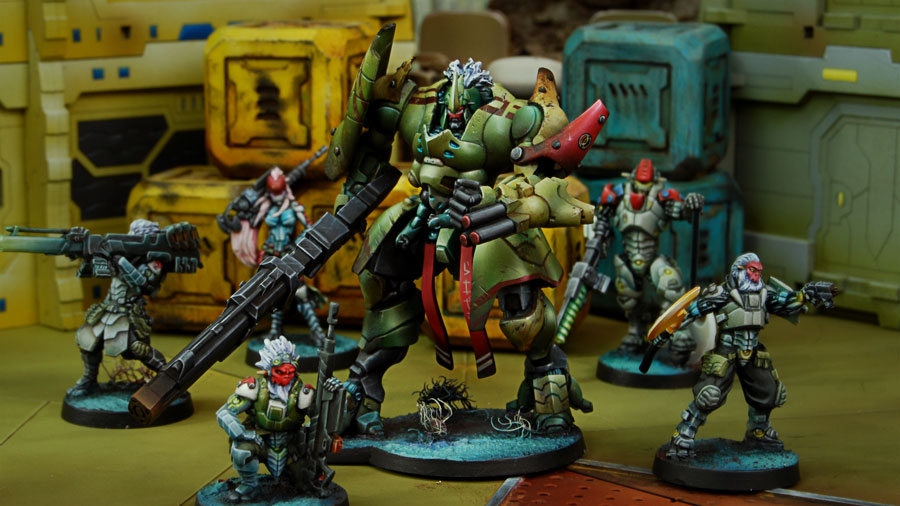 Morat Aggression Force
There is a time for subtly and a time for brute force; these are the later. The Morat are bred from birth to be warriors and their entire culture reflects this. This is the army that the EI sends to fight its battles and the EI is always facing conflict somewhere. Discipline and martial expertise marks this sectoral army in all its success. Veterans serve alongside raw recruits so the young can learn directly from experience. The greatest and worst aspect of these warriors is their stubborn adherence to duty.
Built and bred for combat? Definitely! Good close combat stats as well as armor make these guys ready to dominate. This sectoral force also provides one of the hardest TAG's in the game for almost 100 points! It's hard not to love these guys with how hard they can be to crack! Truly their only downside is a slightly high point cost but believe me you are getting your money's worth.
Humanit

y's

the next piece of the puzzle; how will you fit?