Academic Study of Tabletop Wargamers: The Results are in! Part 2: Demographics and Stereotypes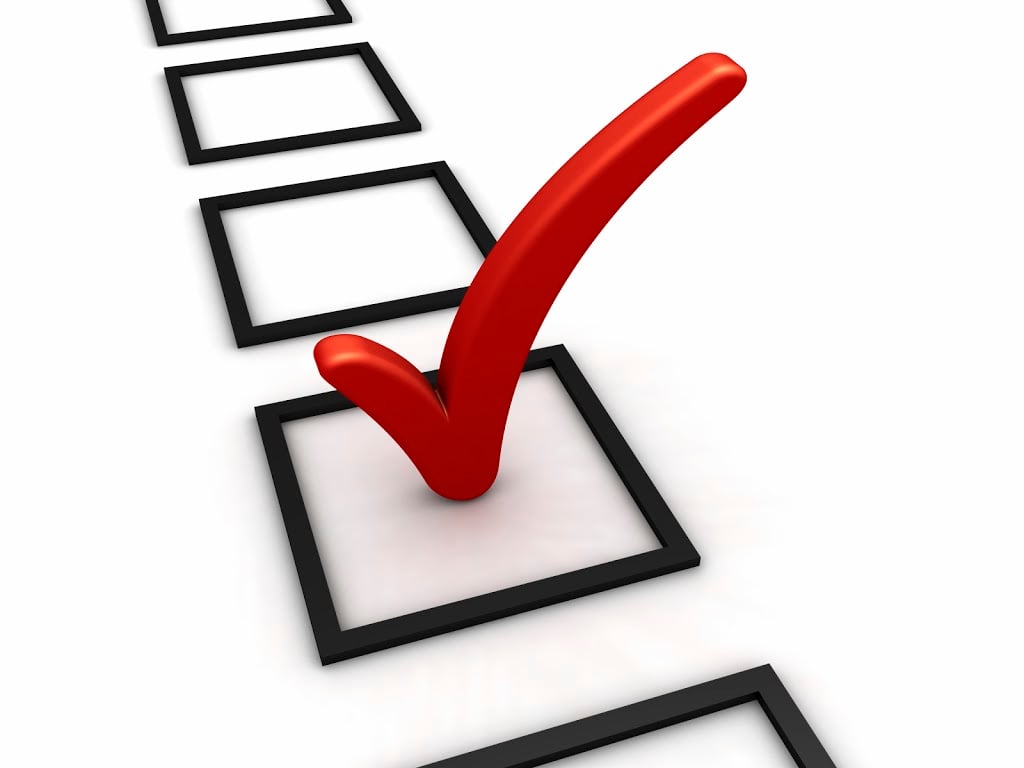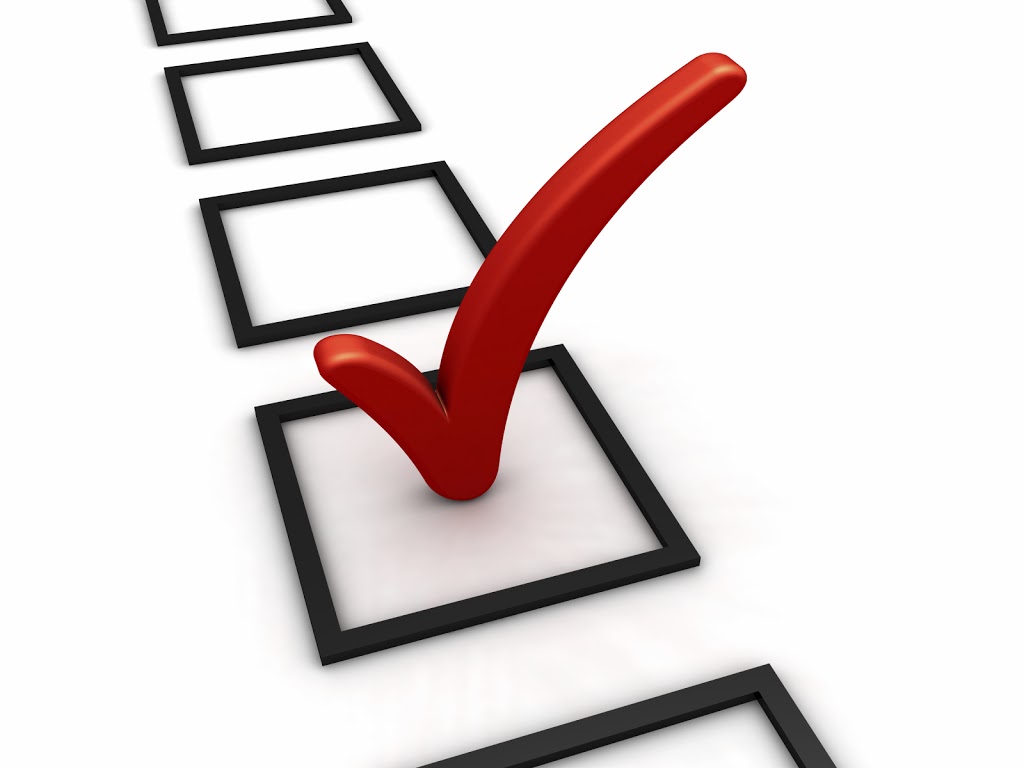 Back in November, BOLS graciously publicized a link to an online survey for American tabletop wargame players. The results are now in! You can find Part I of this series here. Part II looks more at the demographic information of survey respondents, as well as some other stereotypes of American tabletop wargamers.

Testing Stereotypes
Ian Cross back to report more results from our academic study of wargaming. In part I, I described a series of commonly heard stereotypes of tabletop wargamers in the U.S. Using the survey responses, some of these stereotypes were easy to test, such as gender (97% of survey respondents indicated they were male), race (86% of respondents indicated they were white), or income level (65% of respondents indicated annual income above $32,000). Other omnipresent stereotypes are obviously more difficult to examine with an online survey. The best example I can think of is the generalization that wargamers smell bad and exhibit poor hygiene. In order to test this and other stereotypes, the survey included a question that asked the respondent whether they believed any of eight listed stereotypes were accurate to tabletop wargamers. The chart below shows the percentage of survey respondents who believed each stereotype was accurate.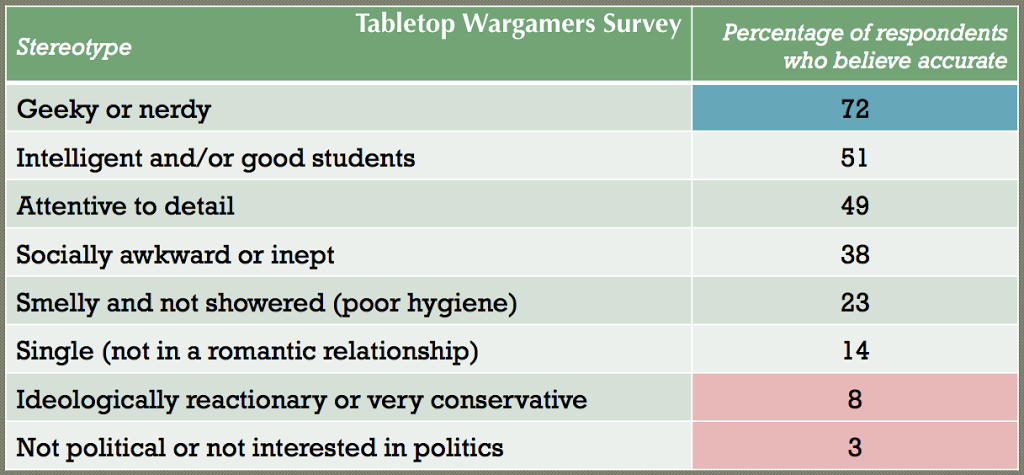 This list of eight stereotypes was derived from the case study interviews performed prior to the online survey. As you can see in the chart above, "geeky or nerdy" was the most widely supported stereotype (72% – highlighted in blue), while "smelly and not showered" was not generally believed to be accurate (23%). "Attentive to detail" was believed to be accurate by almost half of survey respondents (49%), while "socially awkward" and "single" were not widely supported (38% and 14% respectively). I am going to save the political stereotypes to discuss later, when we talk about political preferences more generally in part IV.
High Levels of Educational Attainment and Performance
The second-most supported stereotype in the graph above, "intelligent and/or good students" (believed accurate by 51%), segues into a significant finding of the study: tabletop wargamers, according to the responses in the survey, tend to be gifted or talented students who obtain higher education degrees. Based on a series of questions, a large majority of survey respondents (82%) indicated they were identified as gifted/talented students while in school – a rate of giftedness much, much higher than national averages (which generally range around 5%). A higher-than-average rate of survey respondents had attained post-secondary educational degrees – 76% of respondents attained an Associate's degree or higher: the two most frequently attained degrees were Bachelor's (by 39% of respondents) and Master's (by 17%). Presently the rate of post-high school degrees in the United States is a little over 40%.
Religious Affiliation
On the whole, tabletop wargamers taking the survey indicated that they are not religious people. In response to a question asking whether the respondent considers him- or herself religious, 61% said "no." When asked about religious affiliation, "Protestant Christianity" was the single most common response (29%), but if combining the options for atheism, agnosticism or "no affiliation," these categories capture a far larger percentage of the sample (42%). Many other religions were represented by survey respondents, but at comparatively smaller frequencies.
Geographic Location
Tabletop wargamers taking the survey were fairly evenly spread out across the United States. The most common region was the Midwest (24%), while the second-most common was the West (23%). The South and the Northeast took in comparable values, at 20% and 19% respectively. International travel was somewhat common; when asked how many countries other than the United States he or she had visited, 22% of respondents indicated 2 to 3, while 21% indicated 4 to 6 (these were the two most commonly chosen responses). English was indicated as their first language by 97% of respondents.
Are you a tabletop wargamer?
A vast majority of respondents consider themselves wargamers (97%), and most consider themselves active in the wargaming hobby (88%). Out of survey respondents, 35% indicated they had been involved in the hobby for 20 or more years; between 9 and 13 years was the next most common choice for involvement (the least common choice was less than a year, receiving only 3%). Hours per week involved in the hobby was primarily between 3 to 6 hours (32% of respondents) or 7 to 11 (27 percent). 32 survey respondents (out of 2,321) indicated they spent 41 or more hours per week on hobby activities. The most common amount of money spent on the hobby per year was between $451 and $650 (indicated by 16%); $901 to $1200 received 14% and $1601 or more received 13%. Less than 2% of respondents spend less than $51 a year in the hobby.
When asked about the single most important aspect of the tabletop wargaming hobby, "gaming" was chosen by 32%, while "social interaction" got 21% and "painting" at 12%. This mirrored, albeit not exactly, the favorite single aspect of the hobby, where "gaming" was selected by 26% of respondents while "modeling and/or converting models," "painting" and "social interaction" were each indicated by 15%.
In the next installment we'll get to the very interesting hobby information collected by the survey. What games are the most commonly played? What 40k army is most widely collected? Check back soon to find out!
If you would like to contact me, please feel free to send me a message in the BOLS Lounge; my username is MajorMcNicol.
Part 3 coming soon. Have at it.
A quick but important note of thanks – the successes of this project relied heavily on many other people, including: my faculty advisor, my family and friends, and the several wargamers who helped out in different ways to make the survey better. The failures, by comparison, can only be attributed to myself. Also, it is important to acknowledge everyone who took the online survey, providing me with enough data to reasonably investigate! And thanks must go to BOLS for publicizing the survey and posting these results, as well. Thank you to everyone who participated in the survey, and many thanks to those who supported and assisted me in its design and implementation.