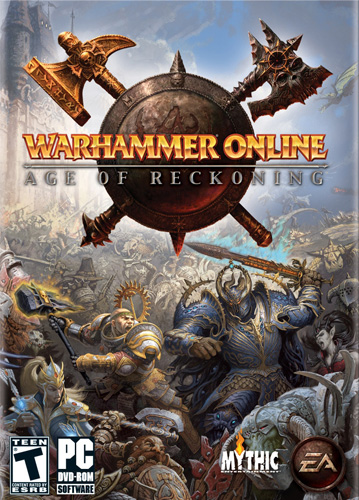 After 5 years, Electronic Arts pulls the plug on Warhammer Online. The priciest Games Workshop licensed game slips under the waves.
EA has announced a shutdown date of December 18th 2013 for the enbattled MMO. A behind the scenes note from an EA staffer gives a personal take on the game.
Games Workshop has cultivated a world class IP. We were lucky enough to play in their universe for nearly a decade, with five great long years live. However, like all things – our contract has come to an end. Both Games Workshop and Mythic agreed to part ways, despite how hard it is emotionally on us to let the game go. It has been a tremendous honor to work with Games Workshop and even though we may be parting ways, our relationship with them remains strong. And now, hopefully, because this may be the last thing I ever write about Warhammer, I'll be allowed to acknowledge the existence of Chaos Dwarves. Or maybe not.
Warhammer Online has been with us for five years. It had the classic trajectory of so many other MMOs – high expectations, a meteoric rise, and an even steeper descent. After it's first year the writing was on the wall, and many thought that only contractual obligations kept the game running as long as it did.
Here is a quick rundown of its lifetime stats from
Wikipedia:
Warhammer Online initially received favorable reviews. GameSpy gave it 5 out of 5 stars and claimed, "[it] has hit the ground running with one of the best MMO experiences we've had in a long time." GameSpot gave it a 8.5 out of 10 and said, "Questers and explorers may not find what they're looking for, and certain gameplay systems don't mesh as well as they should. Nevertheless, there's more than enough exciting PvP content here to keep newcomers and veterans alike immersed in the perpetually violent tug of war between the forces of Order and Destruction." Warhammer Online has an aggregate score of 86% on metacritic.com and 87% GameRankings.com.

As of September 30, 2008, WAR had sold 1.2 million copies and had 800,000 registered users.

As of October 10, 2008, Mythic Entertainment announced that 750,000 people were playing Warhammer Online.

As of December 31, 2008, the number of active WAR subscribers had decreased to "over 300,000 paying subscribers in North America and Europe."

As of May 5, 2009, EA executives confirmed in an investor conference that they have 300,000 subscribers as of the end of March 2009, shortly after the company reported a loss of $1.08 billion in the financial year for 2009. Consequently, the number of servers was drastically reduced in order to consolidate the remaining population. The total number of servers was reduced to 13 and the number of role-playing servers was reduced to 1.

Since this date, several servers were stopped, particularly in Europe, and there remained only 9 servers : 4 in the USA and 5 in Europe (including 2 in German & 1 in French).

As of February 9, 2011, 2 other U.S. Servers and 1 German server have been removed, leaving a total of 6 servers worldwide (2 in the US, 4 in Europe).

Since December 14, 2011, the game is now down to 3 servers, one for the US, one for Germany and one for the rest of Europe.
The game had a massive budget in the $100-200 million range, and was beset by problems from the get-go. With WAR's passing and GW's new approach to licensing, it may be a very long time till we see such a large-scale attempt to bring the Warhammer universe to life.
~I'll leave the ultimate judgement of it's strengths and weakness to you all. What do you think could have been done to save it?