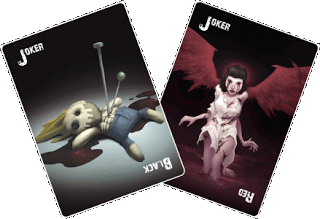 Malifaux 2.0 (M2E) has officially been out for a bit, and crew boxes and the Arsenal decks are filtering throughout the public. How does the new core book fare?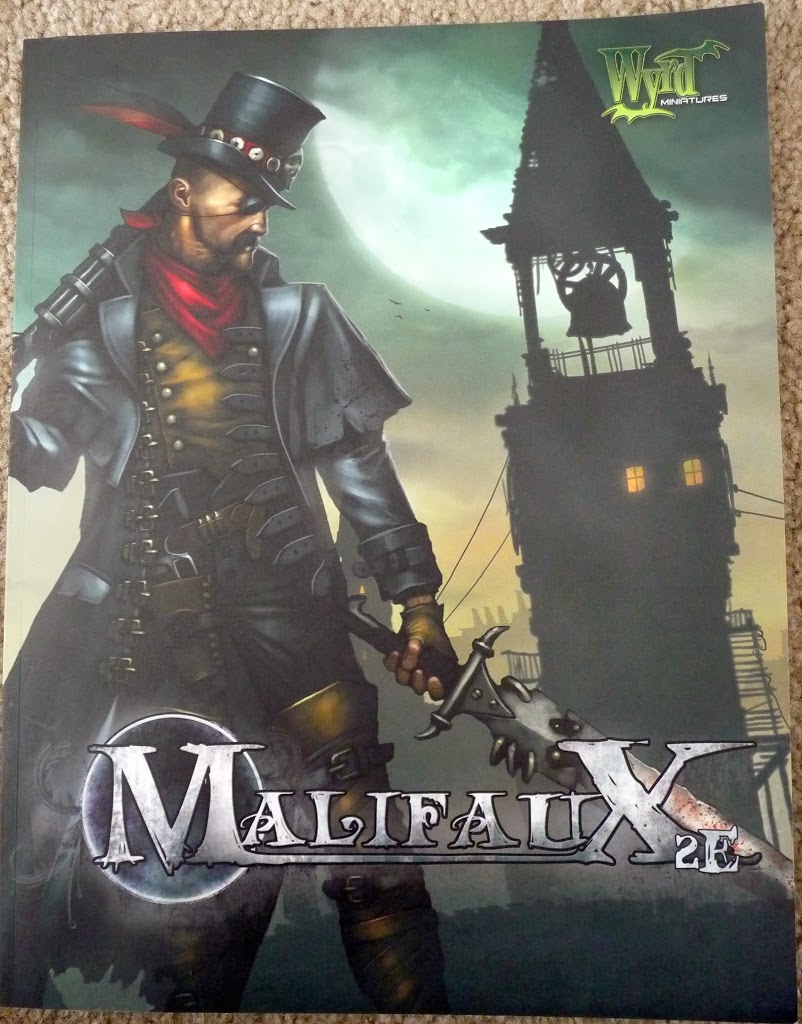 First thing, the book is gorgeous. A nice full color cover picture of the iconic desperate mercenary fills the cover, with only limited text to distract the eye. It's certainly an interesting choice for the cover model, but the art pulls it off well. All the Model stats in the book are fully represented in the same format as the actual stat card at a decent and appropriate size, so if you needed a quick replacement in a hurry it would be no problem to photocopy them, print them out and laminate the new card. This also ensures that full color art (rather than some of the line art and sketches we got in some of the previous books) represents every model. There are 2 models' stats per page, with each master taking up an entire page, but including the full artwork for the master. Scattered throughout the book are also a few pieces of art for models upcoming that were not included in the first wave of M2E but that should be in the next phase of the public beta. Giving these illustrations provide a nice little sneak peek of the art direction for a few of those crews (for example, the cut Leviticus and performer/mannequin combo). The pages and binding seem fairly sturdy, I've been carrying it around for a couple of weeks and it's still undamaged (Probably a good thing since I was initially borrowing a copy from a friend…). Constant travel in bags and use will ding it up and start the cover fraying of course, but that's hard to avoid in a softcover book.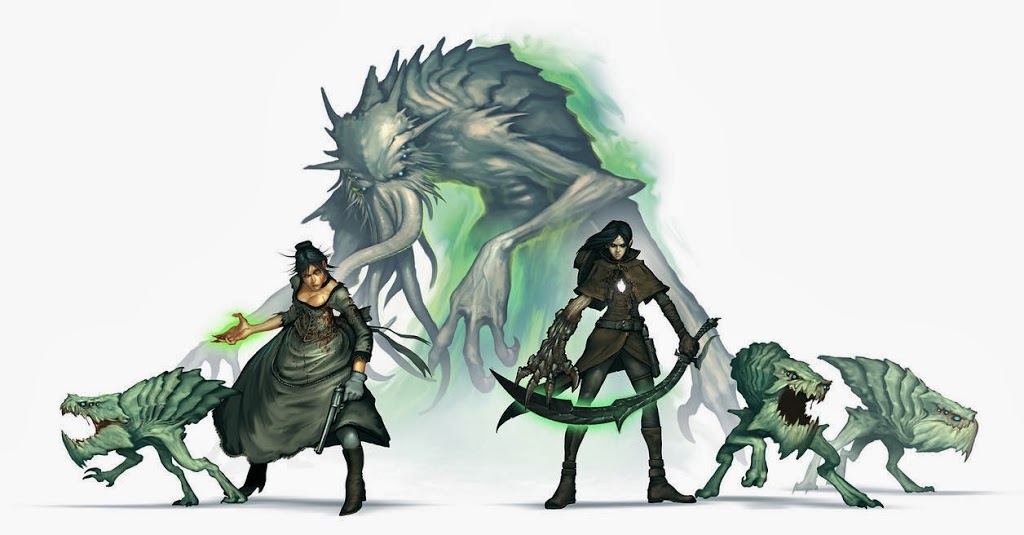 The new faces on the block. Tara's crew, hybrid outcast/resurrectionist.
Being a core rulebook, it proceeds to run through all the basic rules for the game. All of the standards you'd expect in a minis game are here (movement, line of sight, attacks, status conditions, etc). Specific to Malifaux is the randomization process (a deck of cards rather than dice), and victory is decided by a strategy/scheme system, giving every player a choice between goals to win the game. Not all of them are murder related, so you can even win the game (albeit very difficultly) while losing every single one of your pieces or not killing a single opposing piece. Directly new to the edition are upgrade cards for the models. One of the design goals was to simplify from the horrifically complex 1.5 models, which they've succeeded at brilliantly. For those with a flair for customization however, upgrade cards will allow you to modify your key pieces, both to fit your playstyle and the requirements of the strategy.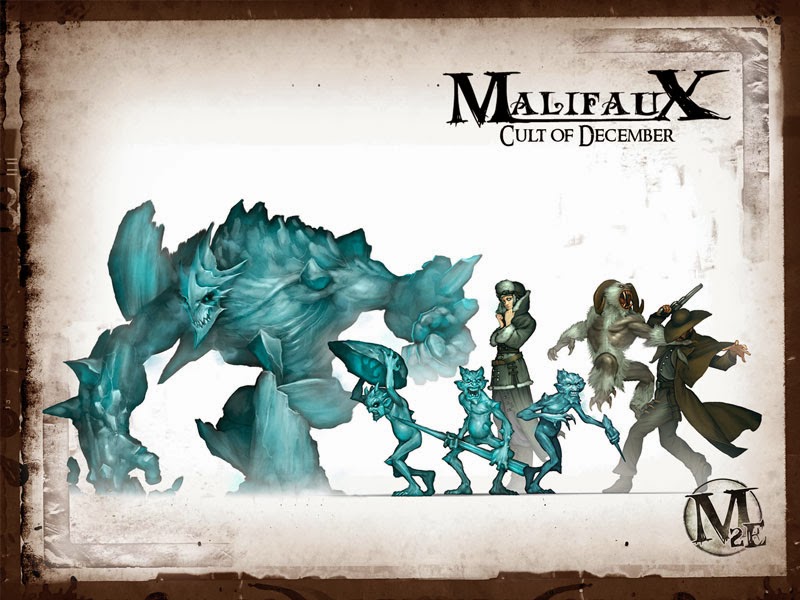 Your old favorites return as well, better (and more balanced) than ever.
In addition, it also includes rules for running story encounters (which include the return of some classic strategies and faction specific schemes (Outcasts, however, do not get one, instead gaining the option to trade a scheme for soulstones). In a little bit of an odd move, the book also contains the rules for avatars, while not including any examples of how to use them. No avatar stat cards or the mentioned manifest cards, though the rules seem cool enough.
Contents of the book, model wise, are broken down by faction, each of which includes (roughly) 3 different masters, 4 totems (one for each master and one generic one), 3 henchmen and an assortment of enforcers and minions; essentially 3 complete crews with various options per faction (barring duel faction shenanigans of course). It's a little hard to say X of this, Y of that, and Z of this however, due to some subgroups not having an analog in the first wave (there is no Rasputina themed henchman, or Lynch's totem and henchman both being the Hungering Darkness). Following the models' stats are all of the current upgrade cards for the faction, broken up by with generic upgrades followed by a two-page spread for each master. As per the stat cards, these are formatted appropriately for duplicating for personal use (may not be tournament legal however, depending on how strict/official your tournament is).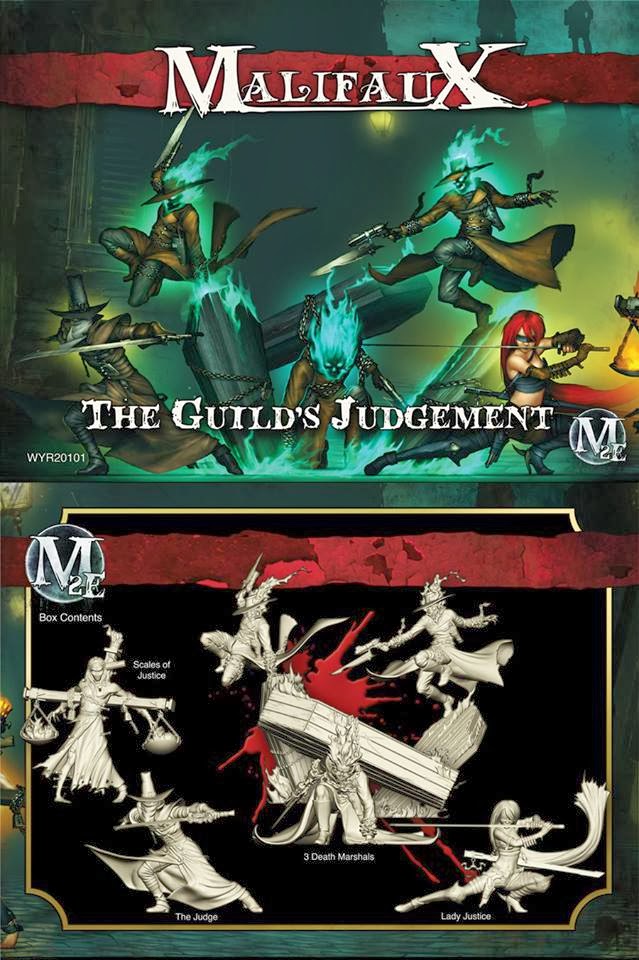 Big fan of their new packaging. Full art of the entire crew on front (rather than just the master like in the old days), and renders of all the miniatures on the back. Some people miss having painted examples of the mini itself however.
As for the table of contents and index: it's still kind of a rough spot for Wyrd. They feel too short for an almost 300 page book, and the game's sadly missing 1.5's cheat sheet in the back (damage chart, common terms, etc).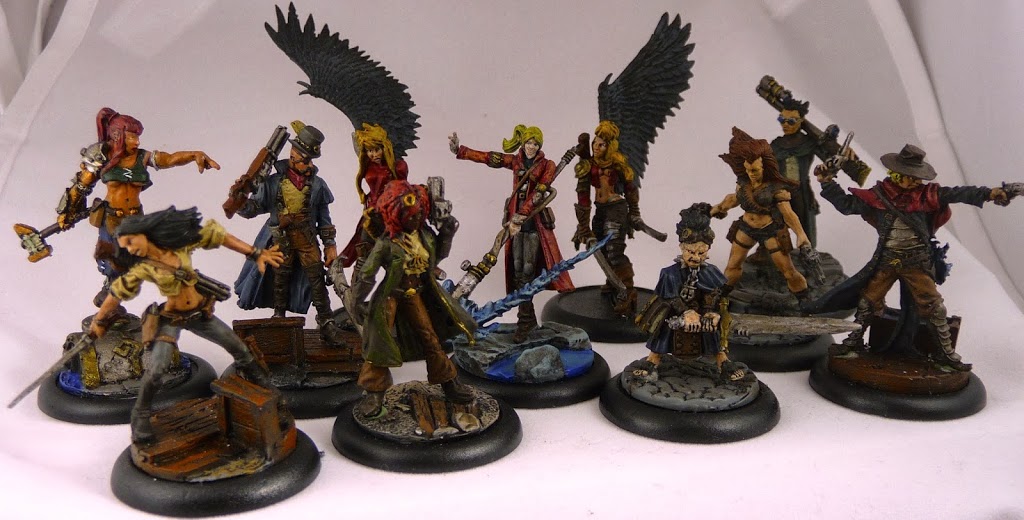 Worry not, arsenal packs will bring you all the cards you need to play your old favorites, whether they be classic metal or new plastics.
Complaint wise, my biggest issue is the life size representation of the upgrade cards. If they were shrunk down a bit, their sections could be cut down from a 4 double page spreads per faction to half that (most of the upgrades aren't even wordy enough to warrant that space anyway). Cutting that off would have freed up 28 pages in the book, which I would have loved to see used for an expanded fluff section explaining the current world of Malifaux. Four pages and a double page map of the city seems a bit skimpy for a core rulebook. There's still plenty of fluff and story, just the background is a little sparse.
The fact that the hair trigger upgrade card (for the Ortegas) happens to have been excluded from the book is a bit of a sore point as well. At least it's an upgrade card that will most likely be included in the eventual Ortega box, so that Perdita players would not be forced to buy the arsenal deck.
I'll give a huge pat on the back to Wyrd for cutting Leviticus from the book however. While it certainly feels a little off, since his art is in the book and he shows up in the book's storyline, not rushing him off to the printer when they weren't happy with him at the end of the first round of playtesting was a wise move.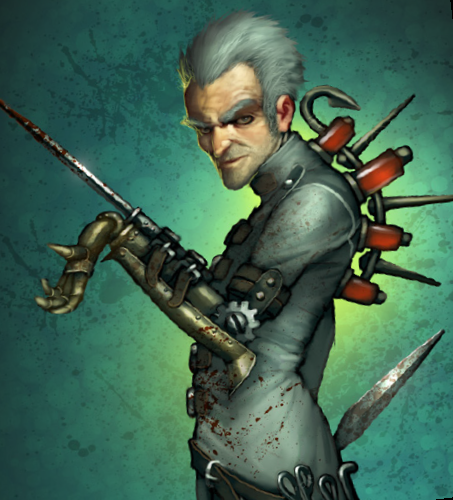 Back in beta…again. He's a hard man to rule.
It's a matter of taste, but some of the fluff certainly seems a bit cheesy. The nothing beast doesn't make sound, what you hear is the sounds it chooses not to destroy! Heh. Nothing new here of course, as gaming storylines are always a bit variable and Malifaux's many genres in one book tends to let them ham it up a little anyway.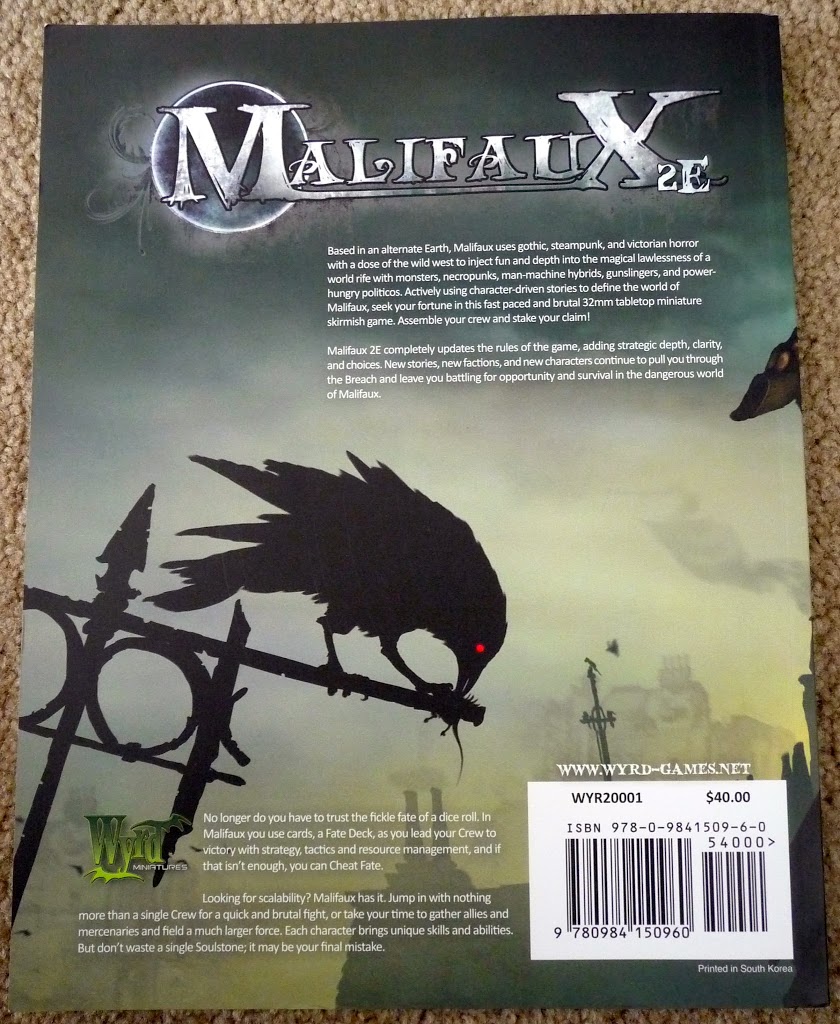 So who is interested in taking a stab at Malifaux now in it's shiny new 2.0 edition?