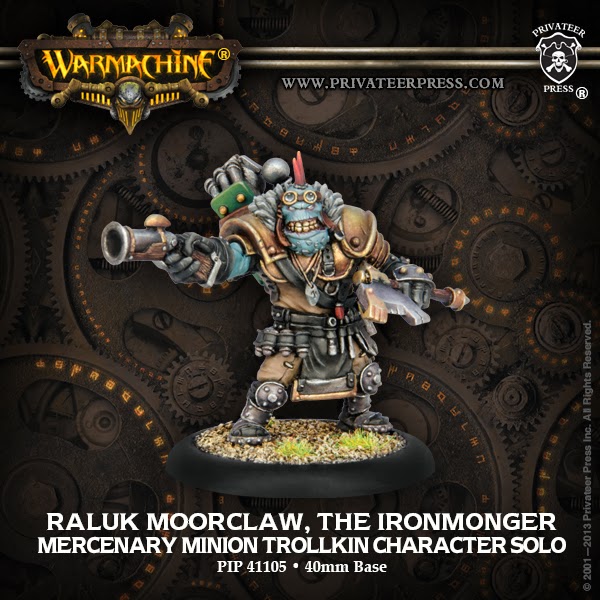 What's so special about another Merc Jack Marshall? You'll see…

I mean, there were already three merc jack marshalls out there: Rutger Shaw, Sam MacHorne, and my personal favorite Dirty Meg. You could also count Thor Steinhammer and the High Shield Gun Corps as Marshalls four and five, but they marshall Rhulic 'jacks making them a bit different. So if there are already plenty of Jack Marshalls to go around, why bother releasing another one?

Raluk Under the Microscope
Jack Marshalls are usually about two things: the unique drives they offer your warjacks and freeing up resources for your caster. Raluk's Drive, Hog Wild, allows a warjack to shoot and make a normal movement afterwards followed by a melee attack. Just to be clear, this can be a charge. This is a fairly useful Drive as it can let you make more total attacks with jacks like the Mule and Vanguard. Or if you're concerned about getting charged, it might let you retreat a jack to safety after using it. Definitely not a bad drive, but I'd be hard pressed to call it the best. Let's look at the other choices in the 2 point slot. Dirty Meg's Off Road will let a marshalled jack charge for free or make a slam while benefiting from Pathfinder, while Rutger Shaw's Reroll gives you a second chance to hit with an attack. Thor's Pronto will give his Warjack a free out-of-activation advance. It's hard to pick a favorite with Drives like that. If anything Hog Wild is one of the less interesting choices. But that's okay, because Raluk has other uses.
Foremost is that he's a mechanic – and you can never have too many of those around. He's also pretty tough to kill. Not only is he literally Tough, but he also has higher Arm and more damage boxes than any of his peers. He can also make a decent combat solo being able to deliver a POW 14 shot from his Assaulting Slug Gun followed by a P+S 13 charge attack from his axe. His MAT and RAT are even decent at 6 each. But even this is still only part of what makes him cool. Raluk is really all about opening up options to factions that didn't already have them.
The first thing to stand out about this guy is that he is also a Minion. Like Boomhowler and Company, this is a Troll who is more than happy to fight alongside his rural kin. If you are a Trollblood player like myself, you may have frequently found yourself asking: why can't I have range 19 guns? Well with Raluk, two Mariners, and an Impaler, you won't have to find yourself asking that question anymore. That's right, the Impaler's Far Strike can be applied to any friendly model. The downside is that the Mariner needs a friendly faction model to act as its loader or it can't shoot. You'll have to keep Raluk right next to both of them – or hire more mercs to act as loaders. While this trick might still be worth using once just to see the look on your opponent's face, I think this 18 point combo is a little expensive when you'll need points for beasts to make sure you have enough Fury. Even a single Mariner is hard for me to justify honestly. I would make the same argument about the Mule, although if you absolutely have to bring a heavy warjack or two I think this one is a better choice overall despite the lower range. It has a cool crit-knockdown effect and is a wee bit sturdier than most Dire Trolls – assuming they're not under the Krielstone Aura that is. Of course if durability is all you want you have the sturdier and cheaper Nomad at your disposal. Still, if I'm trying to be even remotely competitive, I'd rather spend those points on beasts or some of the Trollbloods excellent troop and solo options.
There is one warjack I can see bringing to Trollbloods with Raluk though: the humble three point Buccaneer. This guy is all about his net. It doesn't have an AoE. It doesn't even have a POW. What it does have is Assault and automatic Knockdown on a hit. For some of the more assassination oriented casters this can be a gold mine. Either of the Grims, Gunnbjorn, and even Doomshaper2 would all love to have the ability to clear lines of fire. Or it can help make sure your War Wagon can hit and cause even more knockdown. Oh and speaking of War Wagons, don't forget, this guy can fix them if you need him to.
Raluk is also the first Minion whose rules specify he can be taken in either of the two Minion Pacts. His hefty stable of warjacks immediately expands both Blindwater and Thornfall's options by 50% – and that is a pretty big deal. While the Buccaneer has the same applications within Minion armies as Trollbloods, I think there are other jack choices worth looking at. With debuff spells like Parasite and Crippling Grasp, Calaban and Dr. Arkadius can get more mileage out of Merc warjacks than most other Warlocks. But there's one especially important ability that Raluk unlocks that Minions were completely missing. I'm talking about the Vanguard's Shield Guard! I had to quit playing Dr. Arkadius because I got so sick of him getting shot to death every time I tried to use Crippling Grasp. Things weren't much better with Sturm and Drang. With my Blindwater army, Occultation was the only thing saving Calaban from a similar fate – and Stealth isn't even as reliable as it used to be. While there's no way Shield Guard is going to rocket any of these warlocks to top tier status, it is a useful tool – one that the pacts have been sorely missing.
Cryx you say…
There's one more faction that will finally be getting access to merc 'jacks thanks to Raluk. That's right – as if they needed any more love, Cryx, the Nightmare Empire will now have access to the whole array of non-Rhulic Mercenary Warjacks as well. OK, so they technically already did, but now they can take them in a one-caster game. So what immediate synergies do I see? The Withershadow Combine and their Puppet Master ability have me considering the Mule. Re-Rolls will help make a Critical Devastation that much more likely. Nomads also give Cryx an objective holder for fewer points than they're used to having to pay for such a sturdy model. And if the logic holds that de-buffers can make the most of marshalled jacks, then Cryx should excell at it. Those guns you'll find on Merc heavies can deliver even more vectors for assassinations against Parasited casters.
Of course Cryx already has comparable options with heavies. For 8 points they have the Corruptor with it's own Pow 14 gun, and it's one of the least liked jacks in the factions. They also have a Jack Marshall of their own if they want to free up focus for spell slinging. He might cost a point more but this guy can stealth his jacks and even has the possibility of giving them soul tokens to use. But you don't see many Cryx builds centered around Liche Overseers. So as with Trollbloods, I think Raluk is going to be most successful when he's just bringing along a buccaneer or two in certain lists and not tying up too many points. Cryx can never have too many ways to open up line of sight for spell assassinations. And he can always fix any of your warjacks that end up taking a beating.
So if you're type who only wants to buy models to win you games, I think Raluk has ways to help. But that's not what makes this guy special. This guy is a love of the game kinda model. He's here to let you take your favorite giant robots along with your favorite giant monsters, and have some fun. Trollblood players: bring along a couple of Nomads so they can high-five your Dire Trolls while they smash stuff together. Cryx players: bring some Mariners along in a Skarre list just to make it feel more pirate-y. Blindwater players: take a Freebooter along so your Wrassler has a swimming buddy.
~ Hope you enjoyed the article. As always if you have a cool combo with Raluk that I missed out on, let us hear about it.