WFB: Wood Elves 1st Hand Reports Arrive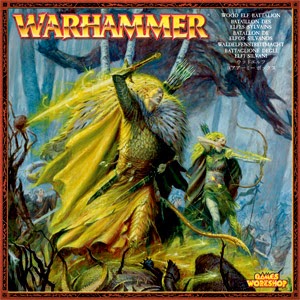 Wood Elves week 1 releases hit this weekend and the initial first hand eyewitness reports are in:

via MythicKhan
Got a nice look at the White Dwarf today. Pretty much everything that can be leaked out has as far as I can see. Definites on the stags, the High/Dark/All 8 Lores access for them (which personally I think is cool, but then I'm a new player as opposed to someone attached to previous iterations). Treeman looks awesome, particularly the one painted in more wood like colours. Ranked dryads were present, the original Glade Guard and Glade Riders on ordinary painted horses (speculation with GW manager was spirit horse option?).
As far as I could see, the 'Eternal Guard' like minis appear to have some sort of great axe, but nothing concrete on other weapon options or what (if anything) they double up with. Manager also mentioned that Sisters of Twilight have gone off the website too! Fingers crossed for forest dragon!
Needless to say, I have a limited edition book on unofficial preorder 😛
Pretty sure two axes (ed. ~ miniature seen in the pics doing the rounds) is a unit champion. If you look closely at the right hand end of the axe-elves, I believe you can see a musician wielding an axe that is much the same (and is that a peak of the same axe being held forward just as the picture cuts?)
GO-GO-GO – Lots more goodies in there!
This is perhaps the most I've anticipated a WFB releases in a long while. The Wood Elves have certainly earned their new book. Have at it folks.