WFB: – Wood Elves Week 1 Minis and Prices!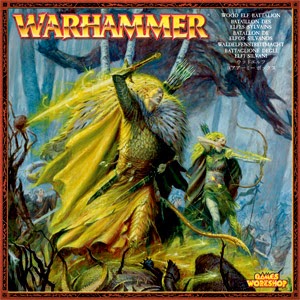 A busy day, we've gotten word of the product and pricelist for the week 1 Wood Elves. Let's hit it.
Week 1 Wood Elves Releases
via lataburnadellaurana

Warhammer: Wood Elves : Army Book full color, hardcover, 92 pages €39
Battle Magic: Elves: 16 magic cards, €6
Araloth the Sorcerer: New Character, plastic clampack, Wizard and falcon. €17.50
Ancient Treeman: Reissue of old Man Tree, triple option box, can create: TreeMan, Treeman Ancient, or Durthu a character €50
GO-GO-GO – Lots more goodies in there!
Look for these to go up for preorder this saturday, April 26th with a street date of May 3rd. It is said to be a short 2-week release window for the Warhammer Fantasy Wood Elves, so look for 2-3 more kits coming next week, said to include a giant hawk based kit and a possible mounted unit.
Have at it folks – WOW!