WFB: – Wood Elves Minis – Week 2 Info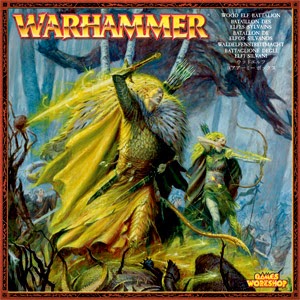 A busy day, following up on yesterday we are getting a better idea of the week 2 releases. Let's hit it.
-Giant hawk based triple unit-combo kit
-Mounted unit (stags)
Todays batch of gamer magnifying glass examination reveals:
The various pictures going around have shown what appears to be 2 distinct types of mounted deer/stags of some type, so it seems a safe bet we can pencil those in (almost certainly a combo-kit).
A new character with two axes
The Eternal Guard box looks to be are a dual-kit with Waywatchers.
Finally there is
THIS AUCTION on eBay
that has some eyecandy to look at. WOW is that Treeman HUGE!
GO-GO-GO – Lots more goodies in there!
It would appear with all this talk of triple-unit combo kits that GW is stuffing as many new units into the fewest possible kits for this Wood Elf release. To me it sounds like a solid plan to give WFB solid support in terms of units while minimizing development effort compared to 40K.
Have at it folks.