WFB: Wood Elves Week 2 Minis Details & More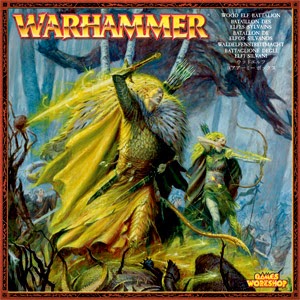 Wood Elves week 2 releases hit this weekend and the initial reports are in:
Sisters of the Thorn / Wild Riders : €29
New plastic box with five dual kit multicomponent cavalry miniatures.
-The Sisters of Thorns are immortal witches, and fight mounted on deer.
-Wild Riders are the personal guard of Orion, armed with long lances.
Eternal Guard / Wildwood Rangers : €31
Plastic combo-kit – ten models. Parts are included in the box for Command Group consists of a Champion, Standard Bearer and Musician.
-Eternal Guard are armed with spear and shield.
-Wildwood Rangers are are armed with a two-handed blades.
Guardians of The Deepwood : €190
Limited stock Army Bundle.
-Treemen x3
-Dryads x36
There are also Wood Elves week 2 minis pics about…
GO-GO-GO – Lots more goodies in there!
This is perhaps the most I've anticipated a WFB releases in a long while. The Wood Elves have certainly earned their new book. Have at it folks.