Warmachine/Hordes: Late May Releases Unboxed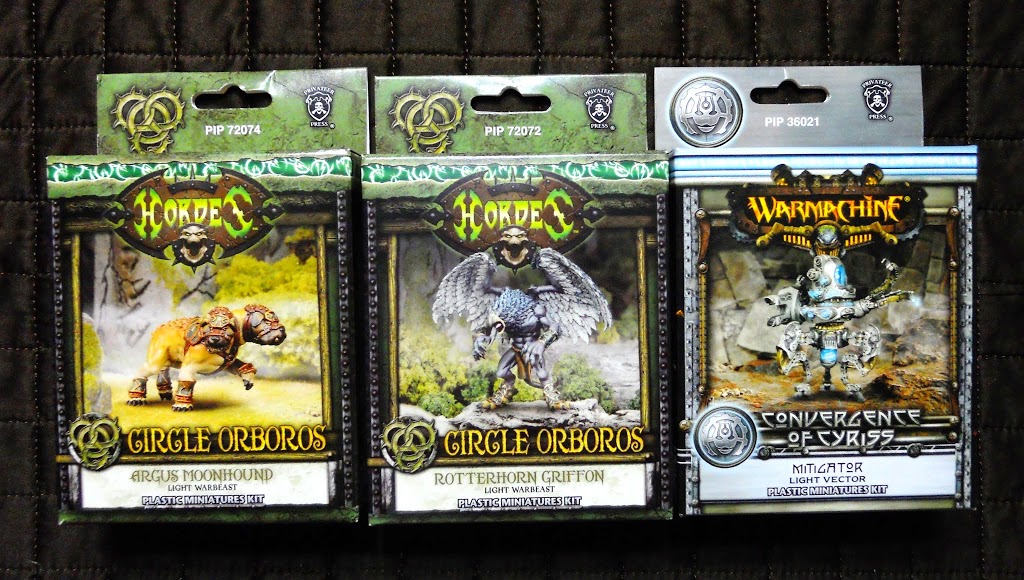 For late May Privateer Press has three new plastic kits for us.
First up it's a new breed of Argus: the Moonhound.
Unlike previous Argi kits, this one is only two pieces. I can't help but grin a little bit at the way the peg for the usual long furry Argus tail has become a stubby clipped tail for this more dog-like Argus.
Head #1.
Head #2. Like most of Privateer's plastic warbeasts, the detail is pretty good. This plastic seems to work well with the round curved features you see on beasts. While the mold lines are rather pronounced, I've seen worse.
There's a lot of doggy character in these faces.
The body is unchanged from previous kits as far as I can tell.
And here's a new breed of Griffon.
A little more complicated than the previous kit, but assembly should still be easy enough.
The wings are highly detailed with minimal mold lines.
It's pretty much the same story with the body.
And here's that all important head that, with the wings, distinguishes him from other griffons.
And some arms.
This guy is just a re-pack, but I still think it's important that it get a full unboxing.
Why? Well, eight months ago when I did the unboxing for the Convergence Battlebox, these light vectors looked like they could use a bit of improvement. I want to see if their quality has changed since then.
As before, the leg is probably the sharpest looking piece. The detail is nice and crisp.
The Bola Launcher is also about the same.
Sadly the quality of the head seems to have diminished with mold lines worsening drastically.
The worst bit of all, the one that saw numerous gamers emailing for miscast replacements, is for all intents and purposes completely unchanged. I've gotta say that bums me out quite a bit. Something like this is a little harder to complain about when it's part of a battlebox, Given that a Heavy Vector is a $35 kit, and that Syntherion would undoubtedly be a $15+ warcaster, the Light Vectors that come with the Battlebox are nearly free. This kit is $19 making this level of quality much less acceptable.
~ So it looks like these three kits spread completely across the quality spectrum. The Griffon is great. The Argus will take some cleaning, but I think those who take the time to do so will be rewarded with a piece that looks very cool on the table. And then there's the Mitigator…