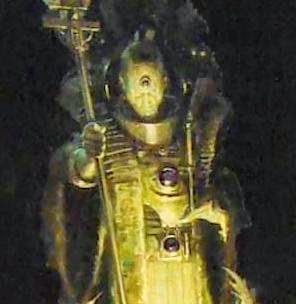 Welcome back for part two of our 40k Boot Camp series on the new Psychic Phase!

If there is one single thing about seventh edition that's completely different most people agree psychic phase (and it quite possibly become the biggest focus for angst here soon)!
So I figured I'd kick off the Spikey Bits series of 7th Edition Boot Camp articles with that phase to help everyone (including myself) learn what changed, and more importantly how to apply it in game.
Good or bad it seems like the psychic phase is here to stay, and since it makes up 25% of each turn it seem like a good idea to focus on that first!
Here's my part two notes from this new phase with my interpretations.  This is by no means a comprehensive all encompassing exposition on the new phase, it's just an attempt by me to share what I've learned after studying the book and playing a few games with one of the best players in the game itself, Ben Mohile.
In this article we'll be covering the new Psychic Disciplines themselves.
Feel free to use this list with your games, or even to repost it to help others with their games!
MBG's 7th Edition Boot Camp – The Psychic Phase Part Two Psychic Disciplines

Psychic Focus – Choosing all powers from save discipline grants primaris for free (even if you just made one roll, lol)
Gaining any power from any one other discipline removes Psychic Focus, but you can still sub a roll for the primaries like in 6th. You just don't get it for free as with Psychic Focus.
A mark of Chaos or Daemon of a certain god get their primaris power as well (Focus of Chaos)
Psykers with weapons that have the Force rule have Force Power (Mastery Level 1), and can cast to make all weapons in unit with the force special rule grant instant death.
Biomancy
Iron Arm – changes to be +3 S/T and gains Smash (reroll armor pen, ap2 attacks, one attack at 2x STR)
Enfeeble – 24" malediction -1S/T and counts all terrain as difficult.
Lifeleach – can now restore a wound to psyker, or model within 6"
Endurance – blessing 24" Target units gains eternal warrior, and Feel No Pain (4+), now Warp Charge 2
Haemorrhage – changes to TWO Toughness tests, or else takes a wound with no armor/cover, repeat within 5" if model removed as a casuality
Divination
Prescience – now Warp Charge 2
Perfect Timing – changed to #3 spot
Precognition – changed to the #4 spot
Misfortune – changed to the #5 spot, and now targets an enemy unit and if successful allows all attacks that hit that unit have rending (including in the assault phase)
Scrier's Gaze – added ability to choose and discard a tactical objective, and generate a new one.
Daemonology

Santic
Primaris- Banisment all daemons within 24" get -1 to Inv saves (max 6+)
1 Gate of Infinity – (self) remove the unit, and arrives via deepstrike
2 Hammerhand – (self) unit gets +2 STR
3 Sanctuary – (self) +1 to INV save, all daemons treat terrain within 12" as difficult
4 Purge Soul – focused Witchfire 24" range, compare leaderships +d6 of pskyer and target, if psykers higher target suffers one wound no armor or cover saves.
5 Cleansing Flame – Warp Charge 2 Nova Power 9" range S5 AP4 Assault 2d6 (would be resolved per unit) Ignores Cover, Soul Blaze
6 Vortex of Doom – Warp Charge 3 Witchfire 12" SD, AP1,Blast,Vortex auto perils if fail to cast
Any roll of doubles using sanctic powers cause peril, unless model is a Grey Knight
Malefic 
Primaris- Summoning Warp Charge 3 Conjuration range 12" creates a daemon pack of troops.
1 Cursed – Earth blessing all daemons within 12" get +1 Inv
2 Dark Flame – Witchfire Template S4 AP5 soul blaze torrent
3 Infernal Gaze – range 18 beam S3 AP4 Armorbane, Fleshbane
4 Sacrifice – Unit within 6" takes one wound, and creates a herald unit.
5 Incursion –  Warp Charge 3 same as summoning except  non troop choice daemon packs
6 Possession –  Warp Charge 3 Psyker turns into a Greater Daemon
Pyromancy 
Pretty much unchanged since 6th and quite possibly the worse discipline
Spontaneous Combustion – moved to spot 3
Sunburst – now Spot 4
Inferno – now Spot 5, Warp Charge 2
Telepathy
Psychic Shriek – changed to range 18"
Terrify – moved to spot 3, (puppet master is gone)
Shrouded – (new) spot 4, blessing that targets the psyker and all models within 6" now have the shrouded rule.
Invisibility – changed so that the unit can only be snap shot at (no templates)
Hallucination – results nerfed a bit, may not be worth casting at warp charge 2
Telekinesis
Objuration Mechanicum – moved to spot #2
Shockwave – changed to spot #3 and now STR4
Levitation – blessing, self, Psyker and his squad make a move of up to 12" away.
Telekine Dome – now Warp Charge 2
Psychic Maelstorm – Warp Charge 3 12" Range STR10 AP1 Large Blast, Barrage