K9 Hobby Training – Painting Rust and Patina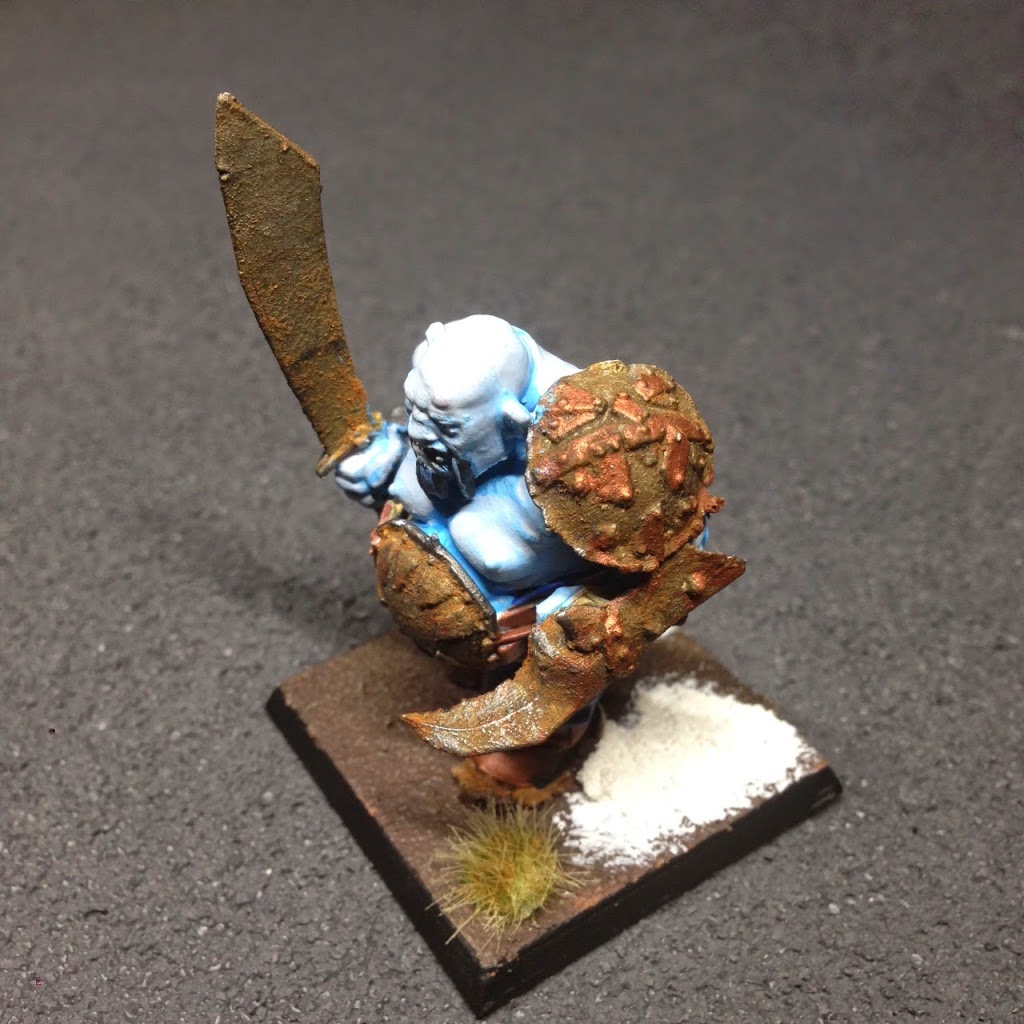 K9Monkey bringing you some quick puppy training on an easy way to get rust and patina effects on your minis.
I am going to show you how to use these products I picked up a while ago, and have used with outstanding success on my minis. These products allow you to easily add rust effects and patina effects to your modeling, without the multi layer and detailing processes many use. I give these products 4 out of 5 Woofs! It would be a 5 out of 5; however the iron surfacer tends to dry out in the bottle which is really annoying.
Here is what you will need. I originally bought these at Michael's. I have not seen them there lately; however you can purchase them via Amazon. They are usually sold in pairs though you can get the individual bottles as well. The brass and patina come in one set, and the iron and rust in the other. In addition to the Sophisticated Finishes, you will need some junk brushes. Use the cheap ones, not your series 7s or 8404s.
Most of the time you will be using these effects on smaller sections of a model. For this tutorial I am using some larger floor tiles from a Pegasus Hobbies model set.
1. So, the first step…prime the plastic. I just hit these with a quick shot of white primer. I am not going to base coat these with anything as I want to show the effects you can get with the products.
2. Next you would normally base cost the floor with some gun metal grey or you could even do hazard stripes. As stated before I am just going over the white primer to show what you can achieve with these products right out the gate. Here I have coasted the left half with the iron paint using a scrap brush. This stuff is kinda thick and will basically ruin your brush. I also stippled (poked) the iron paint onto the top panel in places. Next, using a different brush, I painted the right half with the brass paint. I also stippled it on the top panel in places. Allow all of this to fully dry before going to the next step!
3. Here is where the magic begins. Once dry, using a third brush, I take some of the rust solution and lightly paint it onto the iron paint. Where you really want rust build up, soak the area with solution. You will see later the difference it makes. Also note, you can put more solution on after this dries to further the effects. On the brass, get a fourth brush, and drip, or brush on some of the patina solution. Use this to strategically place the patina effect where it would normally take place. Here I just dropped it on so you could see what happened.
4. Relax. Have a sandwich. Watch some TV. Play a video game. Paint some more minis. Do this for about an hour. Then come back and marvel at the miracle of science in a bottle. Here are photos of the process over time.
30 minutes
1 hour
4 hours
You can see the drastic change over time as the rusting takes place and the patina shows up. I think you get the idea of how cool these effects are once you have them on your models. They add a level of complexity and beauty to the model without the layering techniques you would need to do using paints and washes.
Here are a couple of examples where I used them on miniatures, bunkers, or vehicles.
Rust on wrecked tank
Patina on Wall of Martyrs
Rust or Ogre sword and armor
Now you know one of my "dirty" little secrets, what are some of your favorite short cuts to great modeling techniques?