CRYX: Aiakos be coming for ya!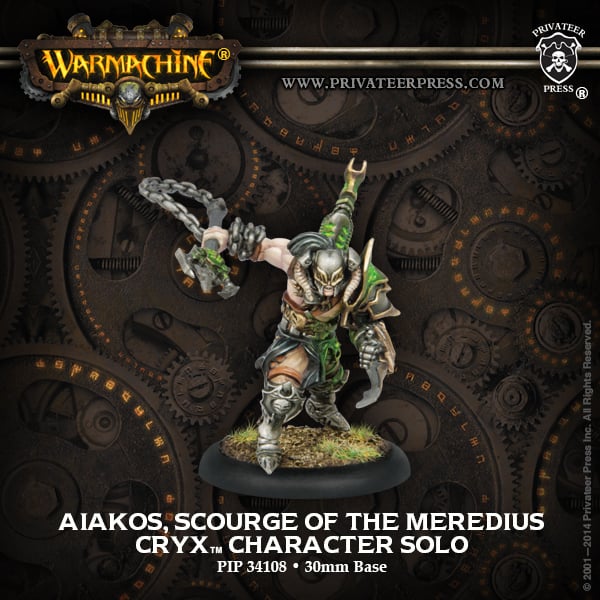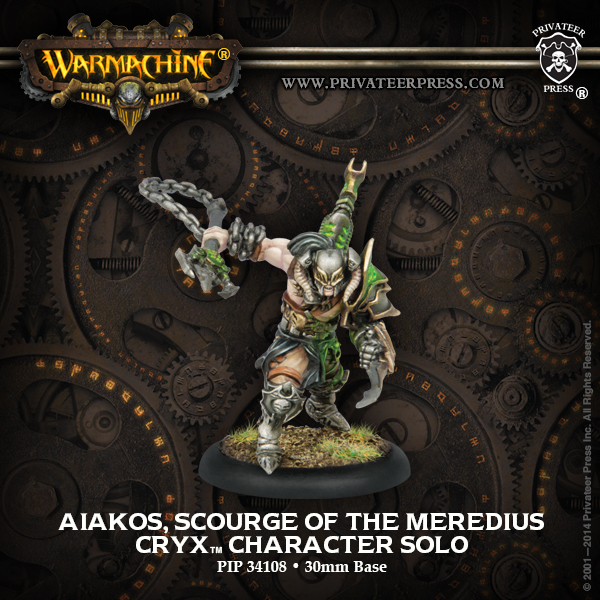 The Cryx journeyman warcaster is here. He is a mean, jumping, fighting machine.
Definitely cryx doesn't have much to be jealous about with what they got this year for this junior packs a toolbox that is a little frighting. Aiakos should be considered not just for his jack focus but, as just a great melee solo.
Aiakos gives you a great toolbox. He is pretty safe with stealth and camping. He is decent melee threat and can drag other small based infantry closer to his grasp. He has great positioning skills with leap. Both his harpoon and melee weapon are magical for anti-mirror match games.
His spell list is nasty for a cheap solo. Mobility makes the already fast Cryx jacks that much faster!
Nightmare:
Speed: 6"
Prey target within 10: +2
Mobility: +2"
Reach: 2"
Charging nightmare 15" threat…I can feel the bile in my mouth if I was on the other side of that.
Mobility is not the only reason to take a look at Aiakos either. He has grievous wounds for his battle group's melee weapons. Boomhowler's going to be crying if they see Aiakos battle group coming their way.
Unleash the Kraken! No joke. There is only a handful of cryx casters that want to give focus to Kraken besides 1stturn. Aiakos is like the battery pack for the Kraken. He can stay 8" behind and the Kraken can blast or chain weapon away while he stays relatively safe. Mobility w/ chain weapons gives really good melee threat.
What's the downside?
Aiakos doesn't have a lot of easy counters. If he is running a heavy jack, backlash can be a tool. If you have true/eyeless sight you can't take some pot shots at him. Black 13th brutal damage has a decent shot at threatening Aiakos. Setting Aiakos on fire with a good scatter can probably bring him down.
So BOLS what do you guys think of the Aiakos. Is he an auto include in your cryx ? Do you think he will see the field often? If you're in or around Texas and looking for some warmachine action, check out Coal and Claw and Clash for a Cure. Follow me on twitter for random gaming thoughts at : https://twitter.com/revenanttx.