X-WING: New F.A.Q. & Tourney Rules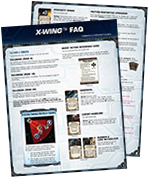 FFG just put out the latest X-Wing FAQ, and updated 2014 tournament rules. Lots of changes in there pilots:

The 2014 X-Wing™ National Championship season has begun, and battles are taking place all over the world to determine the fate of the galaxy. Mission briefings are critical to the success of any squadron's operation. It is where pilots learn not only what is expected of them, but what they'll be up against and the situations that might arise.
Make sure you're ready for your next dogfight by reading the new X-Wing FAQ (pdf, 27.2 MB) and Tournament Rules (pdf, 4.2 MB). For those participating in larger scale battles, check out the updated Epic Tournament Rules (pdf, 2.6 MB).
These changes will go into effect on August 1st, 2014.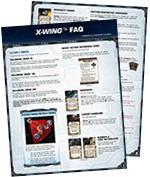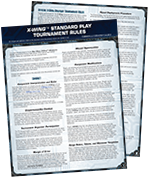 Note the changes to Large Ships and Barrel-Rolls! That should keep Dash Rendar under control – maybe…
P.S. I would like everyone to note what a professional looking FAQ document looks like. Nicely done FFG!
~Fly Casual!