Kingdom Death: Hail to the King!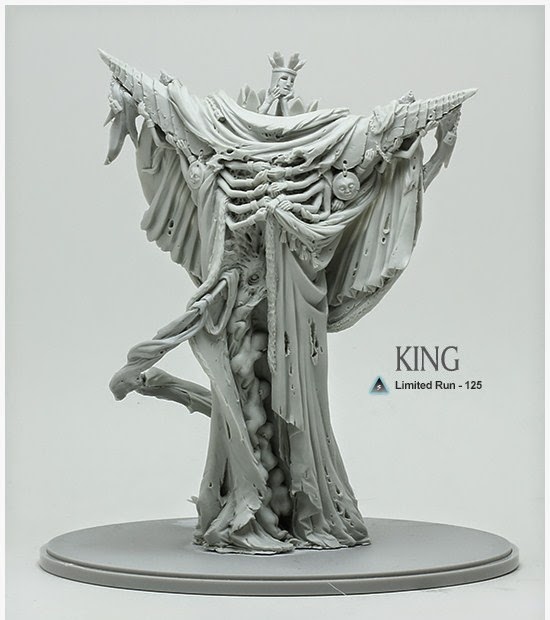 Let's take a peek in the box of one of Kingdom Death's latest creepy creepy limited edition resins.
The first image of this guy showed up towards the end of the Kingdom Death Monster Kickstarter and I was transfixed. My favorite Kingdom Death minis are the weird ones, and this guy definitely qualified; mostly flowing cloth, but with the hint of terrors hidden within. I didn't know if he'd be available in an LE resin, or if I'd have to wait until he came out in hard plastic. But I did know I had to have him.
Man that is one big chunk of resin in the middle. This kit has a lot fewer pieces than I expected.
So yeah, turns out that head is just a weird mask and crown held aloft by internal hands. Subtle but unnerving.
Yeah that face in there… I think that's the real king.
It wouldn't be a Kingdom Death monster without weird hands. On the king they form a creepy rib cage.
And awww… isn't that darling. It's like an Anne Geddes calender in there. Hey little guys, you having fun?
They love him so much they're romping all over him. Like mighty Gamera, The King is a friend to all children.
They don't exactly look happy though do they? Hmm… sculptor must not have been used to doing baby faces.
So… flowing cloth might not be as cute as lil' babies, but I still want to show everything.
So here's some more.
Of course it comes with some fancy art cards too.
Plus that all important certificate of authenticity.
~Well that is the King. If you like 'em weird and missed out on the first run of this guy, be sure to pre-order the encore run. Oh crap it's already sold out too. Well, keep your eye to their site. Better still sign up for their mailing list. Of course even if you miss out, there will be a plastic one available eventually.