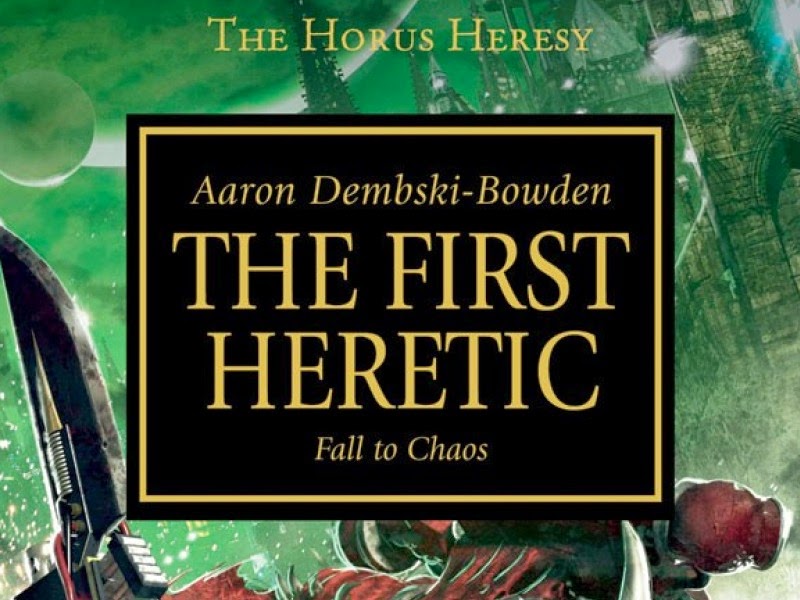 Aaron Dembski-Bowden delivers a fascinating and compelling story about the very origins of the Horus Heresy in a novel that will change the way you think about the Word Bearers and their Primarch.

In "The First Heretic" we follow the golden skinned Lorgar of the Word Bearers and witness his ungraceful tumble from fanatical devotion to the Emperor to becoming the chief architect in the conspiracy to undo the Imperium and destroy the Emperor himself.
The story opens with a defining moment of Word Bearers history. The Word Bearers originally had something of a man-crush on the Emperor, believing him not only to be an all-round awesome dude, but also a divine being, Though the Emperor himself was very much against these ideas.
After seeing the Word Bearers create the mighty temple city of Monarchia he finally decided to thoroughly scold Lorgar and his legion for their unwanted spiritual devotion.
After so being scolded by his father, Lorgar turns to despair, purpose and faith stripped from him by the being he was so devoted to. It is then that we are introduced to a couple of other very significant characters from the Warhammer 40k lore; Erebus and Kol Pharon, who are close and trusted advisers to Lorgar and also secretly dedicated worshipers of the gods of Chaos.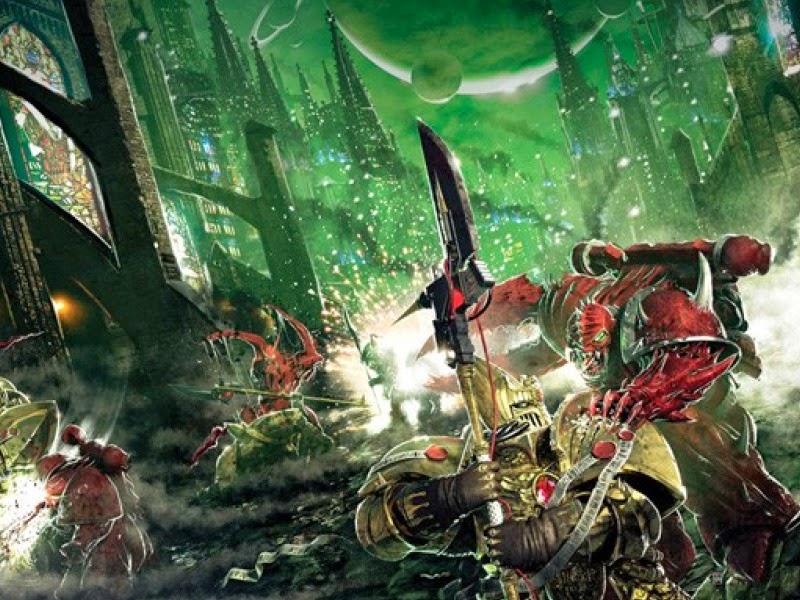 In addition to the grander story about Lorgar and the foundations of the Horus heresy itself we also follow Argel Tal, a Word Bearers captain that unwittingly ends up becoming an important pawn in Lorgar's plans to meet the lords of the Warp and use the power of Chaos as a weapon against the Imperium.
The story is excellently told and I found myself swept up in the description of events were the turning point in the Emperor's Great crusade. Events that marked the end of one unified front of the Imperium and laid the foundation for the rebellion.
The characters are another point about The First Heretic that I have to praise. Especially the depiction of Lorgar, who comes across as both a mighty being of incredibly power and insight, but also a man that is deeply flawed and vulnerable, seeking desperately to find purpose and meaning with his existence.
Besides a awesome story and compelling main characters The First Heretic also packs in a few nice battle scenes. It is definitely first and foremost a drama, so if you're only into random appendages being separated from their owners by bolter and blade then don't get your hopes up too much, but the few passages of battle in the book are very well put together.
In particular there is a passage that describes the Istvaan V drop site massacre that is just grimdark pleasure for any Warhammer 40k fan. The scenes of Primarchs laying waste to the battlefield and the scope of the destruction unleashed by eleven Space Marine legions is conveyed with apocalyptic clarity.
I can therefore warmly recommend The First Heretic to any Warhammer 40k fan. Only if you require the discharge of bolter rounds every three or four pages can I say that this might not be an ideal book for you, but you would be turning down a jewel of 40k entertainment.

Final score 5/5

What's your thoughts on the Word Bearers and their part as architects of the Horus Heresy?

For more Warhammer 40k novel reviews, videos and articles you can visit my site "Warhammer 40k Book Reviews" or my Youtube Channel