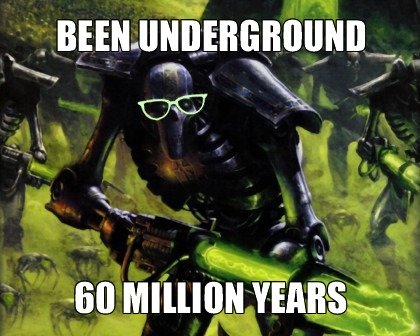 Goatboy here on another Monday morning and if you've been living in a Cave and somehow still care about 40k you should know the new Necron book will be coming out this next week.
Rules have been coming out the last few days and I was looking at the pieces that excite me and what I think might actually make for a useful army update.  I know a lot of people always dump on the new releases but I think the last book was actually pretty good and this new Cron book is starting to shape up to be a decent update instead of a stinking pile of mechanical poo.
Delving into the Changes
First thing I saw that interested me is a cleaned up reanimation protocols.  The rumors point to a "FNP" like save that comes after you have failed your initial save.  It isn't Feel No Pain because you can take it even if you are hit with an instant death/double toughness attack.  You don't get it for removed from play effects but as the game continues to move forward those effects become limited to Stomps, the Big D, and old Wargear.  This is pretty interesting in that it is a way to always give a save and keep the Necrons within the rules of the game.  I always said it should have been a form of FNP and I am glad to see GW agrees too.  I also think the save occurring at the same time as the damage means that the normal method of assaulting, breaking the Crons, and running them down is broken as the Cron player gets a chance to bring buys right away and lessing the blow of leadership.  It also means that you can't just whip out a squad.  I am wondering if more things will have Reanimation protocols (Wraiths/Spyders/etc) now as the effect is strong in a different way.  I like they limit it to 4+ as well and give you lots of ways to either get rerolls of this save or +1 to the save during a turn (Res Orb better be cheap as heck).
The next bit of info I actually like is the new C'tan.  I live and die by the random table effects (I play Daemons mostly) so the idea that the Gods shoot on their own whim is kind of interesting.  The extra rules given for each type also gives me some hope there could be a good C'Tan build when the new book comes out.  That one formation seems strong with the 2 Crypteks and C'tan so it gives me high hopes the Crypteks become mini Psykers with added benefits like their fluff made them out to be.  I am thinking Nightbringer might be the best as he seems to have an extra shooting attack with this ability.  If they could shoot more then once they might have a place so will see.  I just like the idea of making new – Necron MC's floating around the table top.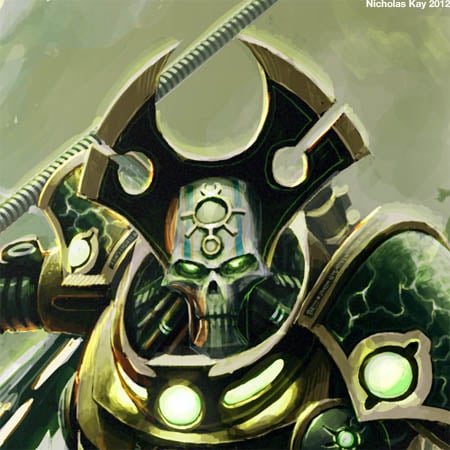 The changes to the Lych Guard and Praetorian Guard might make them useful again.  The idea of field large amounts of T5 units seems to be a decent idea.  Plus if there are still some good teleportation effects in the army we might see a mobile army that doesn't need transports.  I always liked these models and it is a hope we see more of them instead of just seeing the boxes used to kit bash Crypteks.
Speaking of Crypteks the move to HQ slots is an expected on.  It seems all the IC like characters are going to move to the HQ slots.  It is something I am not the biggest fan of as it hurts some armies (Orks are so top heavy at HQ it becomes hard to build a list without going into weird formations/CADs/etc) and I feel it is the biggest limiting factor.  I bet that any new Daemon book will nerf the heck out of the Heralds as a lot of issues comes form gaining 4 of them and sometimes another 4 if you are playing an event that allows you to ally with yourself.  I hope their rule allow them to become the Priests/Librarians/Sorcerers of the Necron book.  It would be neat to see crazy technology represented by the mad scientists of the Necron Dynasty.
The stat changes all seem to be in line with what I see happening to most armies.  Additional wounds on IC lite characters is the norm.  Look at what happened with the Sanguinary priest.  The additional wounds to Crypteks and Necron lords gives me hope we see a formation that gives you a ton of them to pass around to your units.  I know the Royal court is there but you can't break them apart.  Still if the unit can get a bunch of bad ass war gear then it might not be too bad to have a teleporting point sync running around the board.
We knew the flyers were going to get nerfed as well as Tesla.  The talk seems to point to Tesla getting storm and the strength of the weapons dropping.  No real confirmation yet but expect a lot of bickering and moaning when the old best 90 pts in the game might end up getting converted to a Catacomb Command Barge.  The only real  big change on the Command Barge I see right now is the invulnerable save of the Lord does not confer to the Barge itself.  I never played with it that way – as you can just take wounds on the lord whenever anyone shoots at the barge – so it basically had a conditional 3++ save.  Will see if they say the Lord loses their save all together or somehow combine the profile.  I have one in a box and would love to build out a cool, possessed Necron barge.  A planet fell into the warp and came out… changed.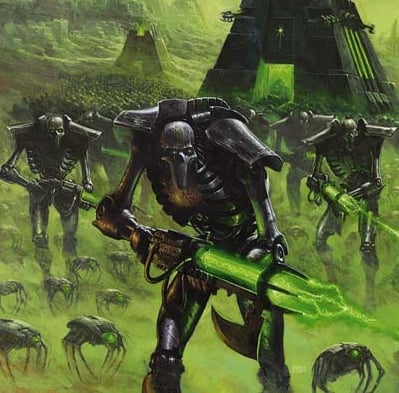 The Monolith has rumors stating it got a change.  I bet it gets better again as they want new players to buy the big plastic kit that is cheap to make.  I think if you got lucky and got the big Ark/C'tan kit thing you could just use those as your Monoliths.  They look so much better then the hollow old one that just feels – well cheap.
I like the rumored additional Wound giving to Destroyers.  That is one kit that I know a lot of people have laying around and building a new army around it might be neat.  If they change back to Jetbikes it could see the return of the Destroyer Wing.  I wonder if they made a crap ton of those 3 unit boxes and just hope to clear them out with the new book.  I think the additional wound will help make them survive longer as well as the changes to Reanimation Protocol.  Plus I still think the model looks cool so it would be neat to invest in some Destroyers.
Flayed ones almost sound ok – if only they had a cheaper model that looked better.  I think if they could be a troop choice we would see them as having 4 attacks on the charge with shred sounds pretty brutal to some things.  Still they are just too slow to make it worth wile unless they end up being well – super dirt cheap.  The wraiths got a bonus and nerf with the phase shifter getting a 4++ but they magically got an extra toughness.  No talk yet if they ended up with reanimation protocols but if they got lucky enough to get that rule then these guys are sitting pretty.  I think T5 is still pretty strong and most of the time I killed them with tons of str 3 rending attacks and losing the wound of 5's is going to hurt.  They could be really annoying tanks for small units with just enough offensive to kill things on your turn instead of the turn they charge.  Will see in a week if it is worth it to buy more whippy metal cockroaches.

The Necron Verdict?
So far all the chatter points to a codex that is more then just a "Grey Knighting" and instead seems to have more thought behind it.  They looked at the things that either got too strong with 6th/7th (Snapfiring guns) or just didn't make much sense in the flow of the game (reanimation protocols) and fixed them.  I always enjoyed painting Crons and used a small force as an Ally with my old Orks and Chaos Space Marines to win a few events.  It would be nice to fill out the army a bit more and maybe create a true Monster army using Chaos, Crons, and that C'tan formation.  Or heck I could just combo up with 3 Flyrants as all the other "competitive" players are starting to talk about.
Are you excited about the new Necron book?  Does the small release seem to bother you or are you just happy they are fixing some crappy units?  Will you actually buy some new stuff?