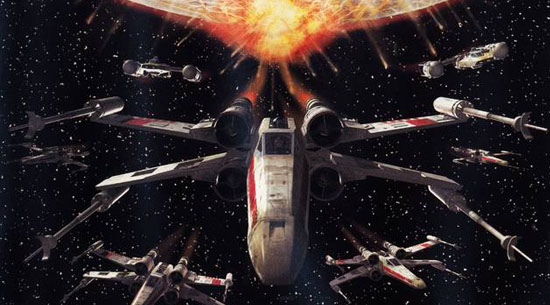 Today we are going to look into what can  be done to return the mighty X-Wing great ship to dominance on the tabletop!
Greetings all, Ed here from NOVA Squadron Radio!  For quite some time now there has been a serious lack of X-Wings being played at the high end competitive levels of this game.
Where have all the X-Wings Gone?
What happened to the backbone ship of the Rebel Alliance?  If you watched the movies and read the fiction, the X-Wing was a staple ship for the 'good guys' for many years, and often would be the key to victory in great battles, included destroying not one, but two of the Empire's Deathstars!
So why is it that in a game that bears its name, the X-Wing really has not seen a lot of love from the competitive X-Wing players as of late?  Oh sure, Biggs is still out there, don't you doubt it.  And you may, on occasion, still see him on the field.  But that is mostly due to his absurdly under-costed ability and how good it is.  But what happened to Wedge and Wes?  Why is that Jek and Tarn aren't huge in the meta?  And how about those generic pilots, where are they in the game?  Today we are going to take a close look at this ship.  Expose what is wrong with it, what pushed it out of favor with Rebel players, and explore some ideas on how to correct it.
What is wrong with the X-Wing?
So let's take a close look at this ship and see if we can find out what is so wrong with it that competitive players do not run it.  At first glance it is a great little glass cannon, no doubt about it.  With three attack dice coupled with two evade, two shields and three hull, this ship is pretty much the baseline standard for ships in the game.  It can dish out quite a bit of damage when you need it to and has a couple of shields to shed off some fatal blows early in the game.  But clocking in at 21 points for the low level PS 2 Rookie pilot feels a little bit high, especially when compared to the much tougher tank of the Blue Squadron pilot B-Wing at 22 points.
That 21 point cost minimum is usually the first thing people point to as a glaring reason for this ship not really being played all that much these days.  For the dice that you are getting its suggests more like an 18 to 19 point cost, as opposed to the whooping 21 you are paying for it.  Meaning that the beloved X-Wing is about two to three points over-costed in comparison to other ships in the game.  Now there could be several reasons for this, the first of which is that I believe that in the early beta testing of the game the designers felt that having five three-attack die ships on the field was a bit unbalanced, and decided to jack the price up on the X-Wing.  This would ensure you could never field more than four of them in a standard game.  I also believe that this line of thinking was also what crippled the TIE Advanced as well.
The X-Wing also only has two actions available to it, the focus and target lock.  Meaning it is an all offence ship, with little in the way of defense or maneuverability.  And those upgrade slots are also a little meager as well.  First, it has the torpedo slot, which I understand from a thematic level, what with the movies and all.  However as we have discussed on the podcast at length, munitions in this game do not function as they should and are often over valued in turn.  I am sure the designers originally thought that munitions would play a much bigger part of the game, and costed that slot a bit higher than it should have been.  So the X-Wing suffered for it.  The Astromechh slot is pretty cool and there are some really great droids you can add to this ship to help it, so I will accept that this slot is costed correctly.  So really what we are looking at is an approximately 18 point ship for 21 points.  But up until wave 3 it still saw a lot of play competitively despite its all of its short comings.  So what toppled this ship at the 'go-to' ship of the Rebellion?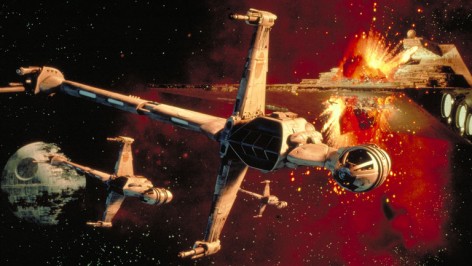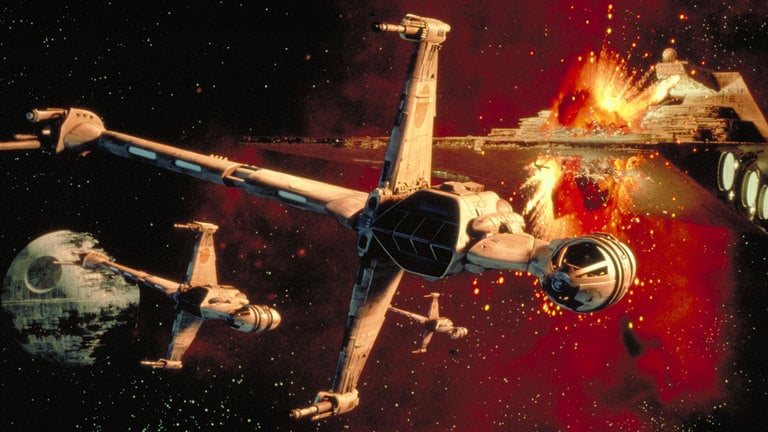 Enter the B-Wing!
Wave three brought us some very interesting ships and upgrades, but none shook up the meta more than the introduction of the B-Wing to the game.  What it lost in green dice over the X-Wing, it gain in a LOT of shields and a LOT more upgrade options.  Suddenly this ship became the staple of several of the top tournament lists, and for good reason.  It was far more superior to its predecessor for what seems like basically the same point cost.
With its three attack dice and five whooping shields it was instantly far more durable then the X-Wing, and equally as potent in combat.  It is also a much better dog fighter then the X-Wing, as it came with the insane 2-K Turn, making it very deadly in close quarters.  Not to mention it came standard with a Barrel Roll Action, a canon slot, an additional torpedo slot (sigh) and the all important systems slot for things like Fire Control Systems or Advanced Sensors!  So while its dial seems on the surface not as good as the X-Wings, with Advanced Sensors you can take your actions before performing those red maneuvers and not really suffer for them.  Or better yet, take your actions before overlapping another ship!  For 1 little point all of the great options became available, leaving B-Wing the top of the heap and the X-Wing in the dust.
We now know the reasons why the X-Wing feel from the top tables but what can be done to bring it back to the fold, competitively speaking?  Let us first take a look at what has been done in the past to correct ships in the game.
The Fix is in!
One of the big reasons that I am an FFG fanboy today, aside from the fact that they make amazing games like X-Wing, is that they are not afraid to admit that they made a mistake.  And that sometimes, 'fixes' or 'tweaks' to the game are needed to set ships right in the meta.  FFG has fixed ships before, some in more subtle ways than others, and our first taste of how FFG would address fixes to the game came in the Rebel Transport.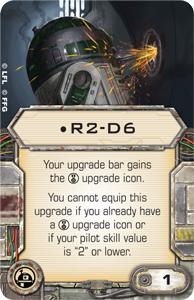 R2-D6
The Astromech R2-D6 was a fix for the poor Y-Wing and all of those thousands of people who were confused as to why Dutch and Horton did not come standard with an Elite Pilot Talent slot.  It didn't make sense considering their high pilot skill and their roles in the universe.  So this droid would take up the Astromech slot and grant an EPT.  In some ways this card feels to me like a missed opportunity to be honest. First, by taking up the Astromech slot, you lose the ability to take a stock R2 droid which helps the Y-Wing make up for is sub-par dial.  Second, but having a unique droid used as the fix, it mean that only one Y-Wing could ever use this card.  Not to mention you had to buy the Transport to fix the Y-Wing, which some folks would complain about.  A good attempt, I applaud the effort, but ultimately this card never really sees much play and in the end did not fix the ship it set out to correct.  But it paved the way for more 'fix' cards in the future.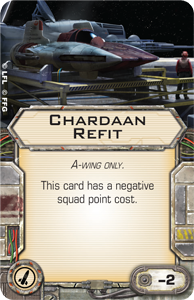 Chardaan Refit
FFG's next attempt to correct a ship was far heavier handed then R2-D6 in the Chardaan Refit.  They basically determined that that not only did the A-Wing need help, but that no one was using the munitions slot anyway.  So why not just fill it and drop the ship cost by two points.  This was a historic precedent in my opinion, as it was FFG openly admitting that they got this ship wrong and here is how you fit it.  Up until this point we had never see a negative point cost for an upgrade, and this was FFG saying that the A-Wing was about two points over what it should be.  Now, while this fix did not bring the A-Wing to a position of elite power, it did bring them back into a conversation that they were not in before, and that is competitive play!  We even seen them in lists on top tables now, meaning that they got this one right, as the A-Wing is now not too powerful as to dominate the meta and not too underpowered to never see play.  Bravo FFG!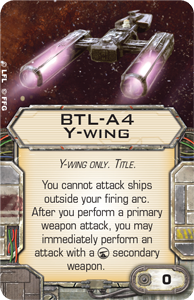 BTL-A4
We have more fixes yet to come to in future releases, starting with Most Wanted for Scum and Villainy.  While the BTL-A4 Title card may not seem like it, it really does boost the ailing Y-Wing in several ways.  The ability to basically lock that turret into a forward firing arc now get two attacks per turn with this ship; one standard, and one Ion.  Now ideally you would want another, less expensive option in that turret slot, however the only other turrets in the game really do not help out much.  The Autoblaster Turret is simply too short of range (R1) to be of any help and the Blaster Turret requires you to spend a focus just to fire it, which would really bring the productivity of this weapon down considerably.  So the Ion Turret seems to be the best option at this time, but I hold out hope that a better turret weapon is on the way.  Keep an eye out in the early days of Wave 6 for these 'Warthog' Y-Wing builds as they are far deadlier then you might think!

B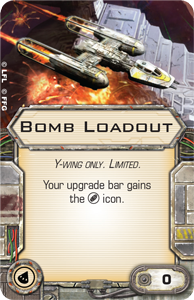 omb Loadout The Bomb Loadout card is another interesting addition to the Y-Wing, if you think about it the third card targeted at fixing the Y-Wing!  How far off were they with this ship anyway?  In any case, bombs are alright in this game, but not super effective.  I am one who believes that my points should be spent elsewhere other then in things like bombs, missiles, or torpedoes which have a chance to never be fired and hence, wasted points.  So while the Bomb Loadout is a cool call back to how the ship flew in the fluff of Star Wars, I do not see it as game breaking at this time.  Give me a super awesome bomb for cheap and then we are talking!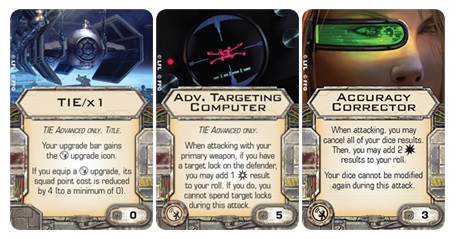 TIE/x1 + Advanced Targeting Computer/Accuracy Corrector
The Heavyweight Champion of all fixes will be upon us soon enough.  The long ailing TIE Advance is already starting to salivate at it chance to finally be relevant in the competitive game, and the TIE/x1 Title card will be a Quantum Leap for it.  Similar to the Chardaan Refit, this card basically acknowledges that the TIE advance is about four points over costed, so here, have a free systems upgrade to help balance that out.  While there are a lot of good System slot upgrades, two are really being discussed now as the best options.  If you are running a generic pilot, you'll be adding the Accuracy Corrector.  This allows the TIE Advanced to just take evade actions knowing its offensive output is guaranteed to be 100%!  With Lord Vader and Maarek Stele however, the Advanced Targeting Computer is better for them.  It adds an automatic Crit to the dice rolls and with Vader, he will have an in-built Target Lock + Focus every turn to maximize those two attack dice.  Overall, Vader will be REALLY good, and on the edge of broken.
Proposed Fixes for the X-Wing So with the fixes that we have already seen in this game, I would like to propose the two following changes.  I only believe that one should be used, and not both, but I wanted to provide options to debate over.  Here is what I recommend:
Name: X-Wing Refit
Type: Torpedo (X-Wing Only)
Cost: 0 Effect:
Increase your Hull by 1
Name: Rogue Squadron
Type: Title (X-Wing Only)
Cost: -3 Effect:
'X-Wing Refit' has a negative squad point cost, and both of these card proposal address the fact that the X-Wing is just a little under-costed for what you are paying for.  Both cards try to mimic two similar existing fix cards that we have already seen.  'X-Wing Refit', and my favorite of the two to be honest, removes the missile slot that you weren't using anyway and bumps up your hull value by one.  It is a little give and take as you do lose the ability to take torpedoes but I really feel like in the end this is the best fix for the ship to keep it at its 21 pint cost and make it worth those 21 points!  Suddenly, the X-Wing is a pretty tough ship to have to deal with, with a total Hull/Shield value of now six with two evade dice!
'Rouge Squadron' is a flat out correction to the point cost.  Drop the points by three and allow the ship to then be run in squads of five if desired.  But there are broarder implications to this fix.  Imagine what it will be like to have a free Predator on Wedge for example, or a free R7 droid on Tarn, or R2-D2 for one point on Luke Skywalker, or Biggs with a free R2-F2.  The possibilities are endless, making the X-Wing once again THE go-to ship for the Rebellion.
So those are my proposed fixed for our beloved X-Wing.  What do you think?  How would you fix this poor ship?
If you are a new player looking to  get into the more tactical end of the X-Wing Miniatures Game, or an old pro looking to up your game, why not check out our podcast, NOVA Squadron Radio!  Every two weeks we review what's new in the world of X-Wing Miniatures.  We break down those top lists from the big tournmament, interview X-Wing personalities from around the world, and review all of the new ships, cards, and combos that are all the rage in the meta today!