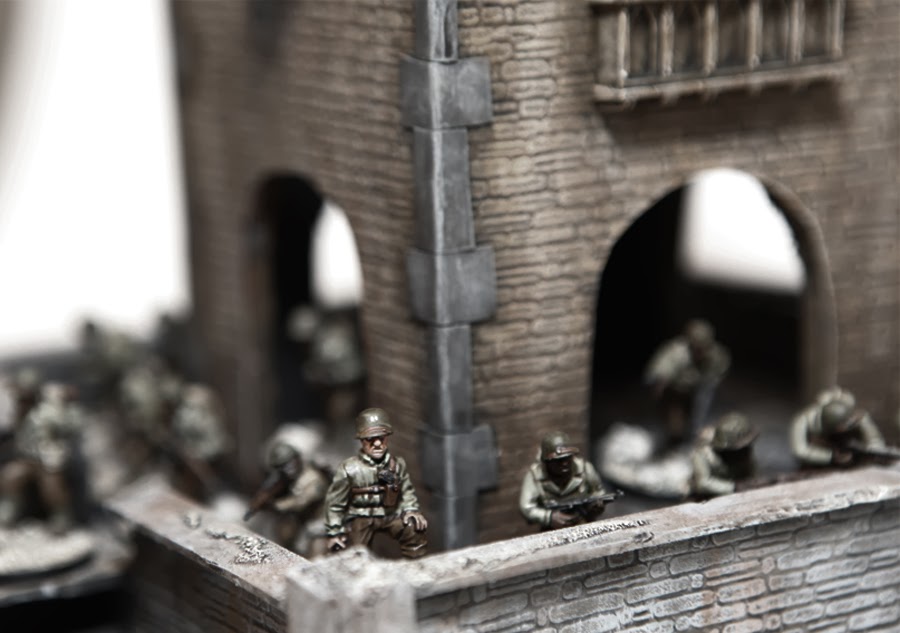 The above image proves it: a decent piece of terrain with our beloved Bolt Action models look great, cinematic and overall it makes me want to play Bolt Action again and again. Maybe that's why I have been on a terrain building spree. Please check out my painted ruined tower, the final part of a two part series that started last week!
I wanted it to look like a North Italian type building, with the slanted roof and the light colored stonework.It's not a realistic piece, but it is functional and it looks the WW2 part. The stairs coming down are big enough for a model on each step, so they stay in coherence when moving through.
Below is the back with a similar set of stairs. You can also see the city shield of Como, a town in Northern Italy.
View from the top. You can see the Warhammer pieces on the side of the wall look fine, especially once I added a few roof tiles.
Once you start taking close ups, the terrain really comes to life:
The walk ways are 1.5 inch, so models have enough space
As mentioned in previous posts, this piece is built up in 3 parts. If you don't want to use the wall and stairs, you can just use the tower and base…
Or make the base into a little square and put the tower on by itself. The walls could be made into a field headquarters or some storage area for objective purposes.
The floor of the tower is made to look very old with broken flagstones and lots of rubble, although still flat enough to put models on.
I have been looking online for inspiration, and my first impressions are that the battlefields we create for our games are way to clean looking. It's astounding to see the destruction of urban warfare in WW2, like the shot below.
It would be hard to design something for Bolt Action that looks like that. The image below might be more feasible. Interesting to see that the road looks like dirt, although it probably isn't. But the rubble and dust create a cover over it, which would be easier to model then the cobble or flagstone I was thinking of before..
This was the final part of this building series on BOLS. Below are some links:
part one: building the tower and stairs
part two: making the cobblestone square
If you click on the label Terrain on the side of my historical blog Santa Cruz Warhammer Historical, you can find all the terrain I have built. Hope this inspires!
SC Mike