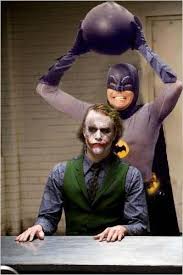 Goatboy here again and today I want to talk a bit about the newest codex on the block – the Harlequins.
The biggest take away from the book is that the initial stages of the game – going first, warlord traits, psychics, etc – will determine the sheer amount of nonsense you can pull during any game.  I love the sheer amount of warlord traits and the plethora of options you get from them.  It is a shame you don't have any named characters with locked in traits as it would really allow for some interesting builds if a few of the options were locked in a choice.
I won't review the entire batch of rules that have come out.  My play style and army building style is not how a lot of people play.  So things I think are meh might be really awesome to others.  I just want to go over the stuff that has my mind grinding away at ideas and other options.  I think that is the biggest thing as this is one of the first "good" guy armies I am interesting in building and painting in a good guy way.  Now don't get me wrong – the idea of a fully converted Worshipers of Slaanesh DE/Harlie army might be a much better option for me to build.  Dangit that sounds awesome…
Enough of that – let's go through the things I like from the new book.
The Rules
The Psychic Discipline is just neat.  It is different enough from Telepathy that it has you seriously thinking about taking it or at least just grabbing the Primarus power.  The default power is the old Veil of Tears and I expect most Shadowseers to at least take that and then maybe the Primarus for Telepathy to push the power of Psychic Shriek.  I think most Seers will just be ML 2 by default and I am very happy GW didn't allow them to summon Daemons.  I think if we get another Eldar book I expect them to lose the Daemon summon ability as well.  Just my two cents as it makes no sense for that army to summon their most hated enemy.   The Shadowseer is pretty cheap and being an Elite choice you can quickly have them running each of your expensive troop choices.  I am very glad GW made this a plastic clam kit as it should allow them to have plenty in stock.  I just wish we had more poses.
I talked a little bit about Veil of Shadows but I think this power will allow the army to work.  The initial local chatter was that an assault army without any type of "shooting" protection will just not work.  Especially on 23 point models.  The dreaded biker bolter seems to be an always in season flavor so trying to survive the rain of twin linked bullets is just not feasible.  The new power allows you to limit ranges and if you get lucky with an opponent rolling low on visibility you can all of sudden assault without any fear of retaliation.
From there the other powers are ok – with only 2 really kind of meh abilities in my opinion.  The 2 witch fires seems kind of weak in comparison to the other powers. The targeted Invisibility looks to be strong to keep a unit in the real of sucky mode and the old school Invisibility blessing both feel good.  I think mixed with some Leadership modifiers (Dark Eldar and Harlies and even Eldar) could be good – but Psychic Shriek just seems a better choice for this style of list.  The odd Mind War is also neat at killing those big old MC's that you sometimes see.  It seems to need a lot of work to get working so again – I think you will "roll once" on the Harlie powers and take Veil of Tears and then just "roll" again on Telepathy and take Psychic Shriek of Shrouding if you get lucky.
I think the Death Jester has some interesting potential as a means for causing opponents issues.  I think causing the army to "flee" in the direction you want could make for some rough assault phases if you are not marines.  You could break the unit forward and then within range of leadership modifiers cause them to instantly die if you charge them with a unit.  I think this guy will make for more units to find ways to have fearless options or ways to "auto" pass leadership checks. It doesn't hurt the Marine armies but again I think ATSKNF might be hurting GW's designs. But then what would Marines need to mitigate the loss of it?
I like most of the war gear as they are not extremely powerful but mostly useful.  Are the Enigmas of the library limited to one per army?  Nothing I have read seem to indicate that so if anyone can take it – you could really cause some issues. The fearless helm/mask seems to be built for making Psychic Shriek useful.  Heck this is the start of the super combo with Dark Eldar and their Torment launchers.  I haven't looked at the points – but this might be a viable combo.
The Warlord traits just sound so awesome.  They almost all sound great.  There seems to be 3 of them and depending on who you choose is your warlord – they can either just make the Character better or really cause some butt clenching during the end of the game for your opponent.  So far I like the 4+ to seize the initiative roll and the ability for the warlord and is unit to do an extra turn of action at the end of the game.  I think this why the army isn't Objective Secured as there would be a ton of games ending on the crazy flips and shenanigans by the Warlord.  Heck this is most likely why the Troup master is never an IC and can't join a unit to give these crazy traits.  Hrm… maybe some actual design went into this army?
The Units
Troop wise I am not the biggest fan of the troupes.  I do like you get a basic mini HQ choice with each unit but they get expensive quick.  I understand why they didn't make them auto rending as that could have made them cost to much if they take each set of rules they have into account.  I don't know if you will end up with the minimum number of troops in the army or if you start to expand the amount your choose.  They are not obj secured so that is kind of a bummer.  Still you could make a neat suicide unit with massed fusion blasters that comes down via Deepstrike and their wider venom.
Speaking of the Venom lite – the Starweaver and Voidweaver seem nice enough.  They have decent weapons but being opened top just screams to put in more flamers for your army.  Dreadknights are the bane of Venoms and while the Harlies get a 5+ save I still think it will hurt when they get covered in sacred promethium. The Voidweaver's guns just seem at odds.  If the lance profile on the Prismatic cannon was strength 8 we might have a winner choice – but at Strength 7 it just feels lackluster.  I like the idea of the Haywire launcher but as we all know – haywire starts to get good when you have 4-5 chances at hitting with it instead of just one shot.  I think if we are looking at Deep striking potential most armies will use the Raiders from the Dark Eldar as they give you more room to add in suicide units with the Archon etc.
The Skyweavers are an interesting option too – but I feel they just don't do enough for you.  I like the Haywire option as again they can get a large enough unit to make the chances for blowing a vehicle pretty dang guaranteed if the unit all shoots them at one thing.  I don't know if that is worth it too – as the unit itself is somewhat fragile.  I don't understand how Eldar Jetbikes get a 3+ armor but none of the other Eldar like bikes can barely get a 4+.  You would think every bike would just add more armor but hey – I am not an Eldar Bike Salesmen.
The formations start to shine when you look at their extra rules.  I think if we were just using them as a side ally the non detachment but acts like a detachment formation of one Solitare, 3 Shadow Seers, 3 Death Jesters, 3 Troupes, 2 units of Skyweavers, and 1 unit of Voidweavers seems prefect.  The extra rule of allow an assault after a run starting on turn 2 as well as letting your reroll failed saves of 1 might be super good.  Now if only GW were smart and would sell this as a starter army with a nice discount.  Heck they should do this with all their armies to match the boxed deals.  But again I am not a CEO of a big company.
Send In the Clowns
Overall I like how this book is looking.  It seems to have a lot of design thought in it with its interactions and combos.  The formations have enough "unit" taxes that I think they won't be too abusable.  The rules are decent and while I think the Harlies themselves cost to much they still can make up a decent army.  I know a lot of older players are excited about this release as it brings back memories of the old days with crazy checkered jerk faces throwing them the finger as they cartwheel by.
Next week look for actual lists as this was written before shoveling off to the LVO where I will do my normal thing of losing one game and having a blast in Las Vegas.