Hi Everyone, Kraggi here from The Varcan Cluster.
Time to get a review up for the latest game from Spartan, and one that is flying off the shelves (at least anywhere I know that sells it).
 Spartan games are in the process of releasing their rulebooks online free of charge, have a look at 
this page
 to see when it is coming.
Onto the review itself, I am going to cover the following parts of Planetfall in part 1, with more to follow in a later post:
Short Overview
Planetfall is set in the Firestorm universe that Spartan games have already shown us in Firestorm Armada, with the same main Six factions, it follows on nicely from having your ships duke it out for control of the space around a planet, you then get to land your forces to take control!
The two will work well for campaigns around capturing areas of space, although so far Planetfall has pretty much taken over my gaming time, so Armada will get played soon, but mostly I will play it to setup back story for my games of Planetfall.
Below are a few snaps of the Spartan Games models next to things from other games systems, it should give you a good idea of the scale of the actual models themselves.
Each of the Races has its very own Core Helix that comes with everything you need to play a game.
The model scale can be seen below, currently only with my hand for size comparisons, but I will aim to get a few more pictures up when the models are painted.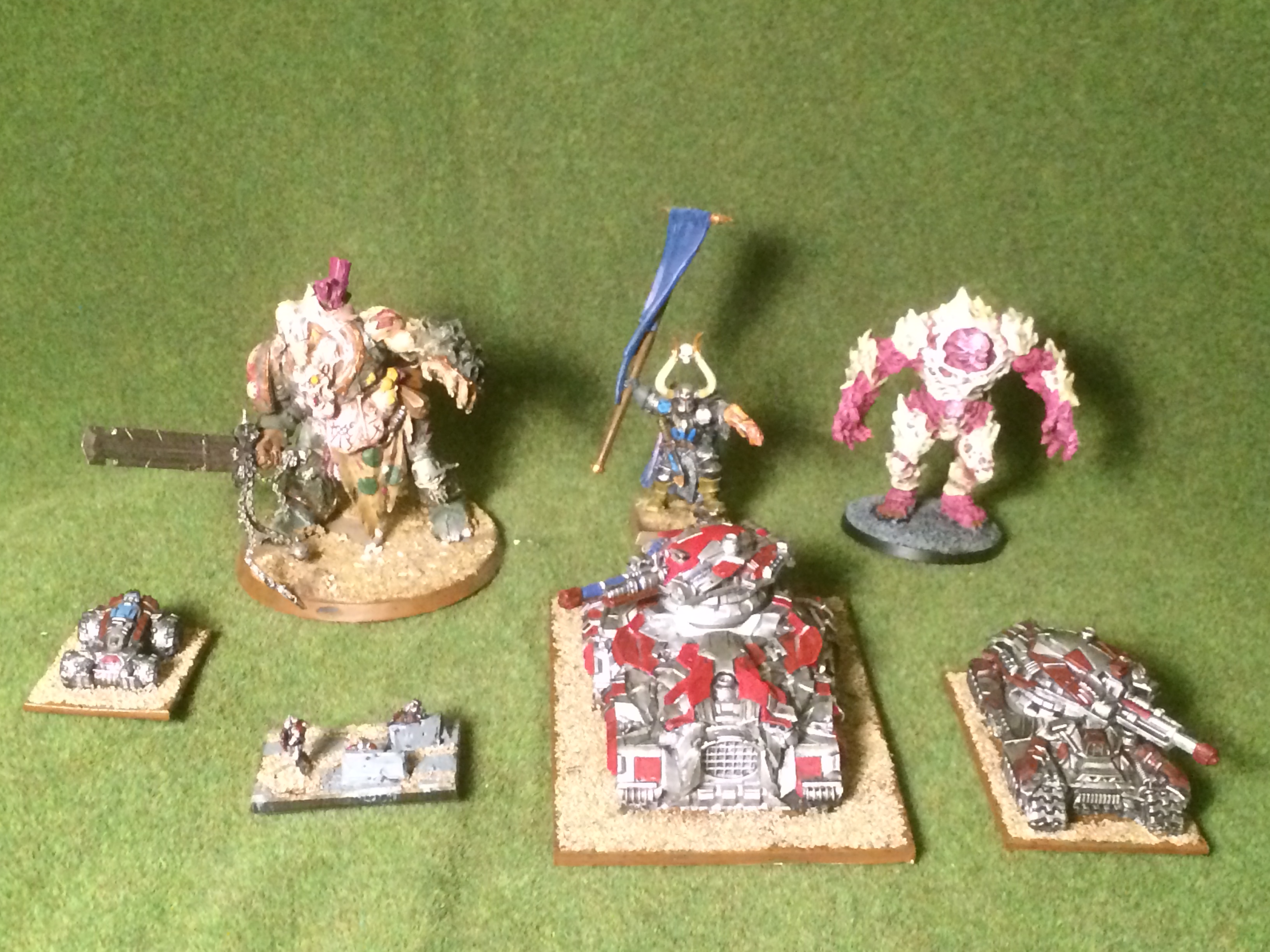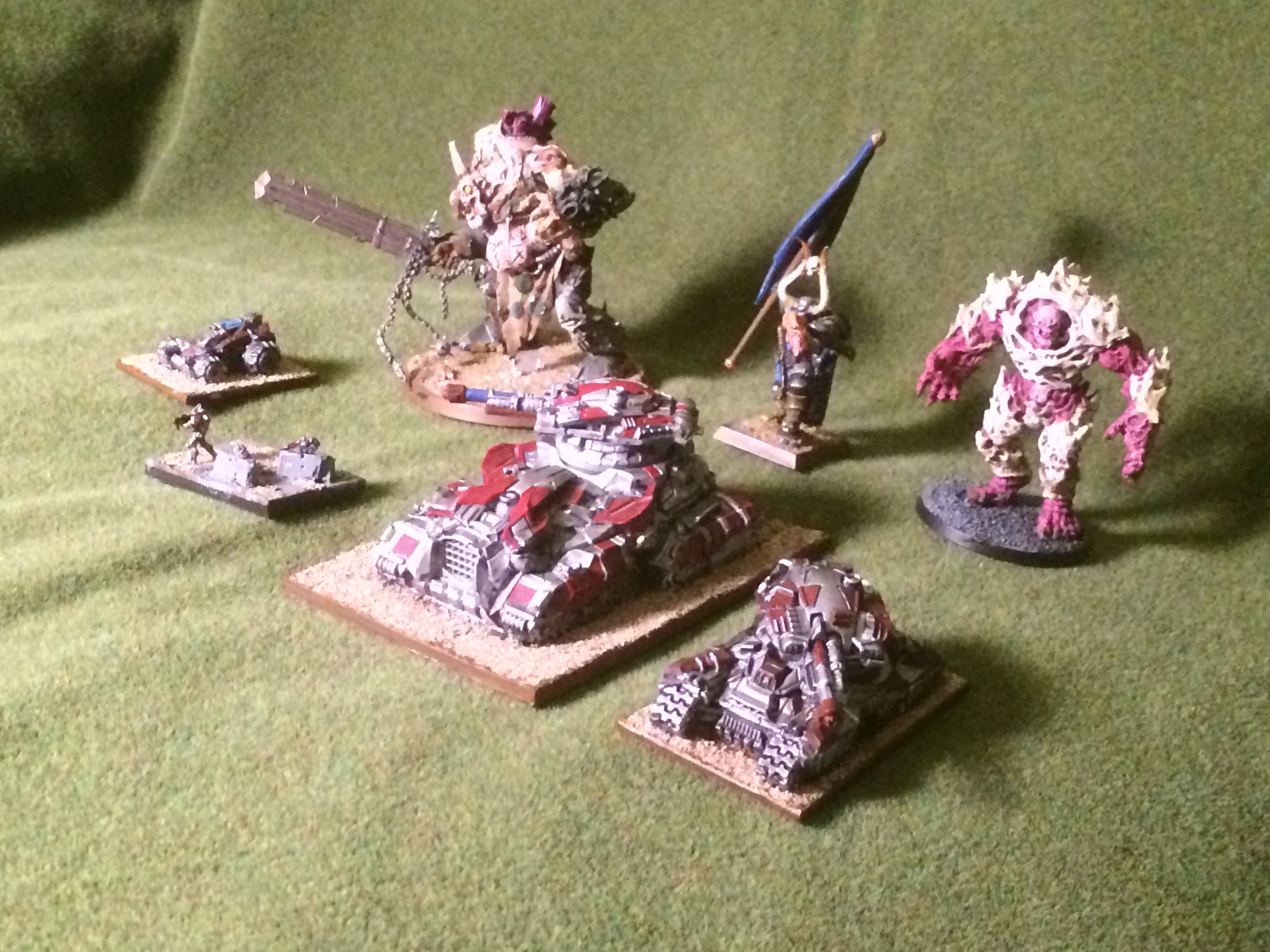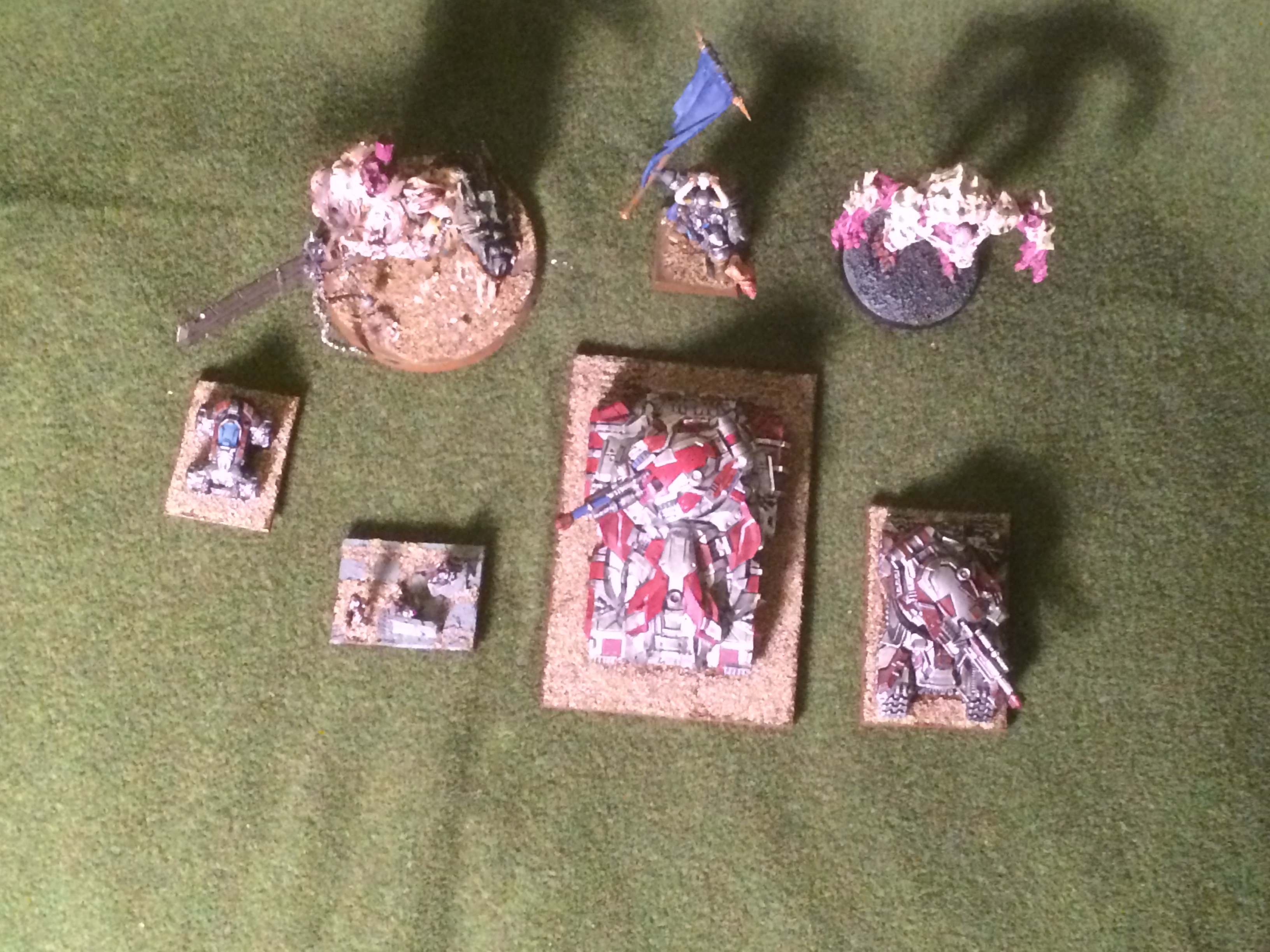 So far going through the models from the Directorate & Aquan Core Helix's I havent found any mould lines, and only minimal flash around the bases of the models.
The infantry have a few small tags of flash as they are metal rather than resin, but other than that they look stunning!
Hopefully this gives you a good idea of the scale of the models themselves.
The game works on an alternative Squadron activation, as in you complete all your actions with one squadron, then I do, then you do until everything is activated.
There is one slight twist to this activation sequence, one that means you will need to do a little bit more foreplanning as well.
Your army roster is in essence divided into Helix's. Each Helix consists of several Squadrons. Once you activate a Squadron in a Helix, you must complete all your activation's with the rest of the Squadrons in that Helix before you move onto a new one.
So this means when you have an army consisting of multiple Helix's you need to plan out what you want to do, because if you have a Leviathan (think large scale Mech) that you want to activate towards the end of the turn, and you start on another Helix, and then something happens (the enemy surprises you and starts to damage your Leviathan) you wont be able to activate it until you complete your current Helix.
I love these rule types as they tend to allow you to respond better to devastating shooting or close combat scenarios, far more than facing something that is designed to Alpha strike you off the table.
Even if someone comes up with a method to do some form of Alpha strike the alternative activation's means you are much more likely to be able to do something about it the second time you face them (something that I am having to learn how to do having just had my Aquans backsides handed to me by the game designer!)
To start out with you will have one or two Helix's under your command, in bigger games this can jump to 7 or more, which means planning your move and the next steps really become important, not just for you, but for you to realise what your opponent can or cannot do next.
How to win the game, and how long it can take are very important things to gamers so I thought it would be worth covering off the Victory conditions (at least briefly).
The game doesn't have a set number of turns, but rather uses a Zero Hour tracker, when one players tracker reaches 0, they win.
You can reduce your Zero Hour tracker by destroying enemy units and capturing and holding battlefield objectives.
Objective markers that are provided to you as part of the standard box sets you buy, and generally each game consists of three levels of Objective for each player.
Primary – Your own placed Objective (in the enemy deployment zone)
Secondary – One or more contested Objectives in the mid field
Tertiary – Your Opponents Primary Objective (the one they place in your deployment zone).
There is no reason you cannot impose time or turn limits on the games as well and the lowest Zero Hour Tracker wins, but equally you can choose where to start your Zero Hour Tracker, at 100 and the game is one of the longer ones, change it to 15-20, and the game will work nicely for a demo game.
I am upto around ten games so far, including two with one of the actual Game Designers, and the whole way it played has impressed me. Even with my less than stellar winning record (P10, W4, L6).
I love a lot Spartan Game's systems, but Planetfall feels like a much slicker and faster way to play. 
One of the best things about collecting a Planetfall army is the straight forward approach Spartan Games have put together for buying the models you need.
As I have mentioned already the game uses a Helix structure and this stays true in how you activate models, how you build your army and how you buy your army.
Below you can see the options available to an army.
When you purchase a Core Helix from Spartan Games, the box contains all of the items you need to fill out half of a Core Helix.
Only Half a Helix I hear you cry! Well yes, when you get round to looking at the Order of Battle (the army lists) for each Race, you will see that the Core Helix has a minimum number of choices that you are required to take. This is provided in the Core Helix box. You are also provided half of the optional choices as well. So two Core Helix purchases will mean that you never need to purchase another Core Helix again for that race, you have filled all the options you need.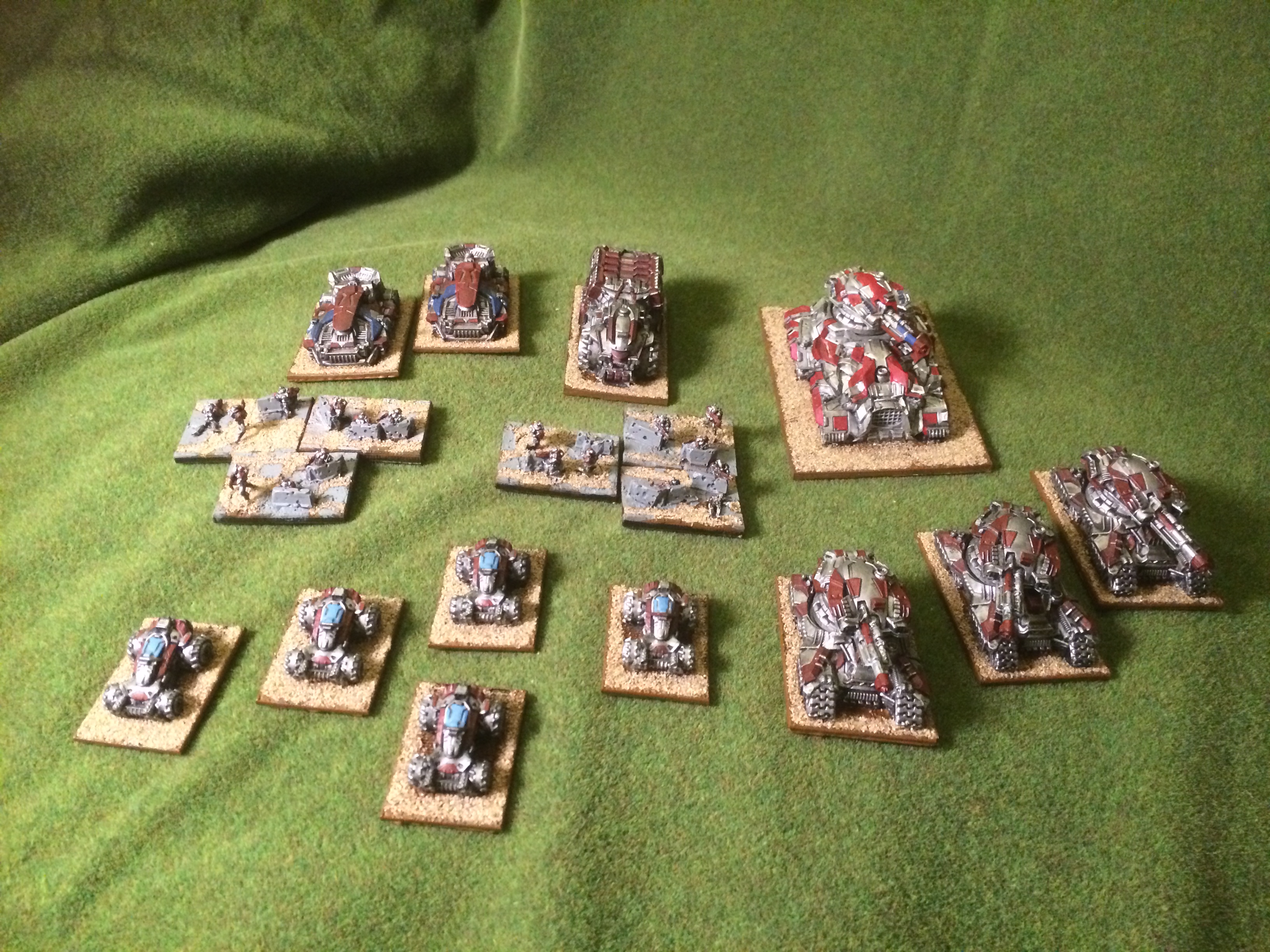 Above you can see the contents of the Directorate Core Helix
The Helix's around the outer edges are all optional, you don't have to take them in your list. When you purchase one of the six optional Helix's Spartan Games provide you with every model you need to build the Helix (the required and optional choices).
This makes the game very flexible when collecting an army, in theory a total of 8 purchases (two Core, and six optionals) will mean you have a full army list that you never need to change, and also means that you have a whopping number of points.
Additionally when you purchase a Helix (of any flavour) Spartan have included things like Objective markers and buildings in each Helix, meaning as you expand your army you will also expand your terrain collection, something that is very useful for those slightly different scale of games.
Next time I will dive into a bit more around the game mechanics themselves and how it all holds together.
I hope this whet your appetite!