Hi Everyone, Kraggi here from The Varcan Cluster. Time for part 2 of the Planetfall rules review. Let's hit it!

This time I will be covering off the following topics:
Dice Mechanics
Game Phases
Movement
CQB
Shooting
Damage
Disorder
Summary
Dice Mechanics
For those of you already familiar with Spartan Game dice mechanics, Planetfall continues in the same vein with the always cool exploding D6 mechanic.
There are three levels of dice rolling in Plantfall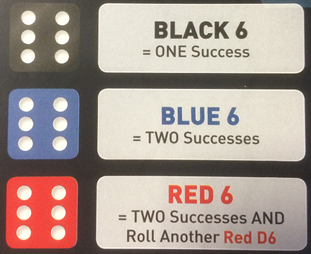 Every time you roll dice in Planetfall the game will tell you which of these three methods to use, most of the rules follow the RED 6 method, and it is downgraded by certain special rules and effects.
In essence you total up how many dice you need to roll, check which method applies and then roll them (adding extra dice in for any 6's if applicable), and then count up how many of them equalled or beat the target score you needed. This then becomes your total number of Successes. The target score is nearly always a 4+, with occaisional modifiers depending on what you are shooting at and what you did in your movement phase.
The mechanic might sound a little weird to start with, but once you have made a few attack roll's it becomes a lot easier.
While rolling the correct coloured dice is a great idea to ensure it is clear to all involved it's just as easy to agree with your opponent which dice level you are using, and then roll your white / mixed / pink / rainbow dice.
If you have played some of Spartan's other games its worth calling out that Planetfall doesn't have any adding dice together and halving totals when combining your dice from the squadron, its rule system lends it self to a much quicker and straight forward dice rolling game.
Game Phases:
There are three phases to each game turn, and they are listed below.
The Pre-turn phase is used to determine which player activates their Helix first each turn, and allow players to play TAC cards, which can provide benefits to your army, turn, helix or individual squadrons, although they come at a cost, increasing your Zero Hour tracker.
Activation Phase
The player that won the roll off for the turn activates their first unit in their nominated Helix, and in this phase they complete all of their actions like Movement, CQB & Shooting. The turn then passes to your opponent for them to activate one Squadron, and so on and so forth.
The End Phase
Is where you tidy up any in game markers that might need removing. Resolve your compulsory effects, score your objectives and check for the game End. So technically you can end up with a Zero Hour Tracker score of –XX as the game doesn't end when someone hits Zero, but when the victory conditions are checked at the end of the turn.
Movement
Planetfall has a much easier movement system than some of their other games, and I fully understand why Naval Ships, and Space Ships have turning templates, but little things like having to use the templates can add frustration to a game, especially as something that might put off newer players.
In Planetfall each unit has two movement statistics. One is their Cruising Speed, and one is Flat out.
Most units that move at Cruising speed get to move in the same way as most models move in other larger Skirmish games. Measure the distance to where you want them to go, and then place the models there.
Regardless of their facing they get to turn, move up to their distance and then end their facing in any direction (providing they don't have any part of them moving over their allotted distance).
Some of the Larger models have a special rule called Lumbering that requires them to use a movement template, since these tend to be your more powerful units the extra thought of manoeuvring them adds a certain layer of planning and tactics to yours and your opponents game. Although this might sound a little bit weird, the rules
The final facing of your model matters for what shooting you can do, and what arc your opponent is able to shoot back at you.
CQB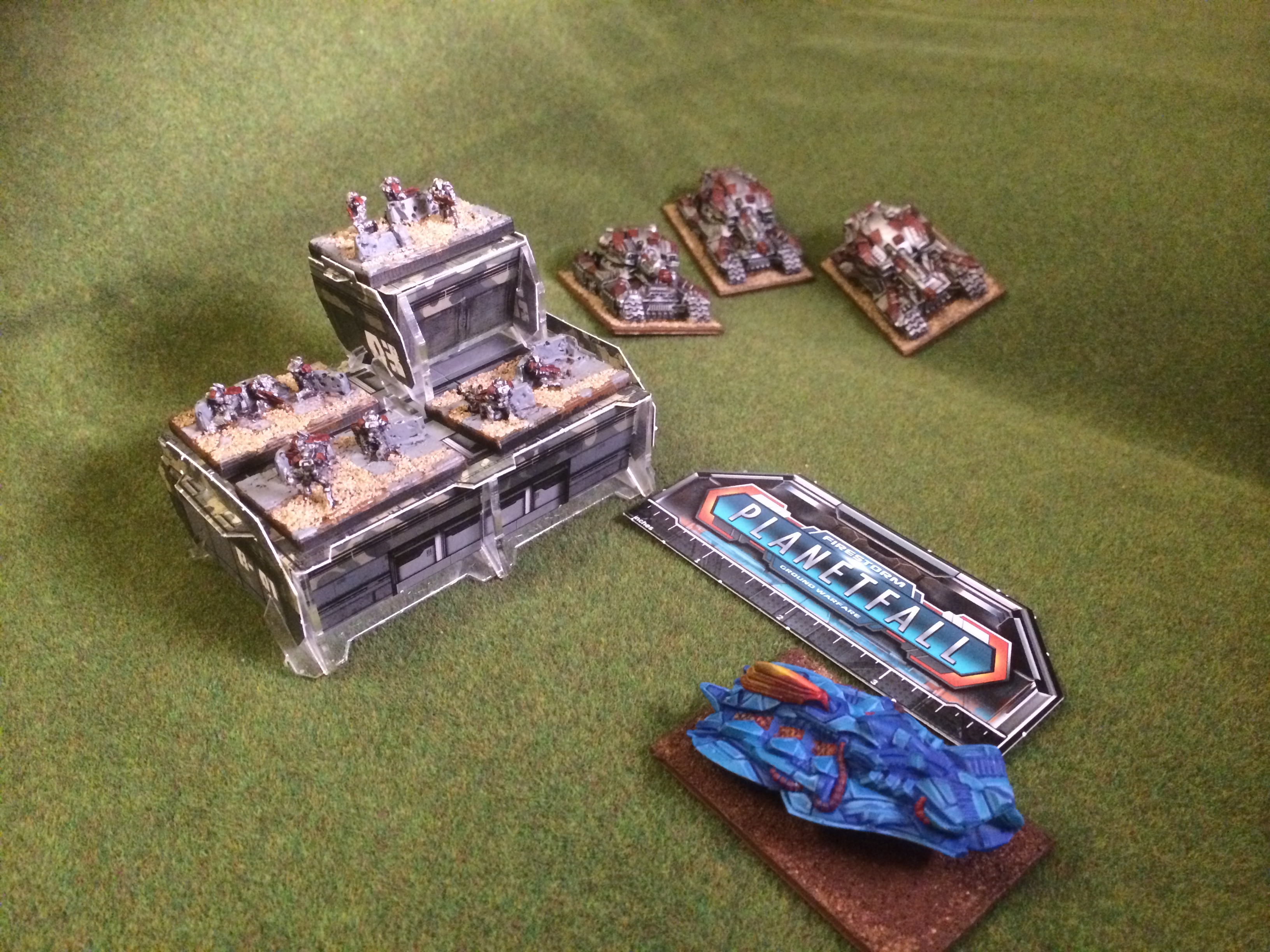 The CQB segment comes after movement and allows units to elect to perform a CQB action. However, the cool thing about this segment is that if you don't elect to declare a CQB action (or incapable of because you don't have the CQB stat) then your opponent can nominate one of their squadrons in range (that hasn't declared a CQB this turn) to perform a CQB action against you.
You can only declare one CQB action per turn, so if you use it in the enemies turn then you cannot use it in your own, but you can always defend against a CQB attack, makes for some interesting options.
CQB tends to be much more devastating than shooting as a lot of the Model Assigned Rules (MARs) only affect shooting, which means some armies getting close to you is a very bad thing.
Each model in your unit has its own CQB value, you check how many are in range, and then confirm how many enemy units are threaten, total up your dice and roll. Very straight forward. The number of successes you role then helps you determine how much damage you have done.
Shooting
Shooting has a longer range than CQB of course, but the models you shoot at are much more likely to have a MAR that will provide them a benefit in some way. Some of these MAR's make them harder to hit, or change the type of dice you get to roll, from Red to Blue.
As with CQB you total up your number of attack dice from all the models in range and roll them to see how many successes you get. Some enemies have Shields and are able to reduce your total successes with successful shield roles (the Terrans are particularly good at this trick).
Damage
When working out the damage you have done to the enemy you compare your number of successes to the Damage rating of the enemy. Unlike Firestorm, Uncharted Seas & Dystopian Wars models don't have only one stat for their DR.
A large model might have a damage rating of 8+7+6, meaning that that your first 8 successes deal one point of damage, another 7 would deal a second and a final 6 would destroy the model.
When a model takes damage, and has a damage counter assigned to it, the next time it takes damage it you use the second stat when looking for your total successes.
In essence their stat line looks like: 8+7+6, the more damage you do the easier they are to destroy.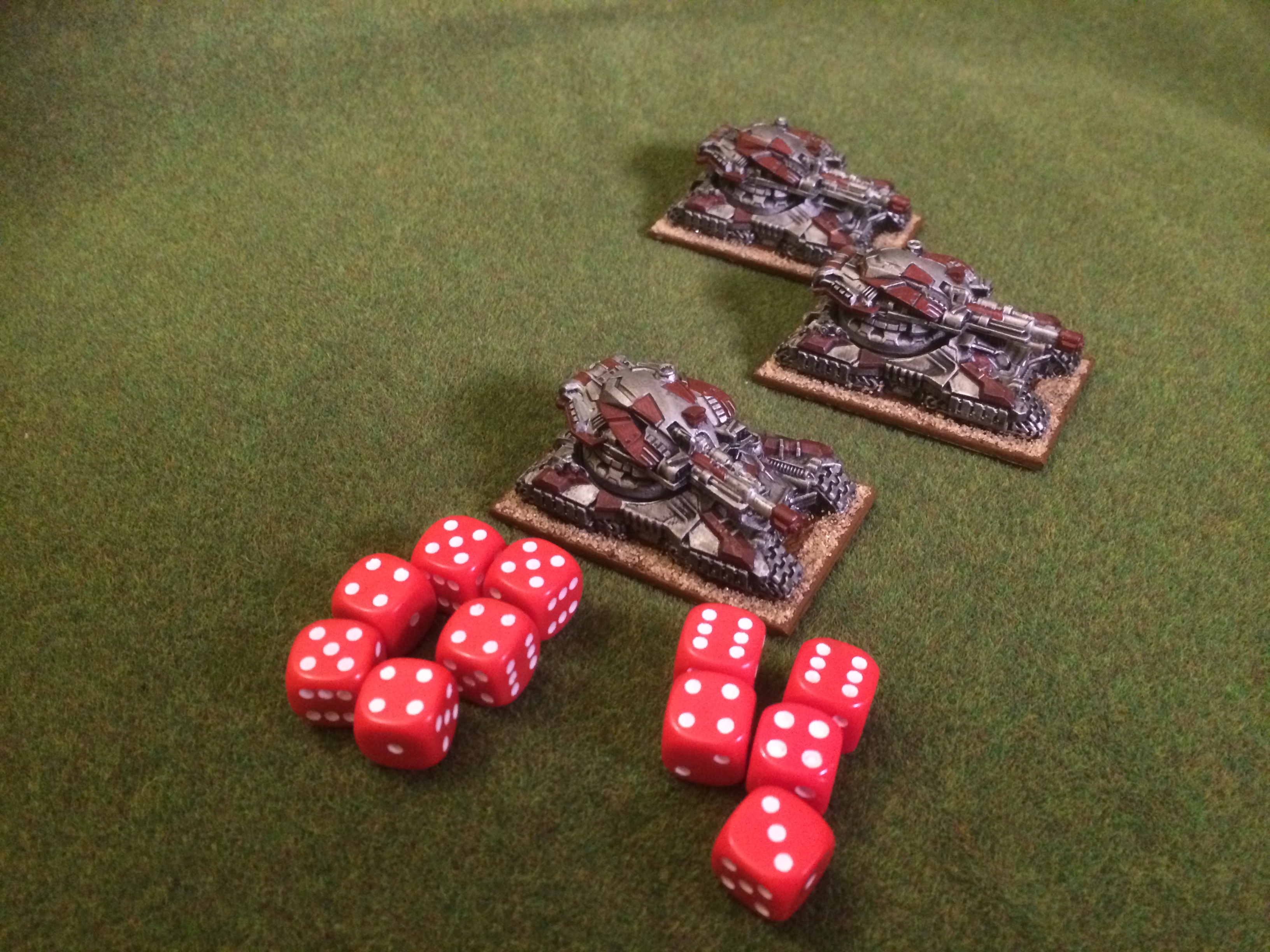 The picture above shows that if this unit of Retaliators was shot at, and suffered 13 sucesses, and was undamaged then it they would lose one tank, as their DR is 7+6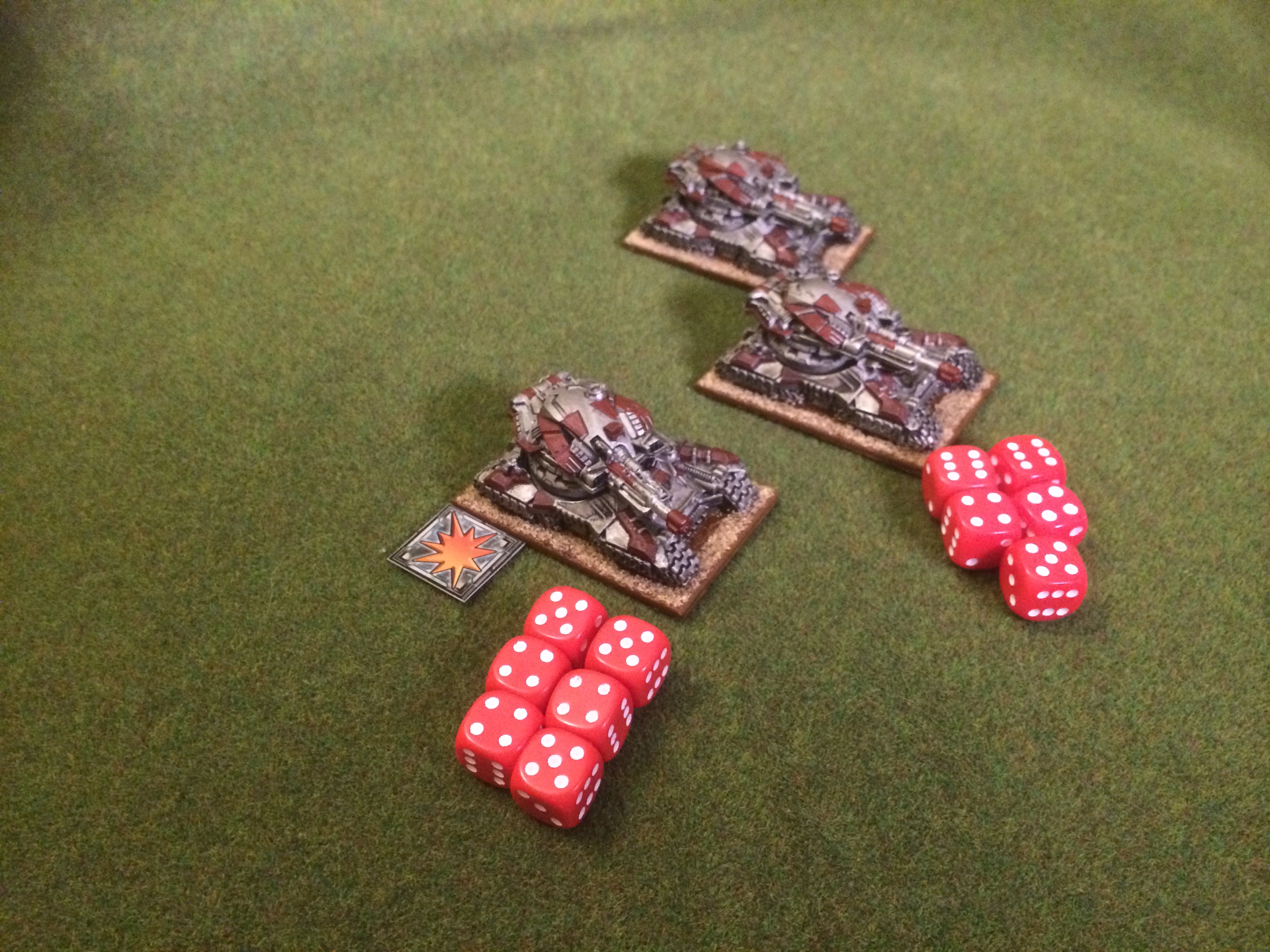 However the same number of successes against the same tank squadron with a point of damage in it would look like this. One tank dies as it takes the 6 hits needed for its second DR rating, while another tank takes a damage marker.
No critical hit tables in this, which actually speeds up game play in my opinion. As with their other games shots to the Flank or Rear make an enemy easier to damage, and should always be sought after.
Disorder
When a unit takes damage in either the CQB or Shooting phase then it needs to take a Disorder test.
Failing the test will result in a Disorder marker being place on the unit, and at the end of the turn these Disorder markers turn into damage… so basically much like a leadership test from other games you dont want to fail it.
The quality of the model determines how successful they are likely to be, plus the range to their command element, and any applicable MAR's the model dealing the damage might have.
Most of the time you dont see these tests failed, but when you do fail them it can twist your tactics in ways you wouldnt expect.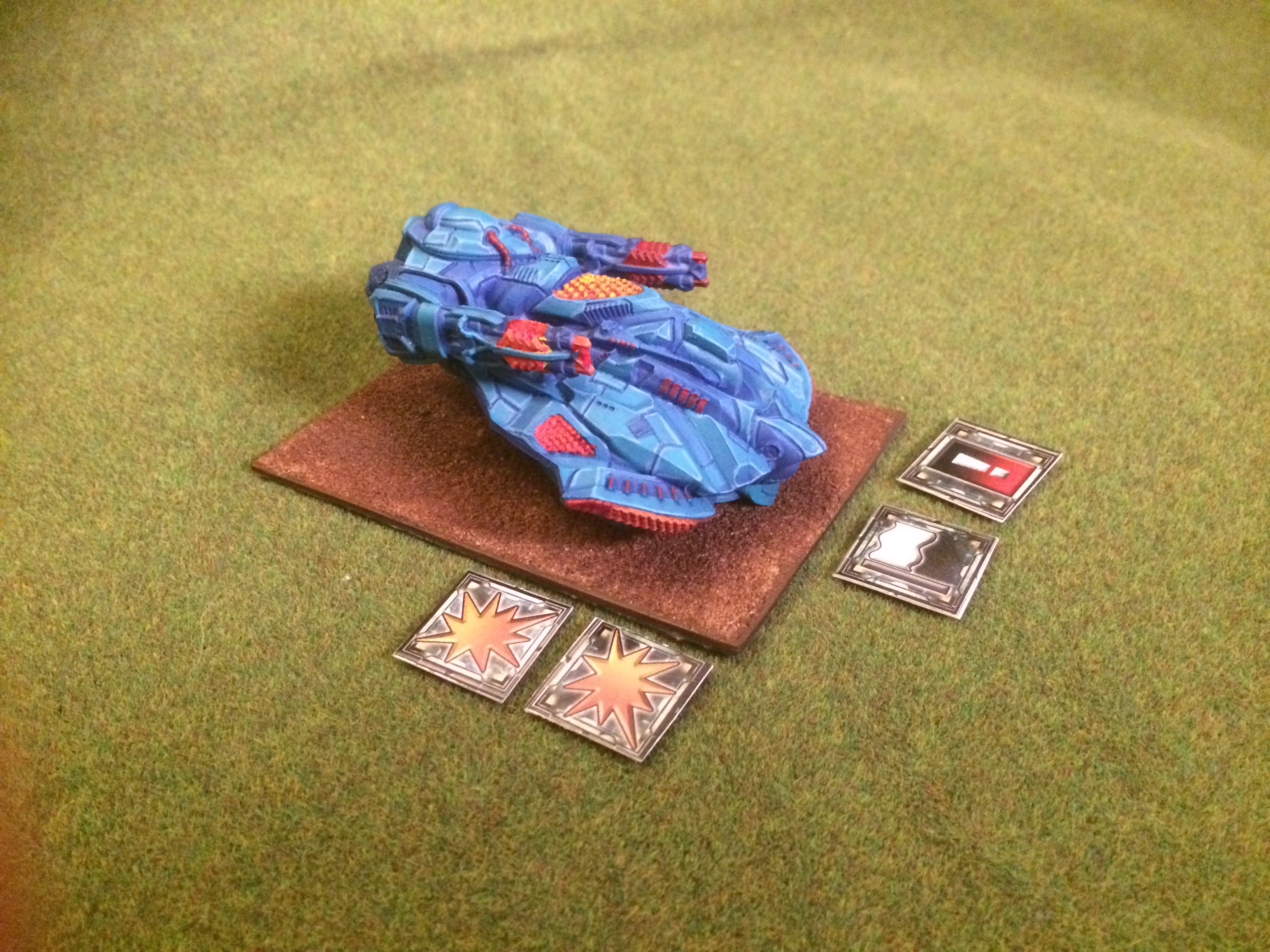 An example would be your main Aquan Sedna Heavy Tank, it has taken a disorder test that it failed, granting it a Disorder marker. At the end of the turn this becomes damage and the model already has two points of damage on it.
This means that it will die at the end of the turn, it has thus far not activated this turn, and that means it actually gets to do something before it dies.
When this scenario comes into play you also get a Forlorn Hope marker, and this provides your model with a lot of benefits, like the ability to hit models easier in CQB & Shooting and the ability to move farther without having the same penalties.
it might be doomed but its going to take a lot of them with it!
In Summary
So lets look at the Pros for Planetfall.
The Rules play well, and are quick and simply to pick up, but I am sure will take (me at least) several games to begin to truly see all the tactical options they provide.
Game / Army Expansion is logical and straight forward without the need for massive amounts of money spent to get a unit of just the right size
Terrain is something you get as you buy the models themselves
The Models are highly detailed (as per Spartans usual high standard) and very true to the renders they show.
The Con's
Smaller Player base – getting opponents for Spartan's games is the biggest challenge
The Rules set can seem like a dummed down version of their other games, which could be off putting for experience Spartan Games players
Overall Score: 10/10
Even with the Con of the challenge of getting this game picked up by others, everything about it makes it significantly easier to do, and I for one can't wait to try (normally trying to get people playing somehting is one of the more depressing parts of a new game)