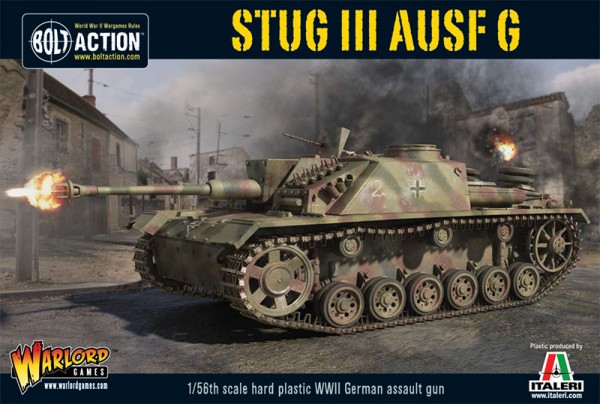 Warlord and Italeri just rolled out one of the most iconic and common armored vehicles of WW2 – with a cool bonus! Come see:
Take it away Warlord:
Ready for pre-order this week is a new plastic vehicle that we've been asked for in droves – the StuG! Not onbly does this kit allow you to make the classic StuG III Ausf G but it can also be built as the StuH 42 and it's monstrous 10.5cm howitzer!
As with our other plastic vehicles our this highly detailed and historically accurate kit is supplied with a crew figure and it also has optional schürzen spaced side skirt armour.
"The Sturmgeschütz (StuG) III was a well-armed and armoured vehicle based on the tried and tested Pz.Kpfw III chassis. Manned by the artillery originally, as it was considered a mobile howitzer, it went through many variants during WWII, and indeed was one of the few German AFVs to serve throughout the war on all fronts.
The StuG III had good frontal armour, its low profile making it ideal for performing ambushes, presenting a poor target for return fire. It was armed with an efficient and powerful 75mm gun and carried an MG42 for close defence.
The StuGs were welcomed by their infantry comrades, supporting their attacks with HE shells or knocking out enemy tanks to the extent that by the end of hostilities, they had amassed more kills than any other German vehicle."
Contents:
1 plastic vhiecle – can be built as either a Stug III ausf G or a StuH-42
Stug crewman in artilleryman's uniform.
1 decal sheet
Construction leaflet
Stug Zug & Plastic German Grenadiers
Of course we will shortly be offering the Stug Zug box set so all you Tank War aficionados will be able to field three and save some of your hard-earned cash at the same time! That's not all though – we are also going to include a sprue of the upcoming plastic German Grenadiers which you can use as Begleit tank riders! Rules for fielding these assault gun protectors can be found in the Bolt Action Ostfront Theatre Book. Even better these superb new plastic figures are not on release yet so you'll be getting your eager mitts on them early!
The StuG III ships out in April, and when the Boxed set of them ships, you get bonus sprues of grenadiers included for free.  Pretty Snazzy.
More Bolt Action coverage in the days ahead.  What's your favorite WW2 tank?