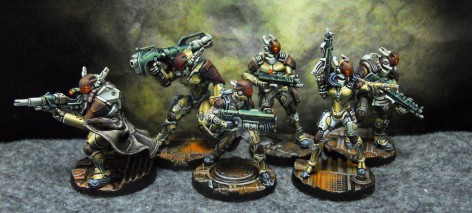 This time I'm going to take a look at another one of the PanO starters. Also, you MUST SEE THESE MINIS!!!
There is surely no shortage of opinions on what to do to expand the Operation Icestorm starter into a larger army. I don't think buying the NeoTerra starter set is one you'll hear a lot, but I was worried if I just did generic PanO I'd keep buying models until I had all of them. Better to just stick to one of the sectorials and call it done. NeoTerra is one of three sectorials you can pick if you feel the same. With this, the three Fusiliers from the Icestorm starter, and the Sniper Rifle Hexa that's sold separately, you can get a 296 point 10 order force. And you can still use the non NeoTerra models to just play vanilla PanO whenever you want.
For those still new to Infinity, sectorials are sub-factions that limit your army selection to a much smaller slice of what the main faction would get to take. In return you can take more of certain types of troops than in a standard army, and you can use the Fire Team rules. To over-simplify, fireteams basically let you take up to five of the same types of troops and make a unit out of them. There's a full description in the Infinity Wiki.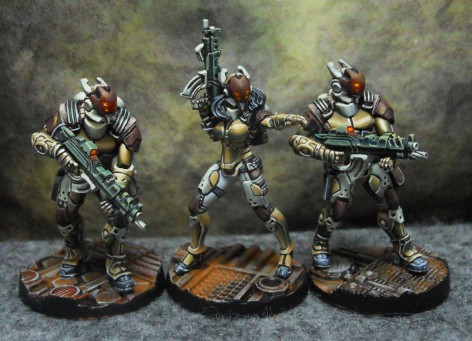 There are two troop types that you can make into Fireteams in a NeoTerra Army. You've already seen one: the Fusiliers from my last article. These Bolts are the others. They are Medium Infantry with slightly better gear and stats than the Fusiliers. Unfortunately while they gain at least a point to every stat but Wounds, their movement drops. Like most Medium Infantry their second Move value is a 2 to the Fusiliers 4. This is not a small thing as you move a lot in Infinity to try to find the best places to shoot while not getting shot back. Additionally these guys cost quite a bit more points – a basic Bolt is more than twice their Fusilier counterpart at 22 points.
These guys are expensive, but let's think about how good they'll be in Suppressive fire mode. Even a little bit of extra BS can go along way. Plus ARM 5 in cover, with -3 to anyone trying to shoot at them. I think this has a lot to do with their points. But I'll be honest, I don't think their increased stats are quite enough to justify the increased cost. Nor is the light shotgun they carry in addition to the Combi Rifle. But they also have the Veteran L1 ability and that might be enough. Since these guys will never go irregular on you, the more of them you take the less you have to worry about losing your lieutenant. You'll get to keep any orders the Bolts give you in your pool.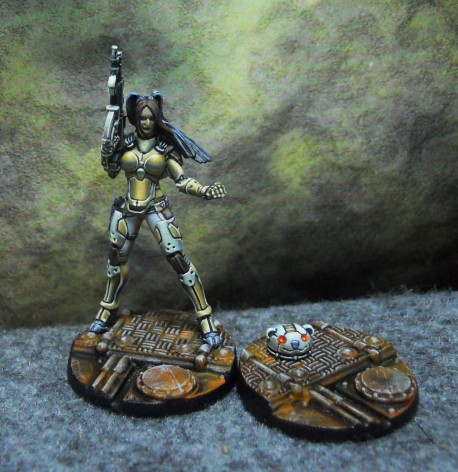 You don't need the Gencon exclusive to run Drop Bears.
Additionally, you can spend 3 points to give these guys drop bears – mines that can be thrown in a pinch. And if that's not interesting enough for you, while these models are clearly carrying Combi Rifles and Light Shotguns, you can use them as the 19 point Boarding Shotgun version since the model doesn't exist. Boarding shotguns are good weapons, but they're only effective at short range. With their low movement skill I've had trouble getting the bolts into that short range. I always seem to end up activating someone else who won't require so many orders to do the job.
There's a good deal more to talk about regarding Bolts, but I'm going to save that for another time.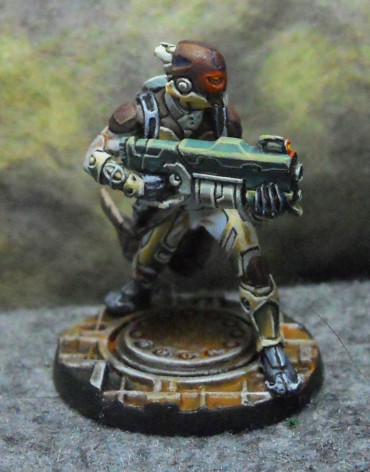 Here's a sneaky guy. The Camo special rule means this Hexa is so sneaky he's deployed as a marker. Your opponent will have no idea what he is until they spot him with a Discover roll. His TO (Thermo Optic) Camo is the best form of the ability as well. Anyone trying to figure out what the hell that is creeping around over there will have to roll to Discover him at a -6. And once he's revealed you'll still be at a -6 to hit him. This will help him a lot since his Spitfire is best in shorter range bands – well technically medium but that's 8-24. Regardless, he'll need to get close to use it best and this means risking taking some shots.
The Spitfire is a decent Weapon. It's easy to dismiss it when the HMG has an extra point of Damage. But this game is all about range bands. The Spitfire operates inside the optimal range of a lot of other weapons, including the HMG. And with TO and Infinity appropriate terrain, the Hexa can sneak in there and let loose. This model has done great things for me many times under exactly these conditions. This is a model that's always worth considering whenever you're building your army. But watch out for models with Multi-Spectral Visors, Direct Templates, and especially fire – which will steal his camo. If it doesn't kill him.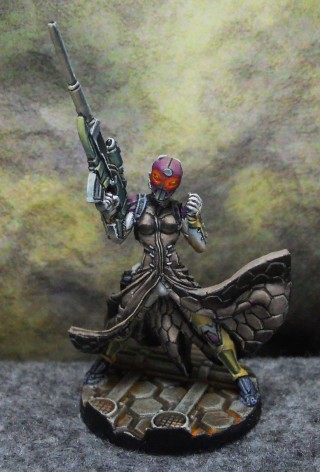 Sold Separately
The Sniper Hexa is like the inverse of the Spitfire one. The same principle is at work here, except you'll be shooting from far away rather than close up to keep all the range modifiers to your advantage. Her Sniper Rifle's Burst is lower than the Spitfire, but like the Nisse in my last article, she can use AP and Double Action Ammo.
The Aquila is one of two Heavy Infantry choices in the set. It would not be unfair to describe this model as an upgraded version of the Orc from my last article. He has an extra point in BS, WiP, and three extra points in BTS. To be fair, a BTS of 6 doesn't make him exceptional. Really it just points out how bad the Orc's BTS of 3 is. This guys biggest upgrade is one of those Multi-Spectral Visors I was just talking about. His level 3 visor is the best available. He automatically discovers hidden models (although he still has to spend the order to do it) and ignores any penalties incurred by camo and low visibility zones. This last bit means he can lay an important role in any army. With the visor, his Multi Rifle, and his impressive stats he is worth even his high 58 point cost.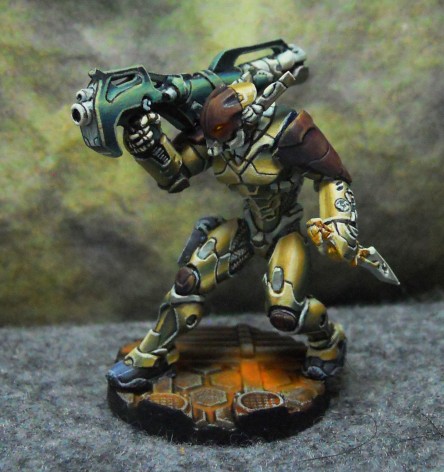 This Swiss Guard here has done more for me than any other model. Unbelievably he has the TO Camo of the Hexa, with the high stats and resilience of the Aquila. When he shoots that rocket launcher of his across the board there's almost nothing anyone can do about it. He better be good because at 69 points he costs more than some TAGs.
I really thought this guy was going to be the dog of the bunch since his weapon only has a Burst of 1. But his camo, his death-from-afar range band, and the fact that he's usually in cover place such a penalty on anyone shooting at him I've rarely seen him die. Even on active turns against things like HMGs he usually comes out on top. Lets break it down. An HMG model with BS 14 wants to shoot this guy off his perch 27 inches away. Both models get a plus three for range. My guy is in cover because duh, so my opponent's total negative is a -6. Anything above an 8 misses. So If I can roll a 9 plus, my shot will cancel all of theirs. Unless of course they roll a crit. So even with an ARO, against a very elite model in it's optimum range band, this guy has a better than 50/50 of coming out the winner of the face to face roll. And if I can keep him just 6 inches further away, the enemy model will be at a total of -12 needing 1s and 2s to hit. When the Swiss Guard inevitably comes out ahead whatever he hits will get popped with a DAM 15 hit from Explosive Ammunition that could easily kill a multi wounder in a single go. I've done it quite a few times. Having to make three armor save sucks.
Of course the bard part is he's still only Burst 1. BS 15 is amazing, but it still means that you have a 25% chance to miss – and that's assuming no net penalties to your shot. It's on these rare occasions that I miss that I've seen this guy die. Usually that armor will kick in and save him, but not always. There is a Swiss Guard out there with an HMG though, and I can't even imagine how nasty she must be.
~Hope you enjoyed the article. Keep checking back for more Infiinity content. As always post your thoughts – on the article or the models – below.