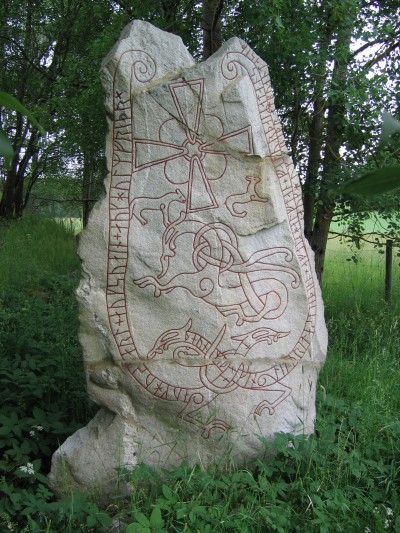 Today one gamer takes you into the world of Warhammer 40,000 and music.  Grab the headphones and come on in!
A guest article by Parcival
This is Parcival hailing from Zürich, Switzerland, and today I'd like to talk about 40K and music as I am excited about my beloved Space Wolves. With this article I hope to give some insight on European (Pagan) Metal music and how it may be used to enrich your 40K experience – well, depending on your music taste, of course.
Set Sail!
Three years ago at the 2012 Texas Game Con Bigred and I discussed the topic of 40K and music in a quiet minute. Any discussion about 40K and music can't leave out Bolt Thrower, a British Death Metal band that formed in 1986. Originally its relations with Games Workshop were so close that GW provided artwork for Bolt Thrower's album covers. Two of their albums are even named "Realm of Chaos" and "War Master" – you get the idea. However, as I am neither a big fan of Death Metal nor truly claim knowledge about it, I hope you forgive me that I leave Bolt Thrower here and move on to more recent developments.
Many gamers enjoy to listen to music as they are painting and game stores like to dramatize the action on their tables by providing appropriate background music. Take for example this piece I originally heard in 2010 in the Games Workshop store in Darmstadt, Germany:
Unheilig is a band originating in Hamburg, Germany, and their songs are generally associated with the sea, ships, etc. It always gives me a chill when the ship's horn fills the entire room. Prior to your next game of Apocalypse, put this song onto your speakers and your Space Marine Chapter/Astra Militarum is good to go.
Now if we stay in Germany for a second and move on to the Nordic mythology associated with the Space Wolves, we inevitably cross Equilibrium's song "Wingthors Hammer". Once again German lyrics, but again don't worry about the details: Thor wakes up and finds his hammer Mjölnir missing. It turns out the Giants stole it, so Thor tricks them and slays them all.
This song is a perfect example of the double kick, in this case two pedals on the same bass drum, a technique originally associated with Death Metal and then passed on to the later Pagan Metal where Equilibrium fits in. It really gives you an impression of the wrath of the Space Wolves deorbiting on some unlucky planet.
Only Frost is Eternal
Fans of Pagan Metal easily find their hearts' desire in Scandinavia and Finland as they just seem to be littered with this type of bands – and they sure do know about winter and cold. One of my favorite bands, Ensiferum, conveniently has a music video with Zombie Vikings – it's like scoring two homeruns:
If you like it frostier, you may also take a peek at Arkona, a band a few miles further into Russia with this bard in a snowy forest:
(Yeah, she just did the growls, too. She doesn't need support from her male band members.)
For the ultimate Space Wolves feeling, however, I usually tune into Wintersun. (I always suspect the name of this band to be meant very ironic.) Wintersun came into existence when Ensiferum's Jari Mäenpää wanted to write more majestic, "spacy", and melodic music. It took him quite a while to do so, but from my point of view it was worth the wait:
Even if you don't intend to watch the videos, you should watch the next one with all the emotion and fist pumping they put into it while recording the chorus. If you are an enemy of Leman Russ, you're a fool.
The Fall of the Archangel
While the players of our space vikings are well outfitted with music, other Space Marine Chapters may find it harder to find something matching. To my fellow Blood Angels players I bring last but not least Powerwolf, a German Power Metal band featuring vampire and werewolf themed lyrics, a church organ, and an opera tenor from Romania (how fitting):
So this is it for today, although the list of songs for 40K could go on and on. If you enjoy this type of music, I encourage you to buy the full albums, at least for me they were worth every dime.
What music do you listen to when painting or playing? What music do you relate to the Xenos like Dark Eldar and Orks? Is the idea behind Tyranid music slime dripping at various frequencies?  Drop your favorites in the comments.