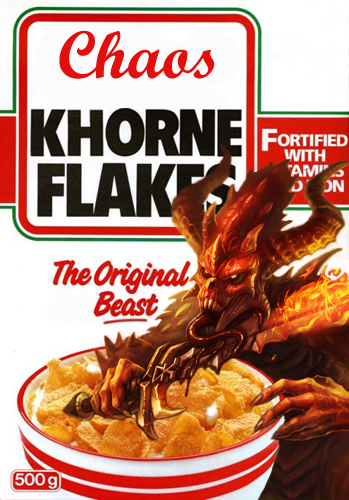 So I have read the codex, had some time to think about it and discuss it with other fellow World Eaters. It's time to conquer the Imperium for the Brass Throne!
Keep in mind nothing I say here is meant to be negative and I am planning to play Khorne again. Here are the salient points:
What I've Learned
It looks like overall GW doesn't want to redesign Chaos. All of the units in the codex are the same as existing and there are no new units. This codex is a way for GW to repackage what they already have to increase sales. There are some new rules which can be very useful though. I believe this codex is a doorway back to pure assault armies dominating the game again.
You can summons daemons without Malefic psychic powers and the rules for Blood Tithe are rock solid. The developers did a good job.
If you like to play Khorne this is as good as it's going to get for awhile.
I see potential using this codex to select a small combined arms detachment to work with one to two more detachments outside of Daemonkin – Chaos Space Marines (CSM) and Chaos Daemons. You can design a well themed army that is competitive.
I don't think Daemonkin got the points breaks like other new codices released for both sixth and seventh edition but oh by selecting the right units you'll be okay.
My vision of a competitive Khorne army is one that can quickly and reliably get stuck into mėlee. You can do it which is what you really want – Khorne is all about mėlee… Blood for the Blood God and some big skulls mounted on the wall !!!
I want to field an army that revolves around heavy cavalry supported by the Typhon for fire support.
Daemonkin are fearless; therefore you can do the following:
— Attach a CSM independent character to a squad of Daemonkin; e.g., Chaos Lord mounted on a Juggernaught attached to Bloodcrushers
— Attach a Daemonkin Herald to a CSM squad; e.g., Herald attached to a squad of Berserkers
This last point is the strongest thing going for Daemonkin and no other Chaos power can do it. It's truly something new and can be utilized to design a competitive army that can go head to head with the likes of Eldar spamming Wave Serpents and Wraightknights. If you can't efficiently handle either you've got a problem from a tournament perspective. I'm not looking to exploit the codex such as running eight Maulerfiends but I want to be able to run with the big boys too. That said there is no better codex to run Maulerfiends !!! If you want to field them in droves here is your palate.
If you can see where I'm going with this then we see eye to eye. The special detachments and formations aren't doing much for me because of the tax involved – that is I don't want to run Possessed as they are too specialized.
Army List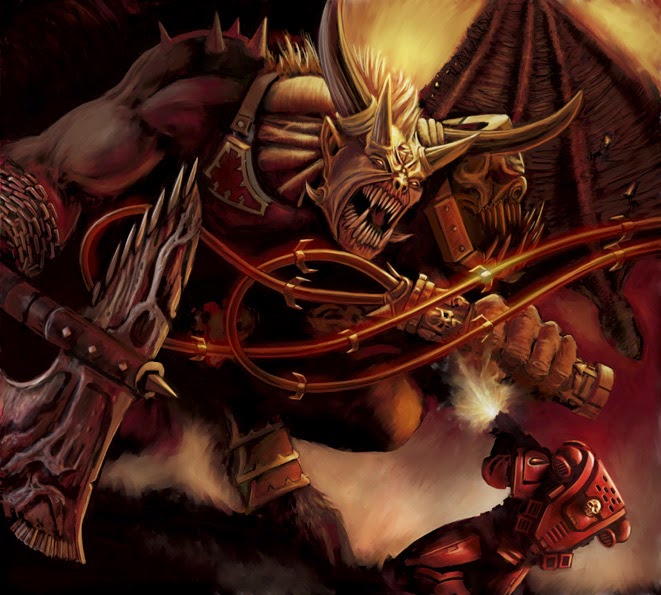 This is my initial attempt at a list using the Daemonkin codex as the core. I typically take everything I want to field when I first build a new army then scale it down to an appropriate number of points (e.g., 1850). My army is designed to center around a resilient mobile deathstar (oh Gawd – such a dirty word) supported by a Lord of War and some hard hitting troops. Please note I'm on the road this week and forgot to bring my codex with me… So there is some guess work involved – please forgive if I made any mistakes.
Daemonkin CAD
Chaos Lord – Juggernaught – relic armor (Eternal Warrior) – Sigil of Corruption – Power Fist – Axe of Khorne
Herald – Juggernaught – Axe of Khorne – Locus (Hatred) – Collar of Khorne
Bloodcrushers (full squad) – Blood Banner
7x Berserker – Icon of Wrath
Champion – power fist – lightning claw – meltabombs
10x Cultist – Mark of Khorne (use champion to summons Bloodthirster)
Chaos Space Marines CAD
Chaos Lord – Juggernaught – Sigil of Corruption – Axe of Blind Fury
7x Chosen – Mark of Khorne – Icon of Wrath – 2x meltagun – 2x power axe
Champion – power axe – meltabombs
10x Cultist – Mark of Khorne
Typhon (Lord of War from IA13)
Ceramite Plates – Relic (+1 invulnerable save for friendly units within 6″) – lascannon sponsons
Landraider /Transport for Chosen
Dirge Caster – Extra Armor – Dozer Blade
Dreadclaw (Fast Attack from IA13) /Transport for Berserkers
Dirge Caster
Expanding on the list I'd take Chaos Daemons as an ally:
Daemon Prince – Daemon Flight – Warp Forged Armor – Axe of Khorne – GoTN
8x Bloodletter
The two Lords and Heralds attach to the Bloodcrushers.

Conclusions
I've watched some video batreps pitting Daemonkin versus Blood Angels, Necrons and Space Wolves… Daemonkin can beat these armies. They can beat Eldar. My army list is highly mobile, putting a lot of pressure on the opponent immediately – the Typhon is the perfect hammer for this anvil. I plan to take this type of list to a grand tournament this year and I'm very excited to see how it performs.
Do you think Codex Daemonkin can swim with the sharks?