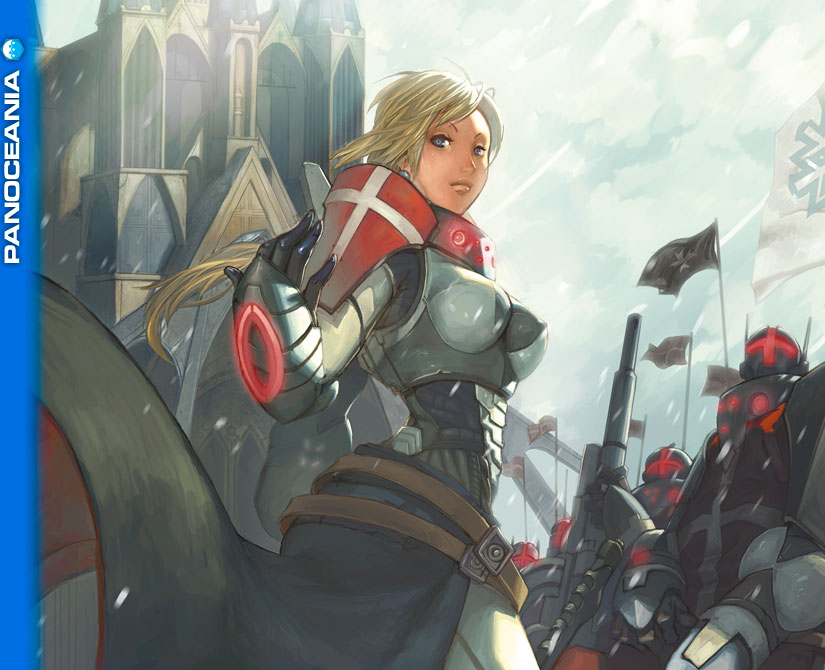 Time to meet the Hyperpower that calls the shots  in the Human Sphere, and what  makes  it great.
The Big Money goes Around the World
The Hyperpower. Capitalism unbound. The powerful melange of money and faith. The  gleaming societies and megalopolises allowed by progress without limit or conscience. PanOceania  is the raw, undilluted dynamism and  power of Western-style market economy and religion, taking the forefront as the strongest faction in the Human Sphere and quite ready and willing to defend  its first place against any upstarts.
PanO's origin lies  in the  closing  of the First Age  of Space Exploration, when the collapse of the wormhole that was being used to colonize  other system thoroughly borked the economies  of all the  old  powers that were  invested  into it.  Eventually, a new coalition of rising economies centered around a Phillipines-Australia accord, and to a lesser degree India and Brazil, bought out the debts  of the crashed USA and Europe and  remade the West.
The Second Age  of Space Exploration would see  PanOceania become a  modern, bustling  corporate mega-state. Political parties were done away with and replaced with 'lobbies' where  individuals converge around shared goals and ideologies; the more support (which usually but not always  means wealth) a lobby has, the further it can sway laws and governance its way. This new melting pot of cultures had the  Catholic  Church step in as a strong unifying identity, and its active role in protecting and rescuing travelers in the reborn space lanes saw it reinstate many orders of elite knights and regain a military presence in the Human Sphere.
As a result, PanO attained the strongest economy, the  largest number  of controlled  planets, a burgeoning  military presence and cultural primacy across the human-controlled space. It is a strong backer of the ALEPH AI, and therefore also relies heavily upon it to manage its day-to-day affair. From the bright arcologies of Neoterra, over the gleaming blue ocean cities  of Varuna, to the vital industrial coasts of Acontecimento and all the way to the  harsh snowy reaches  of Svarlaheina, PanOceania is  on the  move, and it waits for no one.
Big Money Underground
Since nothing  in Infinity Lore  is  fully white  or  completely black, PanOceania's model is not without  its consequences. Its  sky-high standards  of  living conceal an underclass that  is truly, inevitably destitute. It's  not a set ethnictiy, like  the Japanese  in Yu Jing.  In a hypercapitalist  sociaty, those  left behind are…self-selected, after a fashion: Ateks, losers, members  of  lobbies who fell out  of favor, people  left behind by technological innovation, followers  of  non-mainstream creeds and  ideologies. And while the State Empire at  least affords  partial rights to those not  on  its  love  list, PanO offers  its rabble blissful ignorance about their life  or death, and nothing else.
It's not inhumanely harsh, of course, as this is not a cyberpunk dystopia. In Infinity, all systems at  least sort of work. And there are some 'softer' lobbies, as well as the Church that  offer some measure of relief to those that fall behind, by  luck or design. But as far as PanO cares, this  is  incidental.
The  strong role  of the Catholic  Church also raises some  issues. In PanO society, the holy see  is the  final arbiter on who gets first  in  line when it's time to get reborn into an L-host. This  is done by a system of  indulgences that earn you  points (or  points for a  loved  one you want to bring  back)  based  on services to the faith: membership in a Knight Order, charitable donations, funding/supporting church causes.  It also excludes those  of different faiths or no faith from the decision-making (they can still get resurrected, but have to play the Church's indulgence game with no say in  it). We know how well selling indulgences turned  out the first time around!
(This  is actually a small peeve of mine. Having the Church be the arbiter of L-host resurrection always felt a bit  odd to me. Those dedicated to making sure your life earns you passage to Heaven  should not be the  ones rewarding its most faithful with an indefinite stay in this material world created by the Original Sin! Then again, I guess times change and dogma stretches to covers  more than a few hypocrisies…)
The voracious drive for success  of the Hyperpower has other downsides. Few powers have been as gleefully eager to violate Ariadnan sovereignty as PanO; if you can't hold on it, it's not supposed to be yours  in the first place. Its penchant for getting  fingers  into as  many pies as  possible was  one  of the factors behind the Trade Wars that are the last big intra-human conflict  in the Sphere.
Infinite growth is the ideology of the cancer cell, someone has said….
Big Money Leave a Mighty Wake
If we're talking pros, let's start with the  first thing you'll likely  hear about PanO; that it's the shootiest faction in a shooting-based game. This, you'll soon  learn, is a simplification. It's technically true, but  not the  whole truth.
But yes, this army's  profiles usually have high BS scores, almost always  one  point or more than a comparable troop of another faction. And make no mistake, it's  handy. When you're supposed to be  stacking every roll in your favor and  piling up penalties  on your enemy, every point helps.  It also means that enemies have to go a  longer way toward  making your shots  impossible (as  in  needing less than a 1 to hit). This  might seems a minor deal, but  in a game that  has criticals, I've seen more than a few  gunfights  where a troop that would  only hit (and therefore crit) on a 1 got the better end  of a vicious firefight. Any chance is a chance.
But  in the great scheme or things? PanO are  not better shots to a significant degree. Remember, we are not talking about simple tests here, the  vast  majority  of the game will be  Opposed rolls. So when you factor  in  other  armies  having easier access to Mimetism, ODD, smoke and so on, things  usually equalize. It's a  plus, but don't  bank on  it.
Another field  where our catholic  capitalists shine  is Tech. Pan has toys  out the  wazoo. Visors (including the rare Level 3 MSV), MULTI weaponry, the venerable Hyper-Rapid Magnetic Cannon, TO camo, Auxbots, Holoprojectors, and very fine combat remotes. Excluding the Combined Army,which is  in a class  of  its  own, PanO likely has the  most tech in the game, though with less exotic stuff than ALEPH and  way worse  infowar than Nomads.
For  mecha fans, this third  item matters: TAGs. PanOceania has them. And  more  of them. Big scary brazilian TAGs with magnetic cannons. Sleek fast TAGs that climb walls like newts. Invisible TAGs that glide over water (Yeah, there's rarely water terrain on Infinity tables. It's still cool, dammit!). Heavy ultra-armored TAGs meant to stride  into the thickest enemy formation and deal death. Religious TAGs that come with an altar-boy Auxbot.  What Yu Jing  is to Heavy Infantry, PanO is to giant robots. Keep in  mind that while  most HI got a  price  cut in N3 that  makes them more fialdable, the same  is  not true for TAGs, so building your  list around  one (or two) still requires a  little bit  of care so your army  is not  "hollowed  out".
The faction is also no slouch when it comes to Heavy Infantry. there are  many options, with plenty of bells and whistles, including the recreation of Joan of Arc as a  badass that can go toe to toe with the heaviest hitters  in the setting. Basic shooty dudes, sharpshooting HI with visors that  make a  mockery out  of all camouflage, and  of course, several flavors  of power-armored holy warriors. If you  like the concept  of space  knights but don't care for Space Marines, this  just might be your faction.
Big Money Leave a Bruise
We've talked about the  bad stuff, so let's discuss  limitations as well.
The army's main weakness is bad specialists. I assume that  most  of the talented hackers, engineers and doctors  in the Hyperpower stay far from the  battlefronts  making mad cash on apps, hovertrains and cyberboob jobs, and send their  interns  to do the fighting for them.  You see, a WIP of 13  is  basically  the starting  point for  specialists  of  other factions. For PanO, that's  pretty much the ceiling.  There are some exceptions (Father-Officer De Fersen is a fearsome  hacker), but they are very expensive, and rare.
PanO doctors will kill your dudes 40% of the time if we're not spending Command tokens (that diploma from Kevorkian Medical School really limits your employment  opportunities) and your engineers are  laughably  lackluster, but at  least some of the hackers sport a decent BTS that can  make them worthwhile. Now, how bad  is this really? In Objective games, it means that now and then you'll need an extra order or two to capture an Objective. This is annoying but not a big deal. In more aggressive, close-fought engagements, though, it means losing more FtF rolls on infowar, failing to bring back unconscious  heavy hitters while your opponent happily zaps his Azra'il back into the fight for the third time in the match, and so on.
The next item is a subset of the one above: low WIP scores. They are not  universal, but  it's still common to see units that are amazing  on nearly all fronts sporting a WIP score that is below standard. This  is  very much mitigated  by the fact that most important  units have workarounds (All TAGs are remote presence and therefore feel no fear, and many others have the Courage or Religious skill), but you'll see badasses  like the Aquila and  ORC troops retreat from fire a bit more often than you'd  like at times, and rebooting your HI after  it's been hacked  might take a few tries.
Finally, this faction lacks a bit in skirmish and deployment shenanigans. Oh, they are there, make no mistake.  You  have  infiltrating camo guys and some drop troops, but you won't see a lot of options or highlights. I mean, the  only  model in he army  with vanilla-level camo is a freaking TAG (which is  kind  of awesome). It's a  minor deal, but it's there and  might keep you from making the army you really want if  it's not  mentioned.
What  Faction would you  like to see  profiled next? Tell us  in the comments!