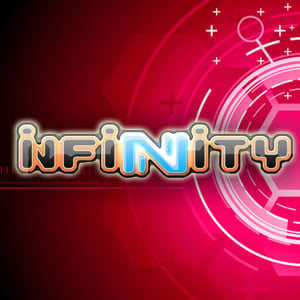 Part one of a monthy series as four addicted wargamers with little to no clue what they are doing decide to start playing Infinity together.
We Four Corps
When I was around eleven, living in France and just starting to get really into Warhammer 40,000 with my father, I remember reading a series of articles called "A Tale of Four Gamers" in the monthly White Dwarf we'd have mailed to us from the UK. It vanished and was brought back a few times, always with new armies and almost always worth reading. In it, four gamers would start new armies and expand them together, talking about their choices and the progress they were making. We don't play 40k much anymore, and the old White Dwarf has gone the way of the dodo, but those articles in particular have stayed with me.
So, naturally, when the time came around that I had finally persuaded/bribed/blackmailed some of my friends into starting Infinity with me after a year of drooling over the sculpts and not knowing how to play, I decided that surely it must be worth a shot to try and bring back some of that magic, right? I split Operation: Icestorm with one of them, and another picked up the Ariadna starter plus one other mini to make it a bit more even. Over the course of the series, we're going to gradually expand our forces and talk about our experiences with a game we knew practically nothing about, hopefully while providing some insight into how to play and the nuances of our various factions. There'll also be a short highlight reel of various battles at the end of each of the installments, as well as a tutorial on some of the parts of the game we – as complete newcomers – found difficult to understand at first as well.
Gaffes are guaranteed.
Cameron: Nomads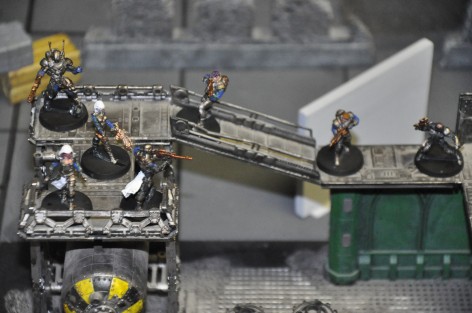 I'll be honest, I'd have gone with either of the two factions in Icestorm given the chance. I adored the sculpts, and both were – from what I knew before buying the box – playstyles I'd enjoy. However, I'm glad that I ended up with the Nomads. The Mobile Brigada and Grenzer sculpts are in particular amazing, and since the models were a massive selling point of the game for me that's a relief.
I'm barely a passable painter, and the idea of painting solid red on top of a black spray for my entire army made me a little sick. Instead, I decided to go for a bare metal bodysuit with blue clothing underneath, brass guns and a slight sepia wash to give them a more weather-worn look that a bunch of people living in a spaceship all their lives might have. White capes on the Reverend Healer and Grenzer helps them stand out as elite troops a bit more, while the Spektre received a black wash as opposed to a sepia one to emphasize his stealthy nature. Generally, I liked how they turned out.
On the table, I'm fairly impressed with them so far too. The Mobile Brigada, while not amazing, has performed solidly i my games so far and if the Reverend Healer could stay alive for more than, say, half a turn she'd be very effective as well. Currently my favorite model is probably my Grenzer, having systematically removed the vast majority of an army over the course of my first reactive and active turns. By the end of the day, over the course of six games he had a total of fifteen confirmed kills all to himself.
I might need to start giving him a mark for every ten.
Mike: PanOceania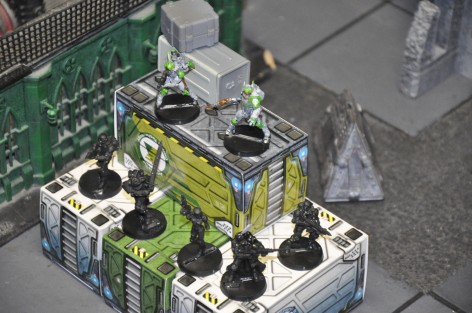 When Cameron asked me to join him in playing Infinity, I was skeptical (I play way too many games send help), but he won me over with the two-player starter set Operation Icestorm, and how short and brutal the mechanics make the game. We split Icestorm between us, and while at first I was tempted by the Nomads' Iguana and Gecko TAGs (not included), I ended up going with PanOceania. I love the aesthetic of sleek future soldiers, remote-control drone-like mechas (like big burly Evangelions or Transformers), and the little antennae on my Medium and Heavy Infantry. As a general fan of "cool space robots" I like how even my infantry followed that look.
PanOceania, or PanO, is the direct result of future-Oceania (Australia and Indonesia) buying Europe and the Americas' debts when their space programs failed miserably, and they emerge as the HYPERPOWER (all-caps mandatory). They are repeatedly described as the most technologically advanced and influential of the human factions, as evidenced by their powerful TAGs and Heavy Infantry, and I am all for that.
Personally, while the pose of my ORC Troop (not actually an orc to my disappointment) is a bit less powerful compared the Nomads' Mobile Brigada, I love the Akalis Sikh Commando's dynamic "just landed and already shooting" pose and they all look like they're just covered in the best tech in the biz. The Father Knight is especially great (and with a BTS stat of 9, as tough as a Jotum TAG to hack!)
Following the theme of a HYPERPOWER, I decided to paint my soldiers as though they're part of some sort of megacorporation's private army. Aiming for a "good for PR bad for the enemy" look, I'm going with a matte grey on most of the armor, and a bright green on the shoulders and faceplates. I'm also aiming for a few logos, in particular Omni-Consumer-Products from Robocop and Weyland-Yutani from Aliens (sure it's been done but it's easy to paint dang it!). Having tested it on my Orc, I like how it's going.
After playing a few test games, I love the rule set and I can't wait to develop my force a bit more, and once more prove my supremacy as the HYPERPOWER.
Matt: Ariadna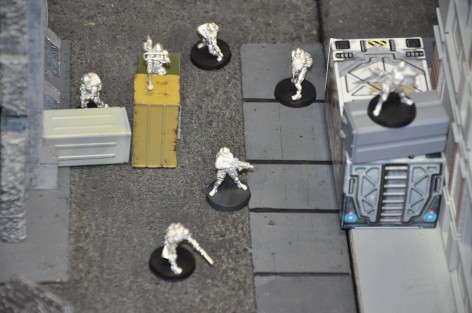 Originally I had shied away from Infinity, I wasn't really a huge fan of the super-futuristic aesthetic. Then Cameron tells me about Ariadna, and shows me some of the models. Now, for me the fun thing about Ariadna as a faction, is that it's about 50-100 years behind the tech level of everyone else. This is probably the best thing about the faction because:
1: I like the underdog. The little guy surrounded by powerful enemies, keeping away from total defeat by the skin of their teeth, that sort of thing.
2: I like their models. They're too busy being crazy space-Russian survivalists to make kawaii robots that extend your wi-fi range.
3: I like asymmetrical warfare. I get a lot of dirty tricks at my disposal compared to some of the other factions (What do you mean you've already got all your landmines deployed, it's only your second turn). I also have Unobtantium bullets to negate (read: Ignore) their general advantage in technology. To Cameron's chagrin, the vast majority of my forces cannot be hacked, as I have no giant robots and my heavy infantry barely qualify as heavy.
Lennard: Yu Jing
(No pictures yet, his army is still in the mail!)
I decided to go with Yu Jing initially as I wanted something different from the other players in the gaming group to ensure a bit of diversity. I personally prefer the Imperial Service for their cut throat nature and use of prisoners as shock troops.
I've played a large variety of miniature games and my play style remains reasonably consistent throughout them, a limited pool of elite top-notch warriors supplemented by a hoard of the cheapest point models available, which fits the Yu Jing pretty much perfectly! 
TUTORIAL – HACKING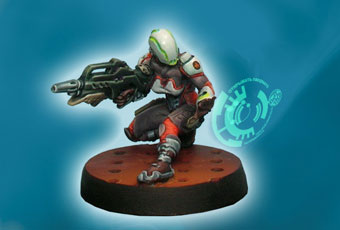 In older versions of Infinity, from what I can gather, the hacking rules were a mess. Thankfully, in Third Edition, they've been slimmed down. They are now a form of attack/skill check – using the hacker's WILLPOWER (or WIP) as you would his ballistic skill, physical score or close combat skill. If using a CLAW or SWORD program against an enemy target, they can then make a BTS save – which functions as an armor save using their BTS score. All offensive programs specify their own power, and no modifiers can be applied to it.
Hackers can affect anything within their own zone of control or the zone of control of any friendly unit or token with the repeater attribute. If an enemy repeater is inside their zone of control, they can also send the programs through the enemy repeater's zone of control, but the target gains the effect of a firewall (which operates just like partial cover for ranged attacks, except applying the -3 MOD to the hacker's WIP and the +3 MOD to the defender's BTS).
There are four groups of program to choose from – CLAW (offensive debuffs vs hackable opponents), SWORD (attacks against other hackers), SHIELD (protecting yourself and your friends from other hackers), GADGET (buffs for your REMs, mostly) and UPGRADE (which varies from buffs to a stronger SWORD attack). These are then divided into levels – there are 3 levels of CLAW programs, 1 level of SWORD, three levels of SHIELD and two levels of GADGET. Depending on the type and quality of your hacker's hacking device, you have access to different levels of the programs.
The only exception to this rule are the UPGRADE programs, which are specified individually in the Hacking Device profiles rather than included in a level. The most common form of hacking device (and the one I used in the highlight reel below) is the generic hacking device, which grants access to all Level One programs from the CLAW, SWORD and SHIELD groups as well as all GADGET programs. In the Combined Army, it would also have access to the Sucker Punch UPGRADE program.
HIGHLIGHT REEL
Three games of note were played this week – one with my army against Mike's PanOceania, one with my army against Matt's Ariadna and one with Matt fighting a hastily proxied and rough version of Lennard's Yu Jing.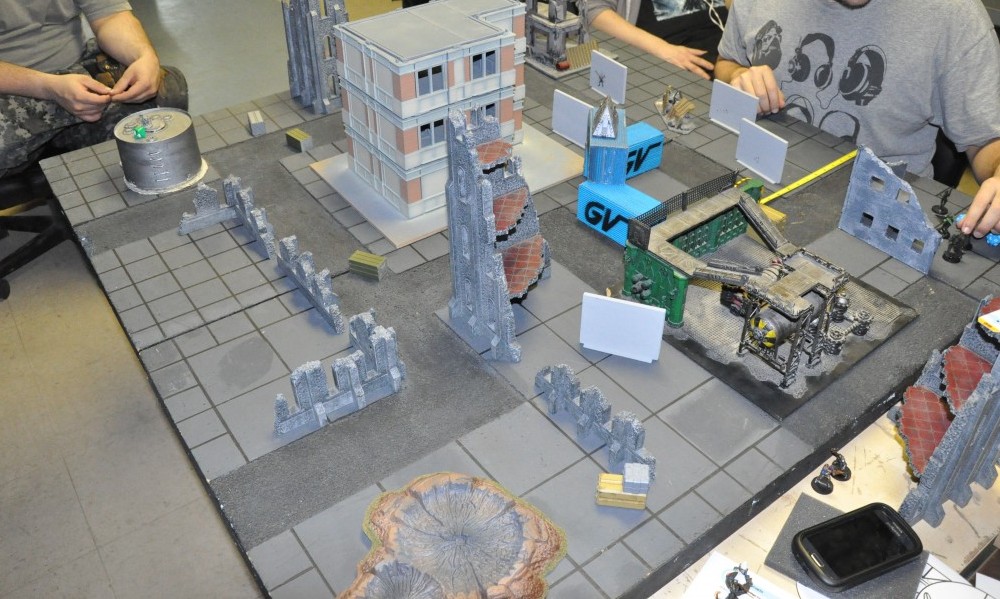 In my match with Mike, we had only just set up the table, and it would be edited over the course of the game. This game was almost a total sweep for Mike, as his forces rolled up the side and my Alguacil hacker attempted to shut down his Father Knight by running the Gotcha! program from the SWORD 1 tree through my other Alguacil's deployable repeater. This functions like an attack with Burst 2, letting my distribute two WIP rolls among two targets. I focused both of them on the Father Knight, and only passed one of the WIP rolls. If Mike had failed the save, his Father Knight would have entered the Immobilized-1 state. Instead, he passed, and the Father Knight could proceed unimpeded.
The real highlight of this match, though, was the sniper duel between the Grenzer and his Nisse.
Mike won. The flank crumbled. The Father Knight approached. The Nomads fell.
In the battle between Lennard and Matt, Lennard decided to abuse his five-point Kuang Shi to move up the flank and clear the minefield that Matt's Chassuer had lain down earlier. The mines would trigger upon his approach, detonating and dealing not insignificant amounts of damage, but as it happened the 'death corridor' was eventually cleared at what was eventually agreed to be a phyrric victory at best, with both sides incredibly bloodied. This was probably not the best way to clear mines, and in the future I recommend bringing an engineer or minesweeper just so clever infiltration doesn't lock down half the board by the end of turn two.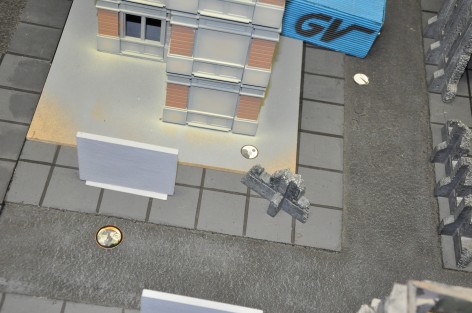 Seriously, Matt, how and why.
In the final game, Matt and I faced off. It was a valiant struggle, with myself gaining an early lead as the Grenzer took out his Highlander Grey lieutenant, and then it turned into a battle of attrition down the center, his paramedic and my Reverend Healer getting massive amounts of mileage out of reviving our troops. Eventually, it all came down to my Grenzer against his two remaining Line Kazak and a Tankhunter, with the Grenzer continuing to be one of the deadliest models in our collection and scoring the final three kills.
Next month, we're stepping up to 200 points and adding in a few new models for our collections! I've got a Tunguska Interventors box on the way,
Enjoy it? How have your group gotten into other wargames together? When did we screw up?  Is there a subject you'd like to see covered in the Tutorial section over anything else? Leave a comment below!