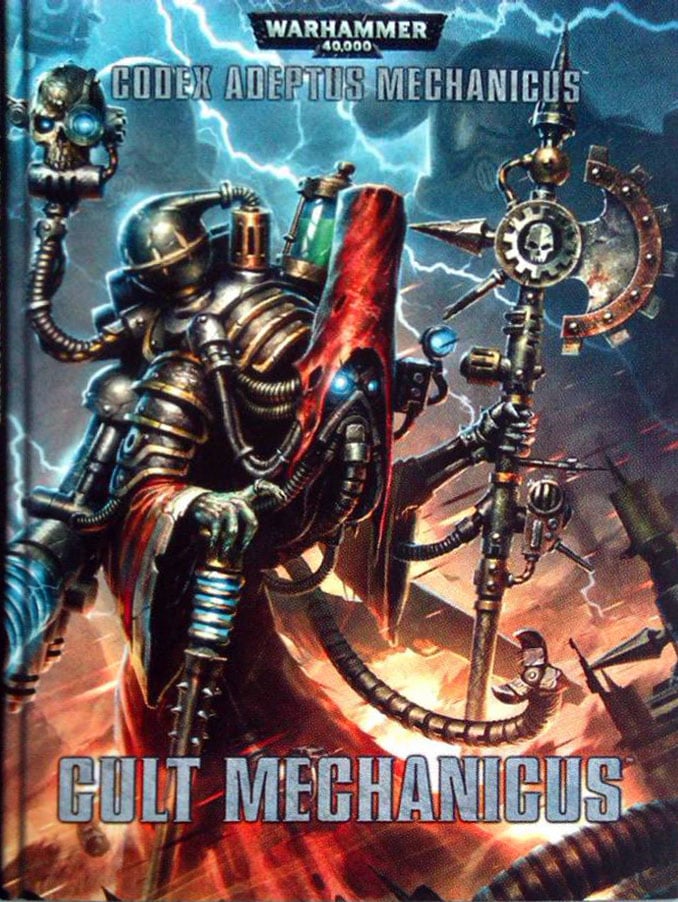 It looks like the Cult Mechanicus are keepers of some very exotic Heresy-era weapons.  Come see!
Cult Mechanicus Weapons  & Wargear (translated from yesterday's French info)
Mechadendrite Harness
The wearer can shoot with all shooting weapons in the Shooting Phase. In addition, the wearer is equipped with a data-pick
Data-pick 
Range -, S user, AP-, Melee, Data-pick, Disruption
Data-pick: When a model equipped with a weapon with this special rule attacks in hand-to-hand, it gains an extra attack with this weapon at initiative step 10. This does not give an extra Pile In move.
Augurskull
At the beginning of each of your turns, the bearer can identify 1 Mysterious Objective anywhere on the battlefield
Electroclastic Baton
Range -, S+2, AP4, Melee, two-handed, Shock, Electroclast
Electroclast: A roll of 6 to wound gives the Instant Death rule
Electrostatic Gauntlets
Range 12" S4 AR- Assault 2, twin-linked
Range -, S+1, AP-, Melee
Eradication Beamer
Eradication shots have different profiles depending on the distance to the target. If the profile to use is not clear, the controlling player gets to choose:
Range 0-12", S8, AP1, Heavy 1
Range 12-24", S6, AP3, heavy 1, Blast
Macropistol
Range 12", S4, AP6, Burst Pistol
Burst Pistol: When shooting with a weapon with this rule, throw 5 dice, but it is treated as a pistol in all other respects
Phosphor Serpenta
Range 18", S5, AP4, Assault 1, Luminagen
Luminagen: -1 Cover for target and enemies may reroll charge distance.
Volkite Charger ~Editor: HEY, look what made it over from the Forgeworld Heresy books – VOLKITES!!!
Range 24″, S6, AP5, Heavy 3, Deflagrate
Deflagrate: After normal attacks from this weapon are resolved, count the number of Wounds removed from the target unit; immediately resolve the same number of automatic hits at S6 AP5. The models of the target unit must still be within range for these additional attacks to happen. The wounds lost because of this special rule do not cause additional attacks.
~Hmmm, the blurring of the lines between 30K and 40K makes me very, very happy… 🙂