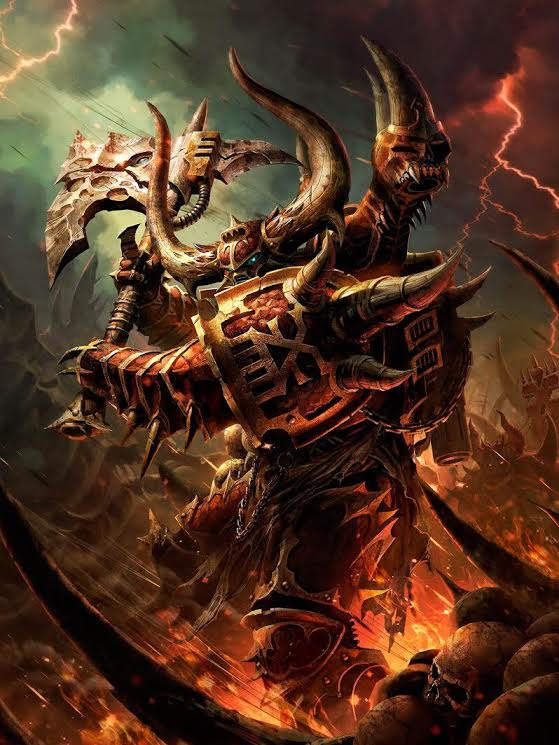 Hi everybody and all you D slangers (you know who you are)… It's your friendly neighborhood Black Blow Fly here again to pontificate on Daemonkin the new Chaos !
I have been searching high and low across the warp and back again to see how the codex is fairing versus the current and soon to change meta. My current observation is it can hang with top armies while requiring a well crafted list piloted by cagey veterans. Jump on in the water is fine !!!
Here is my original army list…
Daemonkin CAD
HQ:
Chaos Lord (210)
Melta Bombs – Sigil of Corruption 25 – Collar of Khorne 15 – Juggernaut of Khorne 35 – Power Fist – Goredrinker
Herald (100)
Juggernaut of Khorne – Lesser Locus of Abjuration
Elite:
4x Bloodcrushers (250)
Banner of Blood
Bloodhunter
Troops:
Berzerkers (222)
7x Berzerkers – Icon of Wrath
Berzerker Champion – Melta Bombs 5 – Lightning Claw – Power Fist
Bloodletters (85)
7x Bloodletter
Bloodreaper
Fast Attack:
Chaos Dreadclaw Drop Pod (100)
Chaos Typhon Heavy Siege Tank (410)
Armoured Ceramite 20 – Lascannon sponsons
Chaos Space Marines Allied Detachment
HQ:
Chaos Lord (180)
Mark of Khorne – Melta Bombs – Sigil of Corruption – Juggernaut of Khorne – Veterans of the Long War – Axe of Blind Fury
Troops:
Chaos Space Marines (202)
7x Chaos Space Marines
Mark of Khorne – Veterans of the Long War – Icon of Wrath – Close Combat Weapons – Meltagun
Aspiring Champion – Melta Bombs – Mark of Khorne – Power Axe – Veterans of the Long War
Heavy Support:
Chaos Land Raider (240)
Extra Armour
This army list obviously is boosted by the inclusion of Forgeworld bringing the mighty Typhon and Dreadclaw to pack a big punch and deliver the Berserkers right where you need them most. I did well winning versus a Necron army featuring three Canoptek Harvest in my initial outing.
I want to bring Daemonkin to the American Team Championship (ATC) to see how it fairs versus the stiffest competition in the country. To do so I must drop the Forgeworld units and cut back from 2000 points to 1850 points. While I'll miss my superheavy killing machine the new list is even more mobile and can take better advantage of the awesome Blood Tithe rules.
I am very excited about using Warp Talons for Daemonkin. As has been pointed out by Kenny Boucher Warp Talons have both Mark of Khorne and Daemon of Khorne which is kind of a big deal and no other unit has this combination… That's a lot of solid special rules ! I have not seen anyone running them yet but think they can be competitive, especially as a deep striking unit using a Banner of Blood so they do not scatter.
Basically this unit has the potential to be better than any jump infantry unit in the Blood Angels codex with the combination of furious charge, lightning claws, invulnerable saves and Feel No Pain via the Blood Tithe. Warp Talons are way better than the Possessed and are less points ! S5 on the charge with all those attacks mean they can obliterate most enemy units.
I see Warp Talons best utilized as a second or even third wave in your Daemonkin army. Daemonkin has many fast highly mobile assault units that can quickly get to grips with the enemy. As an example you can use a big unit of Flesh Hounds as the first wave to absorb the initial brunt of enemy shooting allowing the rest of your army to get into position. Flesh Hounds are well proven too. Flesh Hounds can be mounted on the 50 mm base now which equates to crazy board control and coupled with the change to unit coherency during the assault phase makes them the ultimate multi charging unit in 40k.
If you are not buffing your army with Grimiore or Invisibilty that saves you a considerable number of points which can go towards more assault units and I feel this better ties in with the background. Ideally you want to overwhelm your opponents and the Blood Tithe provides you with lots of strong tricks up your sleeve such as free Bloodthirsters and Daemon Princes.
Warp Talons must be protected so you can get their full potential which one reason why I think typically its best to start them in reserve. Fast attack is probably the strongest slot in the force organization chart for Daemonkin so keep that in mind. I think there is a place as well for Bloodcrushers again and being an elite unit frees up another slot for your fast attack.
So here is my new pure Daemonkin army list …
Chaos Lord
Sigil of Corruption + Collar of Khorne + Juggernaut of Khorne + Goredrinker + Power Fist
Herald
Juggernaut of Khorne + The Brazen Rune + Lesser Locus of Abjuration
4x Bloodcrushers
Banner of Blood
Bloodhunter
7x Berzerkers
Icon of Wrath + Chainaxe x7
Berzerker Champion
Melta Bombs + Power Fist + Axe of Khorne
Chaos Land Raider
Extra Armour
7x Bloodletters
Bloodreaper
Chaos Land Raider
Extra Armour
12x Flesh Hounds
7x Warp Talons
Warp Talon Champion
No Maulerfiends or Soulgrinders for me… While they are both very good with the special detachment I prefer more boots and paws on the ground so to speak. I think Daemonkin has lots of flexibility. The mobile units are a huge threat to the new scatbikes so there is that aspect as well. The double wounds for Flesh Hounds and Bloodcrusher will help to shrug off some of the initial enemy torrent before they get stuck in and do what they do best. Board control means you can box in scatbikes and believe me when I say they do not want to engage in melee. This army also has tools to deal with the new Wraithknight as well.
CONCLUSION
From what I've seen and based upon my own experience Daemonkin is a contender if you've got the balls and know how. Mobility and board control are your two most powerful assets. You'll need the heavy hitters to deal with big scary units like the Wraightknight and need to drop them on the charge before they can stomp. The Chaos Lord with Gore Drinker will be swinging S10 at full initiative plus there is good psychic protection. Bloodletters charging out of a Chaos Land Raider is insane…

Skulls for the Skull God !!!