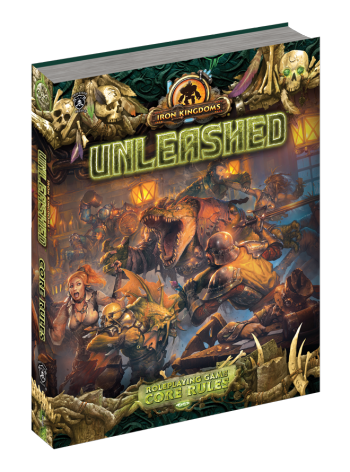 Today we'll be taking an in-depth look at the character creation process in the new Iron Kingdoms: Unleashed Roleplaying Game.
Character Creation Overview –
Creating a character starts with choosing one of seven available races: Bog Trog, Farrow, Gatorman, Human, Nyss, Pygmy Troll, Tharn, or Trollkin. Each race consists of a base stat block, a list of available Archetypes to that race, and several unique rules specific to that race. Archetypes come next, with four available choices: Gifted, Cunning, Mighty, and Skilled. Each Archetype comes with a flat bonus to any character who takes it in addition to a selection of other bonuses supporting that Archetype. Once an Archetype is chosen, the player chooses two of the 31 available careers that will help best represent a character's concept. Careers serve as a character's profession and come with some base abilities, weapon options, occupational skills, assets, and social/professional connections. After careers are chosen, you can make three stat increases to bring your character's race, Archetype, and careers together. You finish off by purchasing your equipment based on the available assets from your chosen careers.
To take you through the process of creating a character, I would like to start with a simple concept: a farrow scout who specializes in ambushes working on behalf of the Thornfall Alliance.
Race – 
The farrow race is generally well-rounded, leaning towards being a little more survivable than humans at the expense of reduced Speed and Poise stats. They can choose from any of the four archetypes and start the game with two languages: Grun, the farrow tongue, and another language that they have picked up in their travels. For this second language, I will choose Caspian to reflect my character's history of intercepting Cygnaran military shipments to the Llaelese Resistance.
Farrow additionally have three race-specific rules: Go to Ground, Disease Resistance, and Heightened Olfactory Senses. Go to Ground allows a character to spend a quick action to gain cover and ignore blast damage, which I feel will actually work well for a character who might give up the benefits of heavy armor in order to be a bit more sneaky. Disease Resistance is bound to come in handy given the general lack of antibiotics in the wilds of Western Immoren. Heightened Olfactory Senses boosts Detection and Tracking rolls where a sense of smell might come into play, which again will fit in incredibly well with my character concept. This leaves me with my character's starting stat block:
PHY 6 (Physique) – SPD 5 (Speed) – STR 5 (Strength)
AGL 3 (Agility) – PRW 4 (Prowess) – POI 3 (Poise)
INT 3 (Intelligence) – ARC * (Arcane) – PER 3 (Perception)
I will discuss these stats a bit later during the stat increase step of character creation.
Archetype – 
A character's Archetype determines one's overall role in the game. Since my overall concept is to move unseen until it can catch their target unawares in a hellstorm of iron, smoke, and porcine war screams, I am going to choose the Skilled archetype, which will grant my character an additional attack during their activation. In addition to this, starting characters can also choose a benefit specific to their archetype. While the farrow's generally low POI stat (which applies to ranged accuracy) makes me immediately want to reach for Virtuoso, which allows me to roll an additional die on attack rolls while discarding the lowest, I am more concerned with my ability to execute an ambush, which might be difficult at a starting AGL 3, even after a bump in the stat increase phase. Consequently, I will choose the Deft benefit, which will boost any and all of my AGL skill rolls. This will make Sneak checks much more consistent.
Careers – 
Next, I need to choose my two careers. There are currently 31 career options in Iron Kingdoms: Unleashed. While there are loads of other careers in the Full Metal Fantasy game, these careers are not meant to be mixed in the character creation phase, and so I must overlook them for what is specific to Unleashed. I think that I immediately want to start with the Scout career. It has several useful skills and abilities for a character specializing in sneaking around. It starts with Pathfinder, which will allow my character to navigate rugged or thick terrain, and Survivalist, which will help with any Survival skill checks. For Military Skills, I can choose two to start with as a Scout, so I will take Rifle 1 and Hand Weapon 1. While my intent is to start as more of a ranged character, being able to fight in melee is always useful, as you cannot always dictate that nature of your battles. The Scout also starts with Detection, Sneak, Survival, and Tracking, all extremely useful given my overall character concept. As I level up and gain new abilities, I will be able to choose from several great abilities like Prowl, Swift Hunter, Battle Plan: Shadow, and Night Fighter.
For my second career, I really want to choose something that will give me the Ambush ability, which will give my character boosted attack and damage rolls on the first turn of combat against characters that have not yet activated. There are three careers that have Ambush available to them: Bloodtracker, Bushwhacker, and Brigand. Bloodtracker can immediately be eliminated, as it is exclusively available to Female Tharn characters. The Bushwhacker career is pretty much exclusively-ranged oriented while the Brigand career is a mixed melee/ranged career, not simply in what abilities it offers, but that several of them, like Onslaught or Gunfighter, mix melee and ranged elements together. I am actually really liking the idea of a mixed melee/ranged character, so I will choose Brigand as the second career. This will give me the Onslaught ability, which allows my character to run or charge after making a ranged attack during their activation, and Find Cover, which grants my character the ability to move 2″ and hide behind cover at the start of combat. This career will also allow me to take additional levels in Rifle and Hand Weapon as well.
Stat Increases – 
The fourth stage of character creation is to apply three stat increases. Looking at my stats and what I aim to do, I am thinking about increasing STR for buffing my melee damage output, AGL for skill rolls and defense, POI for getting my ranged accuracy up to a respectable level, and PER for Tracking, Detection, and increased defense. Since I will only get three to play with, I think that I will leave AGL out for the time being since I took the Deft Archetype benefit, which will make those skill checks much easier, and I will put my three increases into the other stats, leaving my stat block at:
PHY 6 (Physique) – SPD 5 (Speed) – STR 6 (Strength)
AGL 3 (Agility) – PRW 4 (Prowess) – POI 4 (Poise)
INT 3 (Intelligence) – ARC * (Arcane) – PER 4 (Perception)
Equipment Purchasing – 
This just leaves using the gold crowns that I have from my two careers, a total of 150, to purchase the gear I will need. Since my concentration is on Rifle and Hand Weapon, I will start with the trusty farrow pig iron. At 60 gold crowns, it is a little expensive, but I love its hitting power at POW 12 and its ability to be used as a melee weapon in a pinch. I will also need some type of armor. Since I plan on sticking to sneakiness and guile over plain brute force, I will be sticking to armor that does not apply a high defensive debuff or make moving quietly more difficult, in this case, simple leather armor. This will leave me with 60 gold crowns left to play around with, for which I will add an assassin's blade for 20 gold crowns. Normally I stay away from the assassin's blade because of its penalty to attack rolls, but when I can grab the Ambush ability after the second or third session, this will make my first turn quite brutal with a pig iron attack followed by a charging assassin's blade in the back with a second stab for good measure, all of which would be fully-boosted against a target caught unawares. To help with ambushes, I will use five gold crowns to purchase camouflage netting. I will use 15 gold crowns for ammunition, enough to buy powder, bullets, and casing for 25 heavy rounds for the pig iron. This will leave me with 20 crowns, five of which I will use to purchase goggles to keep the gore out of my eyes, and the rest I will hold onto for future needs.
Finishing Up – 
My combat expertise will largely be about getting the drop on my opponents until I can buff up other stats, but that is fine with me; it is largely the concept that I was going for. With high Perception and boosted Agility rolls, pulling this off should be something I can pursue and succeed at. My DEF will be a little low at 12, but this will increase over time. My ARM stat, however, is a bit concerning at 11, so I will need to choose my battles carefully. Overall, I am actually rather happy with how this character is shaping up despite its drawbacks. After I grab a few ability upgrades like the aforementioned Ambush, Prowl, and other deception-related skills, catching enemies off-guard will get easier and easier.
Stay tuned to Bell of Lost Souls for our full Iron Kingdoms: Unleashed review within the next couple weeks!