Welcome to the first in a series of Tactical articles that will help you get the most out of Codex Khorne Daemonkin!
Brought to you by Blog for the Blood God
Saying Hello!
Hi guys, Dae'vros the Gorehound from the Blog for The Blood God facebook page here with my first post as a Bell of Lost Souls contributer! Let me start by introducing myself! what do I play? As you could guess by the name of my blog, I play Khorne! I have over 25 thousand points of pure Khorne Chaos Space Marines, Chaos Daemons and Khorne Daemonkin. I have been playing exclusively Khorne for over 8 years now and have witnessed the coming and going of several editions for all chaos players alike.
None of these new editions, supplements or codex releases have inspired such excitement as the recently released Codex Khorne Daemonkin! Finnaly the disciples of the blood god can bring forth all the powerful weapons of war in such a way their enemies will be trembling in fear!
So with that in mind I have decided to write my first ever series of tactical articles that will be a collaboration of tactics that can be used to make the Khorne Daemonkin player a worthy advesary! Some tactics will be submitted by followers on my blog, others shared from the wonderful world of forums and others from my own personal experiences. Some will be very basic, others quite advanced, some will be extremely powerful and some will be highly situational… however ALL will be written in a way that can be used to give Khorne Daemonkin players the edge!
There will be a new instalment every week here on Bell of Lost Souls as well as discussions about everything Khorne over on my facebook page! Now that the intro is out of the way let me explain why Khorne Daemonkin!

Khorne Daemonkin Basics
The Khorne Daemonkin codex is truly unique for many different reasons and in my opinion is one of the greatest Games Workshop Codex publications to date… Why you ask?
1. It plays to the background of the force like no other, the Blood Tithe mechanic actually rewards reckless disregard for your units survival in the same manner as The Blood God cares not where the blood flows from! only that it does! being rewarded every time ANY unit dies really puts you in the mentality of a true devotee of Khorne, happily sacrificing units to please your god, offering their death and blood as a token of your worship!
2. it is strong… really strong! at first glance it appears a mere cut and paste job from what we already knew and complained about, but the more time you spend with the codex the more of its secrets you will unlock and the more hidden power you will uncover! Join me over the coming weeks as I expose some of these hidden strengths
3. It is fun! the fact you are rewarded with blood tithe points every time one of your units dies makes loosing units sting so much less! Khorne Daemonkin really removes the stress from your games and replaces it with a manic bloodlust that borders on insanity!
Whether you play Khorne Daemonkin yourself or simply want to know what your opponents are plotting I hope you find the content in this series insightful.. or at the very least entertaining! so with that said lets get into our first sneaky little trick from Codex Khorne Daemonkin!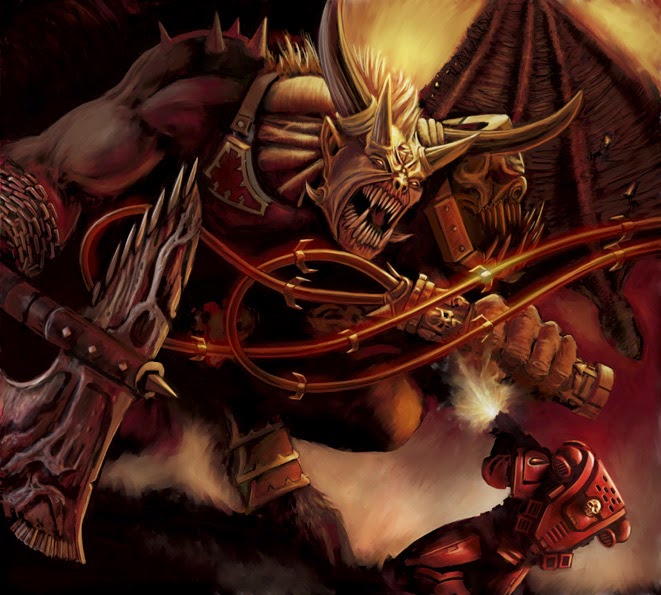 The Triple Treat!
Being the first instalment in the series I will start off with a nice simple trick that packs a punch and will have your opponents scratching their heads thinking "WTF?!? REALLY!?!?"
This  first tactic is seriously over powered in smaller games so use your discretion when deciding when and when not to pull this out of the bag of tricks. It works very easily and is very difficult for your opponent to prevent, so what is it and how does it work?
I am sure you have seen incarnations of this elsewhere on the internet but here is my take on what i call "the triple threat" start by taking a Chaos Lord with Kor'lath the Axe of Ruin, this artefact has a unique ability that summons a Bloodthirster when the bearer is removed as a casualty, so for 135pts (price of the lord with the axe) you actually get a 250pt bloodthirster (Giving you a 115pt edge on your opponent) but wait, there is more, as soon as possible you want to spend 7 Blood Tithe Points to give you the Dark Apotheosis, using this result on the Blood Tithe table you can summon a Daemon Prince and remove your lord as a casualty, this Daemon Prince keeps your warlord trait AND keeps the axe of ruin! So now you have removed your 135pt Lord but gained a 250pt bloodthirster AND a 280pt Daemon Prince! (Giving you a 414pt edge on your opponent) and as if this was not good enough, since the Daemon Prince keeps the Axe of Ruin you will get a third Flying Monsterous creature when he is removed as a casualty (thats a further 250pt gain)
Using the Triple Threat can potentially get you 3 Flying Monstrous Creatures for 135pts and 7 Blood Tithe! This is insanely powerful and will likely result in accusations of cheesy powergamer sportsmanship, so I recommend holding this one in the competitive games only bag of tricks.
Thanks for tuning in! Make sure you keep your eyes peeled for the next instalment of Tactica: Khorne Daemonkin! and while you are at it head over to Blog for the Blood God, give me a like, and join in on the other great content! Everything from Battle Reports to Hobby Tutorials, Rules discussions and tactics to Animated movies and 40k based comedy (wanna hear Kharn vs Lucius in a rap battle? lol)
Thank you all for your time!
Dae'vros The Gorehound
Signing out!